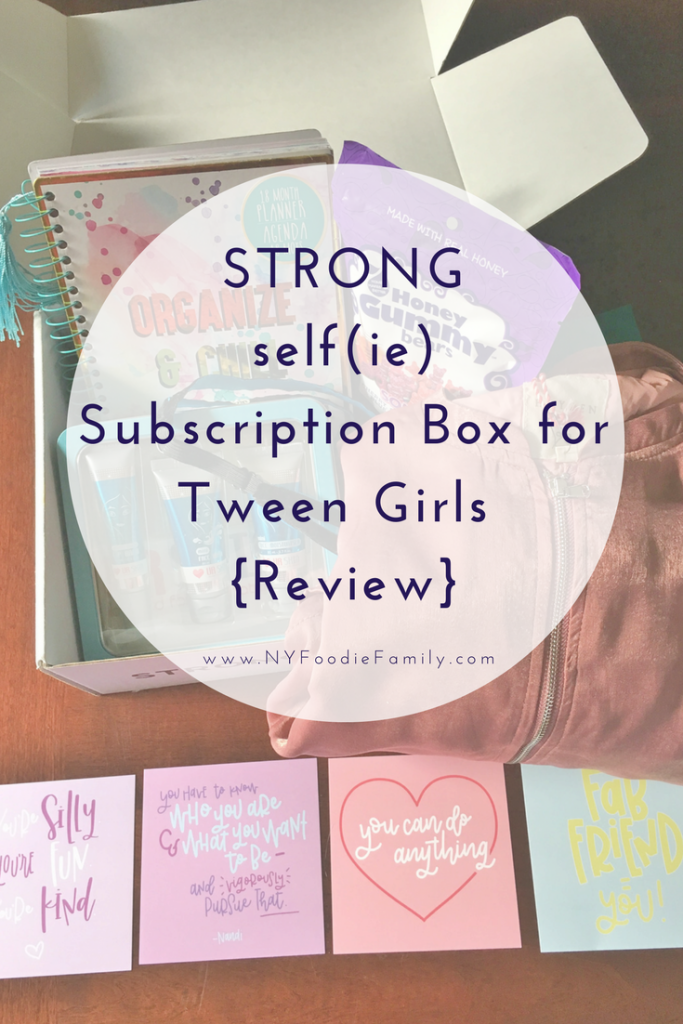 (This STRONG self(ie) quarterly subscription box was provided to NY Foodie Family for review purposes.  As usual, all opinions are our own.)  
Subscription boxes are a lot of fun.  In the past, we've received food-related subscription boxes that the whole family could enjoy (MunchPak, Empire Crate, Universal Yums).  Most recently, I signed up for Birchbox and Ipsy as a fun treat for me.  My daughter sees me getting these boxes in the mail and gets as excited as I do to see what's inside.  When I heard about the STRONG self(ie) subscription box for tween and teen girls, I was very interested.
I was first intrigued by the name of the box – STRONG self(ie).  Just the name is very empowering.  Co-founders and moms Kristen and Stephanie created this subscription box as a means to teach their daughters, "the importance of being strong, confident, and proud of who they are."
The STRONG self(ie) box is a quarterly box that ships out during the first two weeks in March, June, September and December.  There are two different box choices, BLOOM for ages 8-12 and BURST for ages 13- 17.  Each box includes 4-6 products that inspire girls to be their best self(ie) in four different areas – smart(ie), funn(ie), health(ie) and beaut(ie). Based on the products we received in the spring box, it appears that Kristen and Stephanie try to source many of the products from small start-up and/or family-run businesses.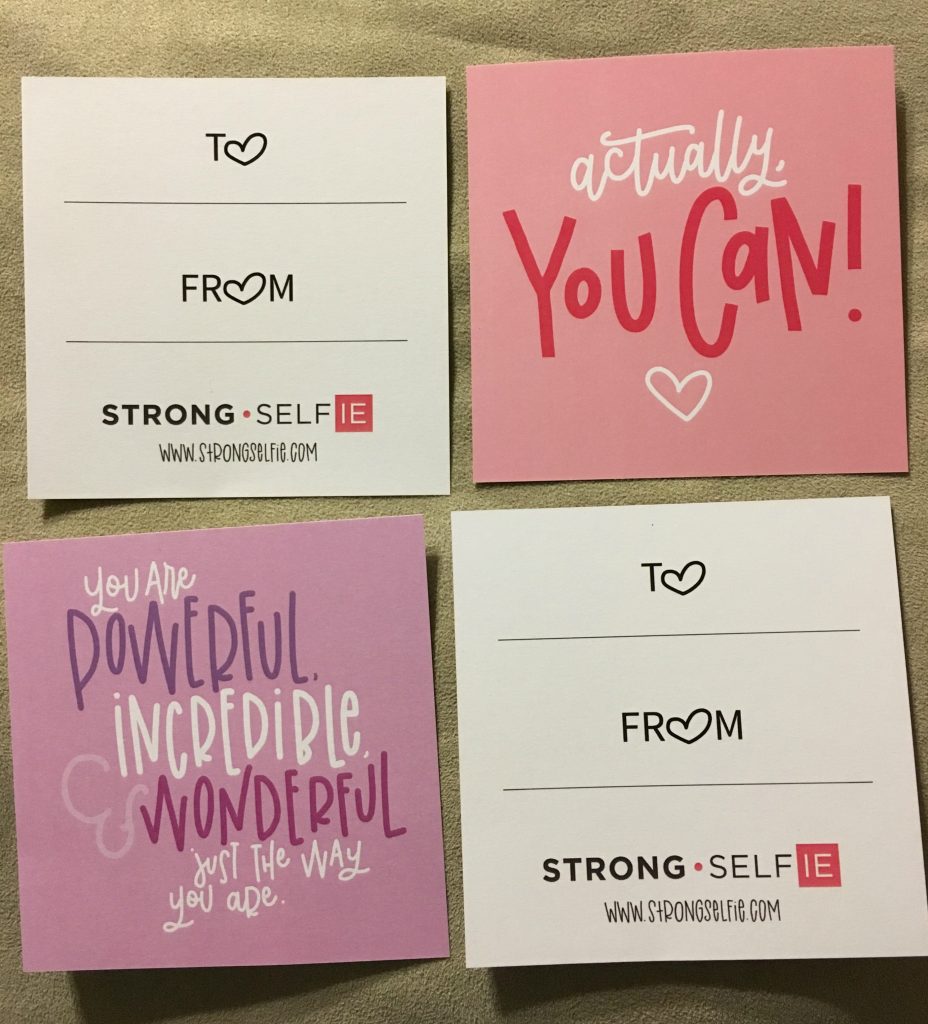 Each box also goes #beyondthebox and includes a card that showcases a STRONG girl.  The spring box featured 13-year-old Nandi Weziwe Hildebrand and described how she fulfills the four different self(ie) areas.  I also love the note cards included in the box.  There were four cards (pictured above) in the parent envelope that I can give to my daughter, offering words of encouragement and positivity.  There were also four note cards in an envelope for her, that she can give to friends.
The boxes cost $59.95 per quarter.  But readers, you can save 20% off your first box by using code:  "Foodie20".  You can subscribe or gift a box to your favorite girl.  I think any tween or young teen would enjoy a STRONG self(ie) subscription!
My daughter just turned twelve and the spring BLOOM box was perfect for her!  No joke, it's like they made this box especially for her.  The spring box included: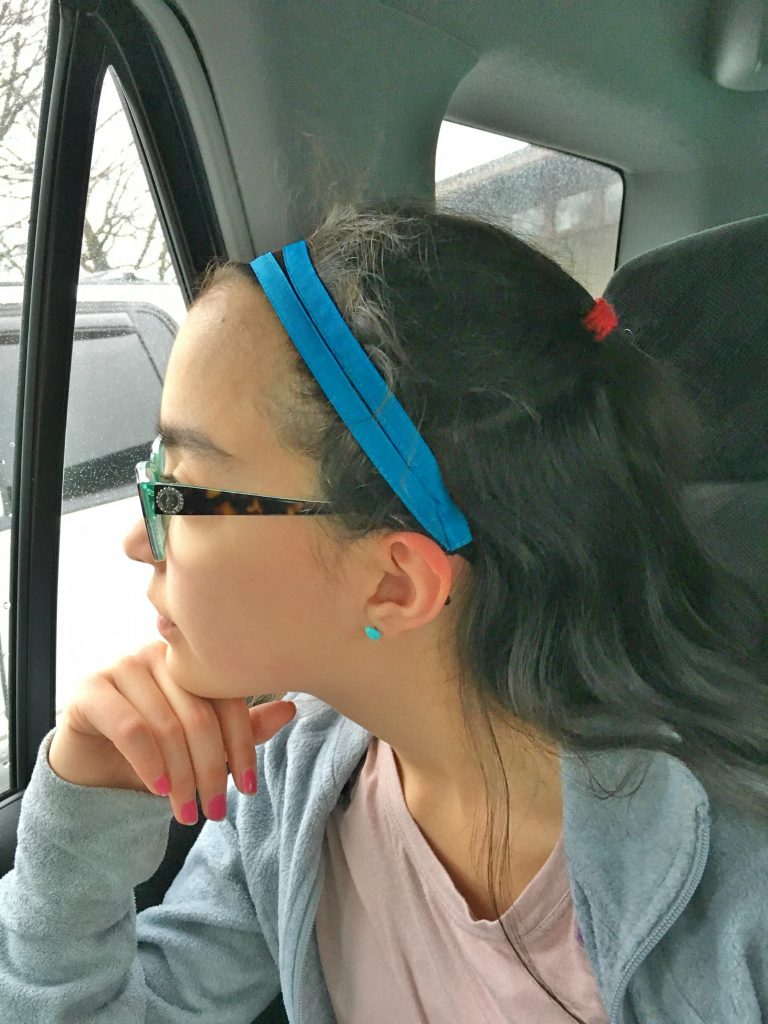 BOLD Bandz Headband –  (BEAUT)IE – BOLD Bandz are non-slip headbands that don't hurt your head.  They come in a variety of designs and patterns.  I'm not sure if the band that we received in the box is a child-size headband.  Although the headband is not supposed to hurt, my daughter complained that it was a bit tight.  I think these headbands would be perfect for girls who play sports and want to keep their hair out of their faces. ($8.99)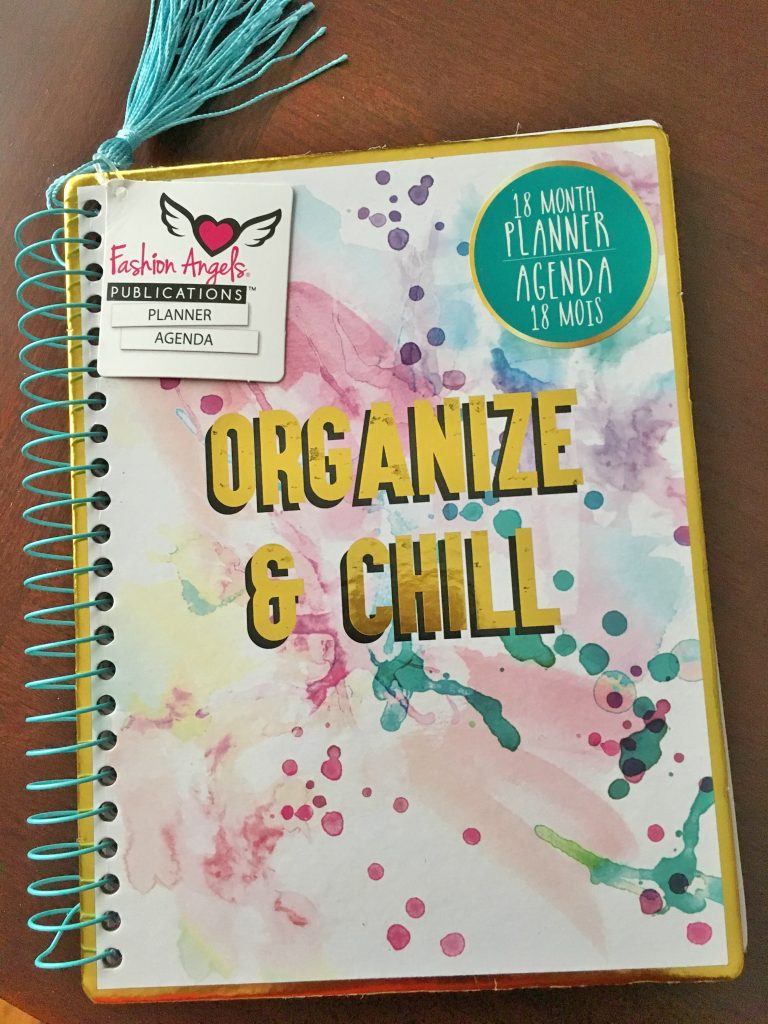 Fashion Angels: Organize & Chill Planner – SMART(IE) Since my daughter started middle school last year, organization has been one of her biggest challenges.  I live by my planner and I'm hoping this Fashion Angels planner will help her keep track of her school assignments and after-school activities.  I like that the planner isn't dated.  Since the school year is almost over, we are debating whether she should hold off on using this until September. ($12.99)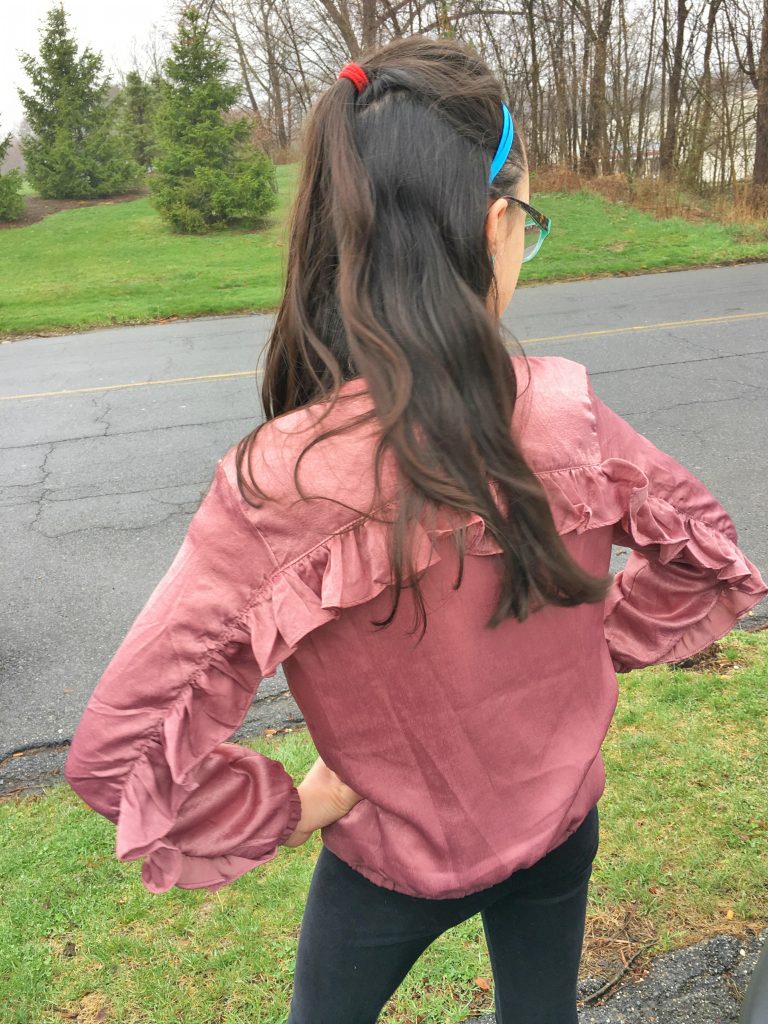 Hayden Girl Ruffle Jacket – FUNN(IE) Having a tween daughter, I can tell you that clothing shop is difficult at this age.  I try not to even mention that I like something because my daughter will automatically not like it!  I have to say that we are both fans of this Molly satin jacket.  She likes the bomber style jacket, I like the feminine details like the ruffle and the color.  This is a size 11/12 and just fits.  She'd probably get more use out of 13/14 but they were out.  I had not heard of Hayden Girls prior to receiving this box, but after checking out their site, I am LOVING all of their clothes!  They have such stylish pieces that are reasonably priced! ($37.95)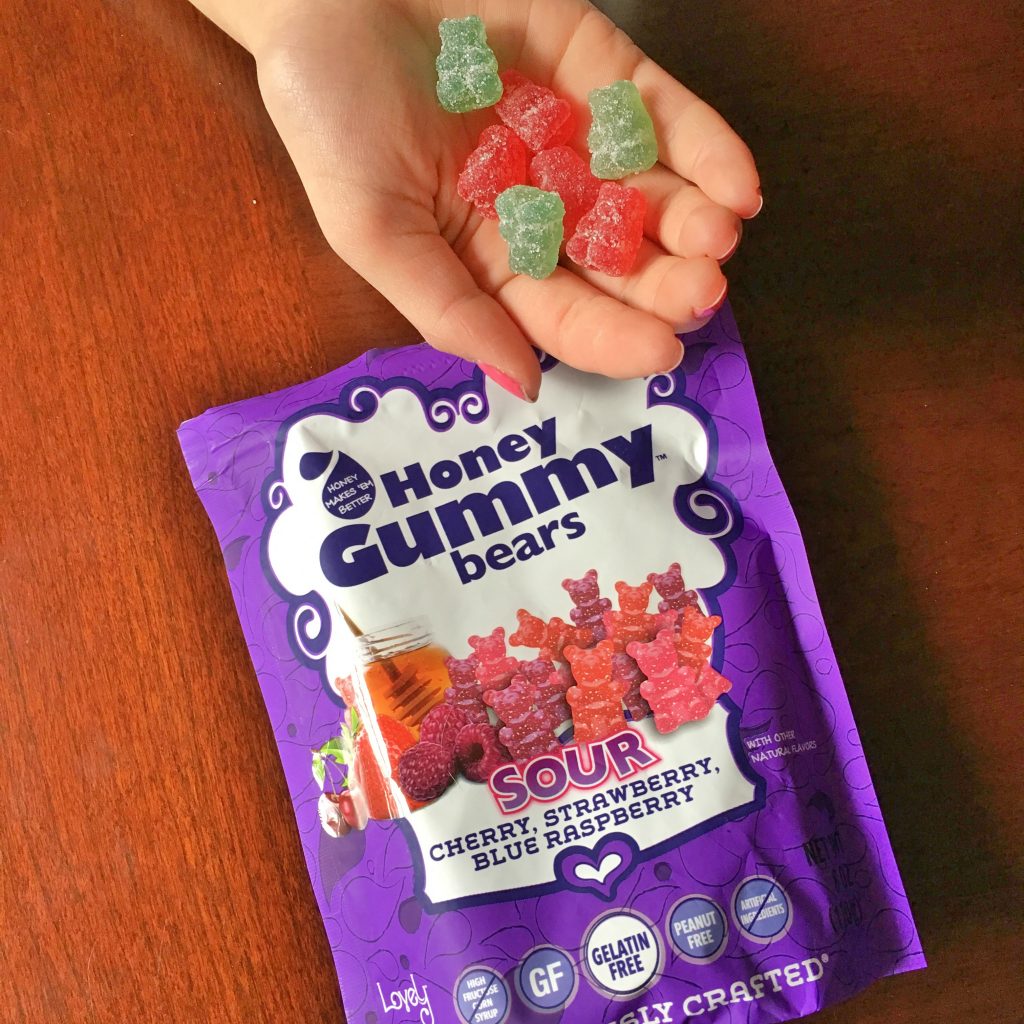 Lovely Candy Company:  Sour Honey Gummy Bears – (HEALTH)IE – Sour gummy candies are a family favorite.  We all helped to devour this bag! Lovely is a family owned business and these sour honey gummy bears are one of the most recent additions to their candy line.  These are all-natural gummies made with honey!  So good! ($4.99)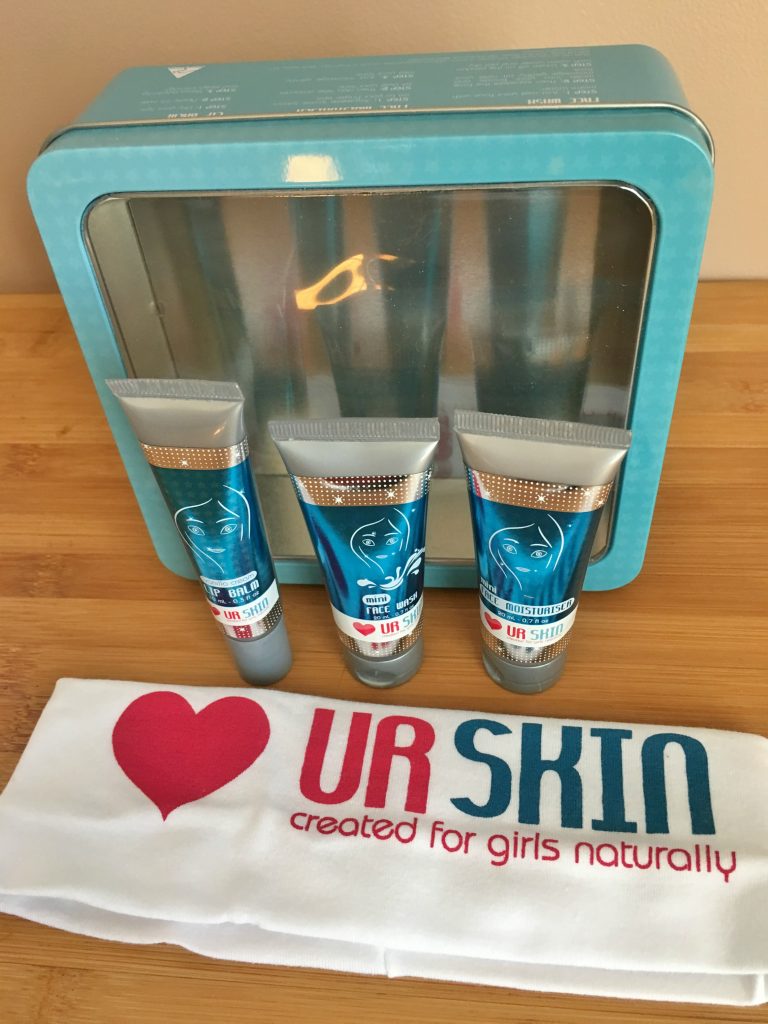 Luv Ur Skin Face Skincare Set – (HEALTH)IE – My daughter has just started getting into the routine of washing her face and moisturizing.  I hadn't really taken the time to find a skincare line targeted for her age group and she's been using whatever I use.    This three piece skincare set includes a face wash, a moisturizer and a lip balm, as well as a cloth headband.  My daughter has sensitive skin and had no problems using these products.  I am impressed that the Australian-based company Luv Ur Skin was founded by a 13-year-old girl and uses all-natural ingredients! ($18.50)
Altogether, the value of this box totaled approximately $84, which is more than the $59.99 that you pay for it.  Like I mentioned, my tween daughter was HUGE fan of the STRONG self(ie) box!  Remember, use code "Foodie20" to get 20% off your first box!