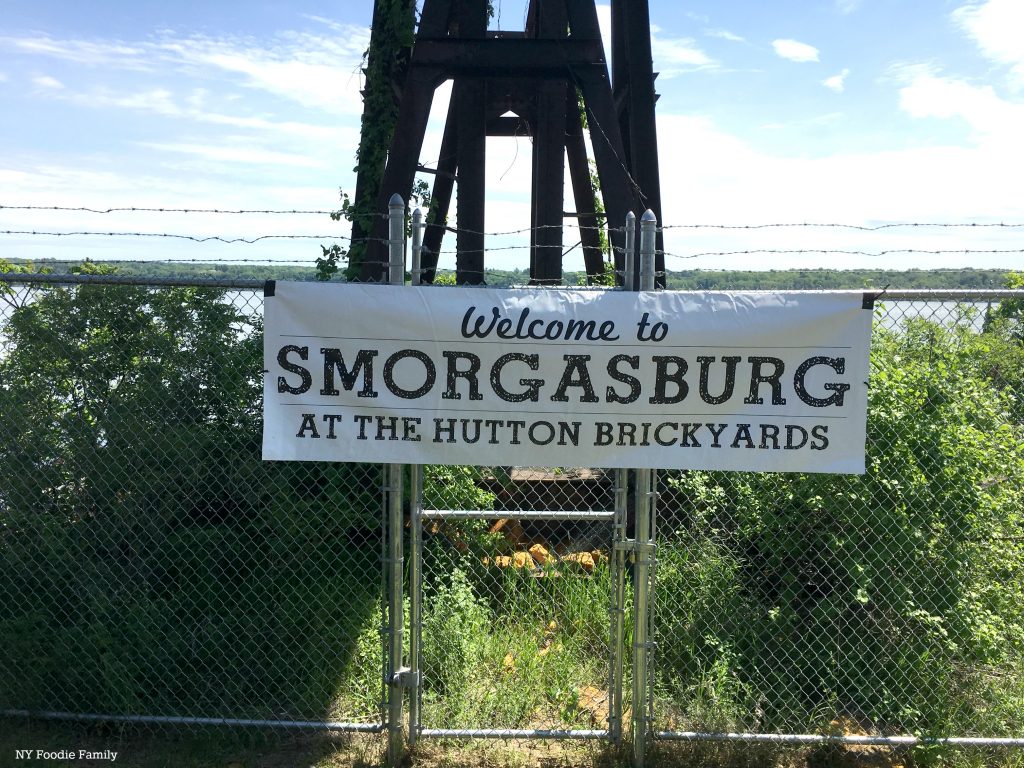 For those of you without NYC foodie friends, Smorgasburg is, "the largest weekly open-air food market in America." Thousands of people visit each weekend and my Instagram feed has me drooling at all the deliciousness that one can find to eat there. However, living in the suburbs of New York City, trekking down to Brooklyn, even for some amazing eats, does not appeal to me.  Fortunately, for us suburban folks there is Smorgasburg Upstate.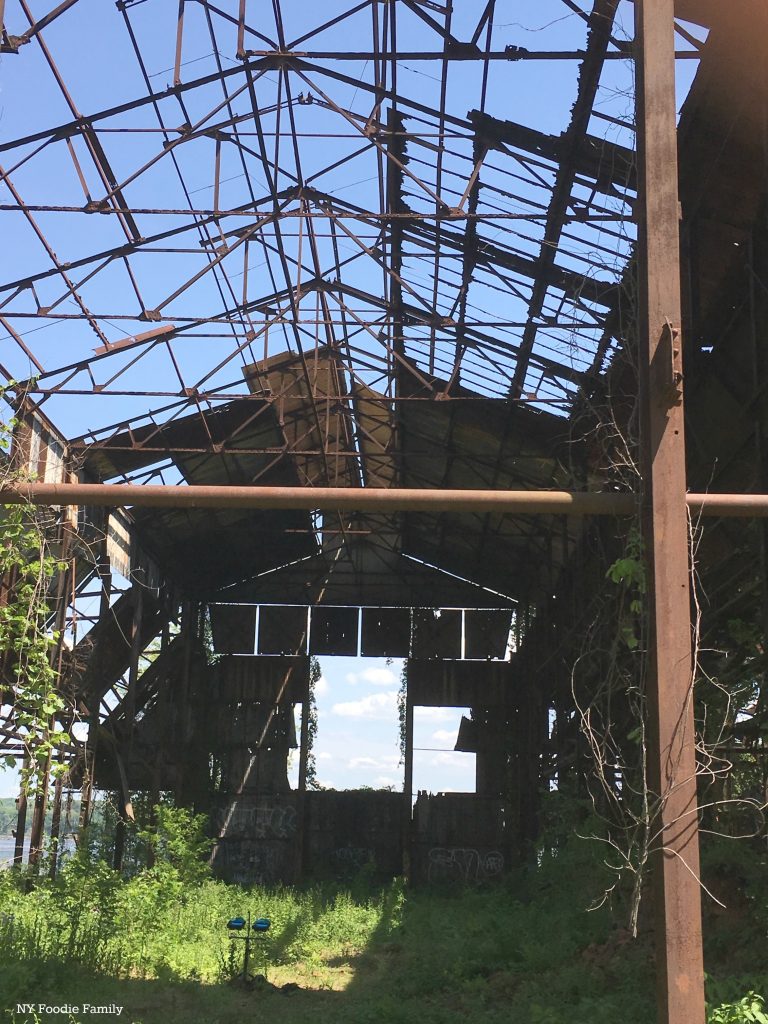 Located at the Hutton Brickyards in Kingston, NY, this is the second season of Smorgasburg Upstate.  While last year, it took place once a week, this year it is scheduled for only one weekend a month.  My family and I visited this past Sunday for opening weekend.  From northern Westchester County, it is approximately a 90 minute drive. Both parking and admission are free.  The location is very photogenic with Hudson River views and vestiges of the old brickyard including a Lidgerwood crane and frames of the steel kiln sheds.
Smorgasburg is located under a giant pavilion.  Savory food vendors include Itsa Pizza Truck, Pakt, Hookline Fish Co, Santa Fe Tacos, Ramen Burger, Kovo Rotisserie, Gomen-Kudasai Noodle Escape, Nacho Nirvana and The Grille Wagon. Bakery and sweet food vendors include Bread Alone, Cafe Warshafsky, Seraphine Bakery, Jane's Ice Cream and Fruition Chocolate.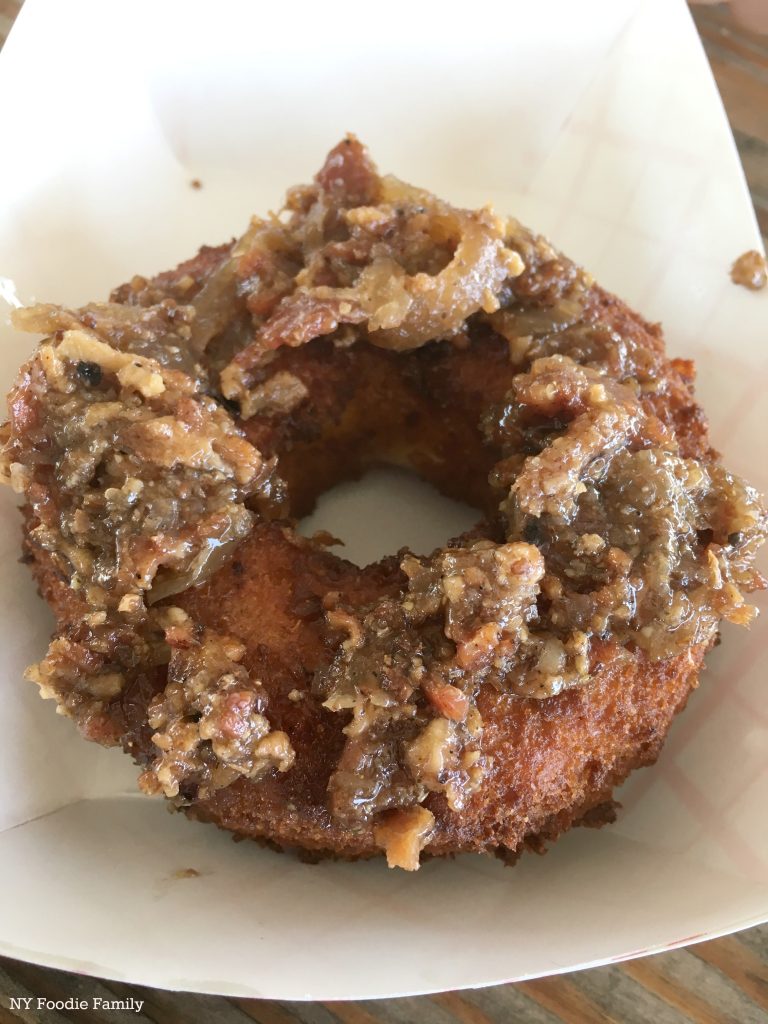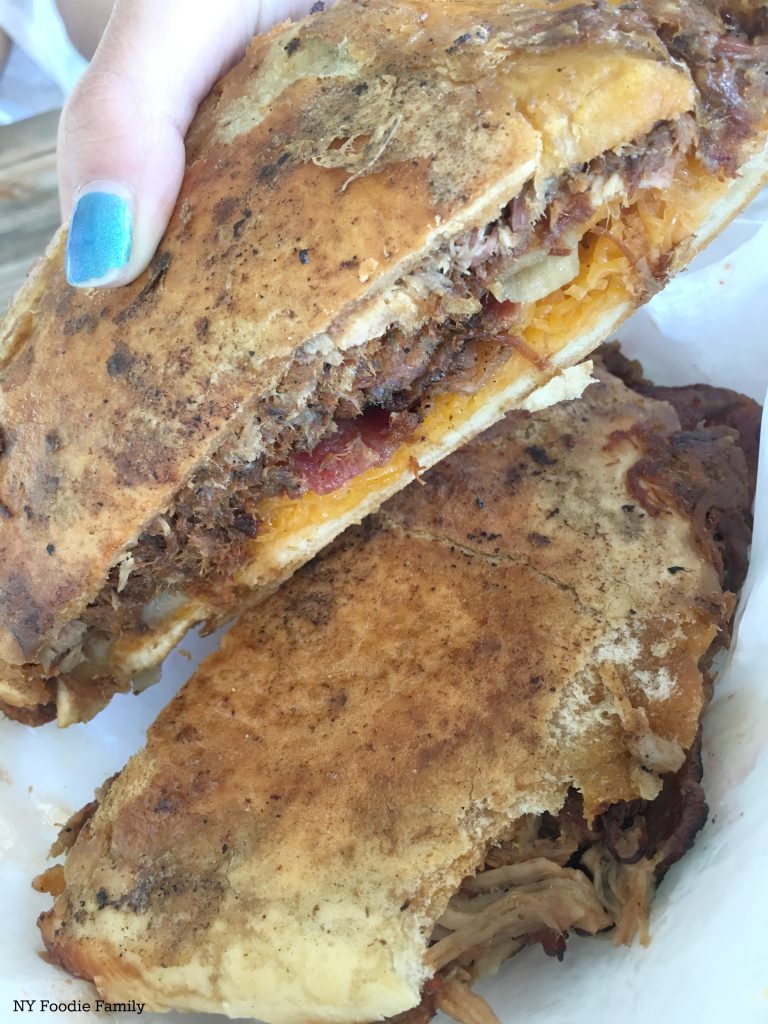 While we were there we sampled the mac and cheese donut with bacon jam and "The Big Daddy" (pulled pork, cheddar cheese, bacon, sauteed onions, jalapenos, and BBQ sauce on a roll, pressed on the flattop) from The Grille Wagon.  Both of these were delicious!  The Grille Wagon was smart with their advertising  and had samples of some of their more popular menu items on display.  They were even roasting a whole pig and serving it later in the afternoon!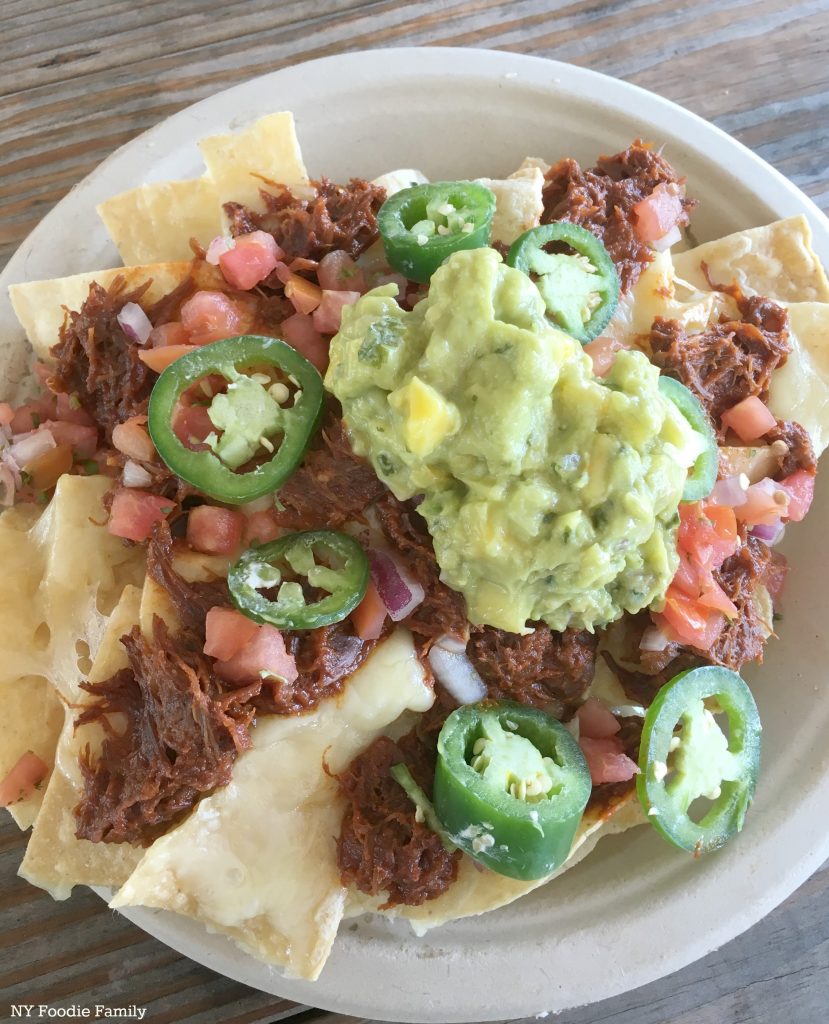 We also shared BBQ Duck Nachos with Fontina & Mango-Avocado Salsa from Nacho Nirvana.  They were a good dish to share.  However, I found them to be just okay.  There was a lot of cheese and it became cold and congealed very quickly.  The mango-avocado salsa (pretty much guacamole) was delicious though!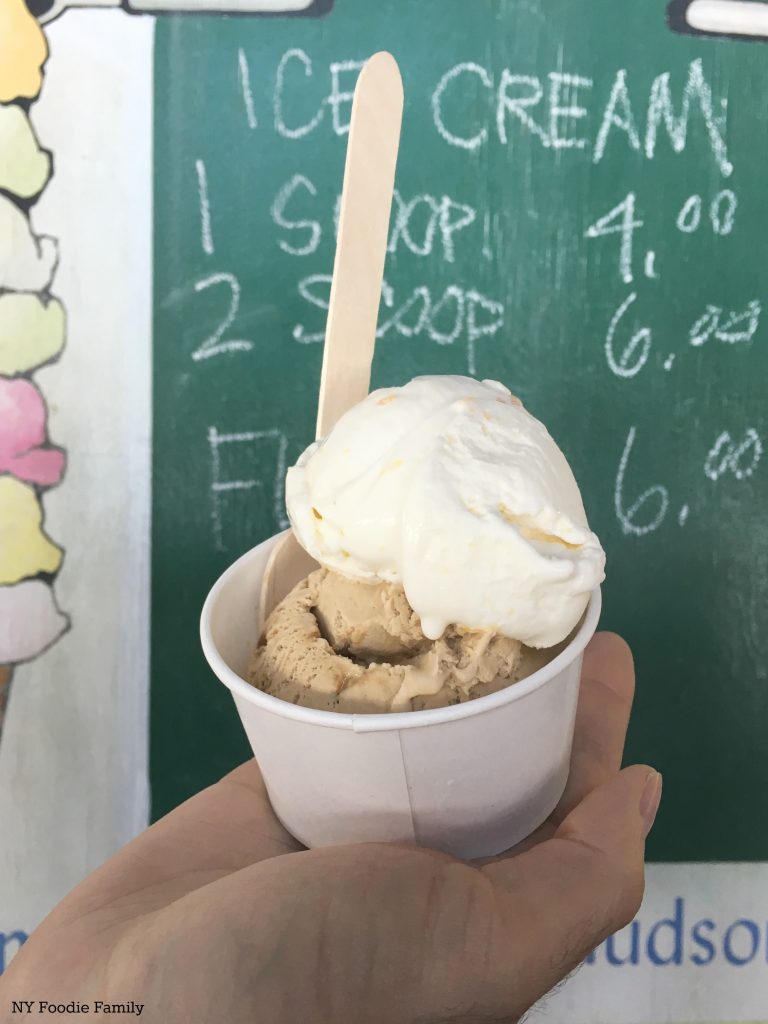 We finished up with some ice cream from Jane's Ice Cream.  I loved the Apricot Orange Blossom and Kahlua Calypso Crunch flavors!
The Ramen Burger from Ramen Burger and the Fried Avocado Sandwich from PAKT looked tasty as well and if I wasn't stuffed, I'd give them a try!
You won't go thirsty at Smorgasburg Upstate.  Besides water and soda that vendors sell, Maya's Lemonade (from Maya's Jams) and STAND coffee provide non-alcoholic beverages.  There's a bar serving local craft beer and hard cider on tap along with wine and cocktails.
For those wishing to shop, some of the flea market vendors include Mezzanine Vintage, Hazel and Hudson, So Mid-Century, Bohemian Farmgirl and NorthCountryClassics.  There are also food vendors selling honey, hot sauce, olive oil, brittle and more.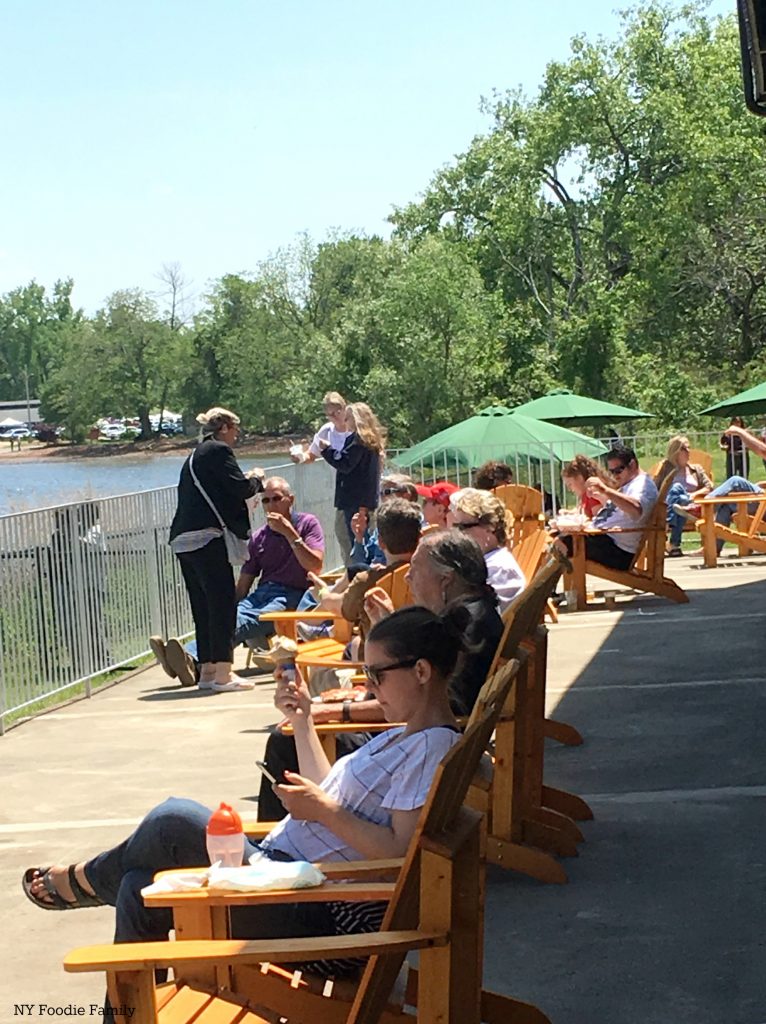 Once you've gotten some food, you can choose from several seating options.  The Adirondack chairs with Hudson River views are very popular and are the first seats to be taken.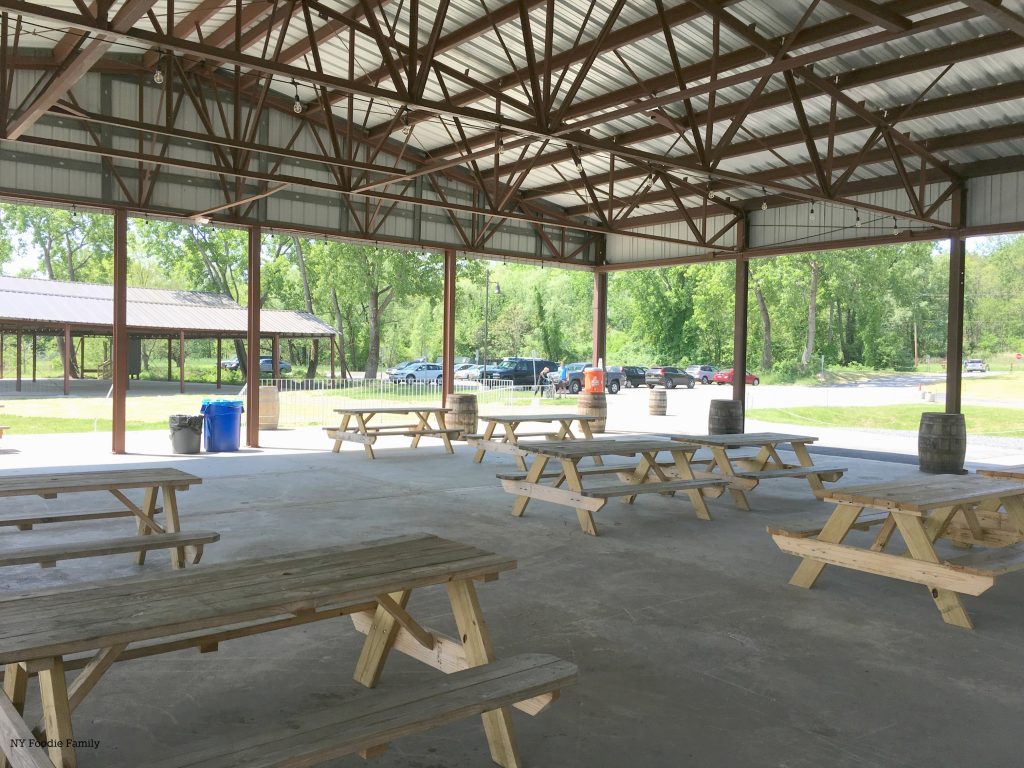 There are also several picnic tables both under the pavilion and out on the grass where you can sit and eat.  For the younger visitors, there are a couple toddler-sized dining tables and chairs as well.
Sit, relax, and bask in the sunshine while you enjoy your good eats.  You can be entertained by the live music, or, like my children did, engage in some fun dog watching.  Smorgasburg Upstate is very dog-friendly!  We couldn't believe the number and different types of dogs we saw while we were there.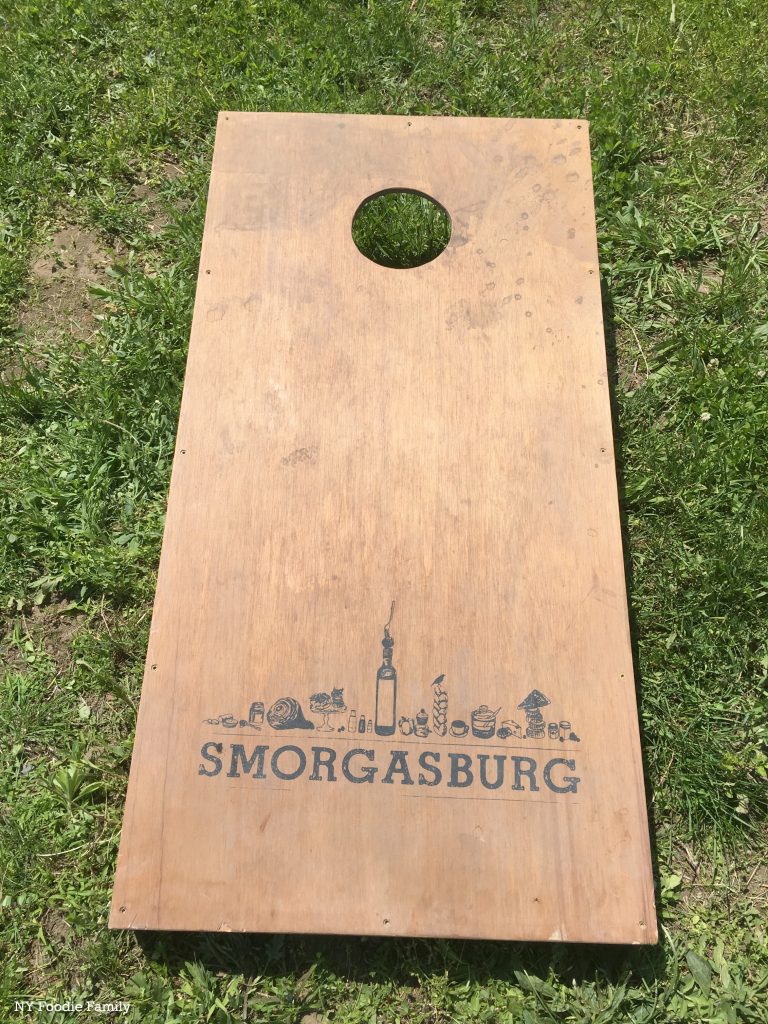 If you're up to it, you can even play a game of cornhole out on the lawn.
Although I've never been to Smorgasburg in the city, the number of vendors and the uniqueness of foods sold at the Upstate location is a bit lacking (and disappointing) in comparison.  Compared to the 100 vendors at the Brooklyn location, Smorgasburg Upstate had a lot less food vendors.  The Ramen Burger (Ramen Burger), Smoky Tails (Hookline) and Mac and Cheese Donut (The Grille Wagon) were probably the most unique food items available.  If you go to Brooklyn, you can expect to find Ube Ice Cream served in a dragon fruit bowl, Spaghetti Donuts, Churro Ice Cream Sandwiches, Raclette Sandwiches and more!
For reference, most main dishes (sandwiches, pizzas, etc.) are priced between $10-$15 and and are cash only.  There is an ATM onsite if needed as well as restrooms with flushable toilets and sinks.
Smorgasburg Upstate
200 North Street
Kingston, NY
11 AM- 6 PM
Dates:
June 17 & 18
July 15 & 16
August 19 & 20
September 16 & 17
October 21 & 22
June 23 & 24 there is a Bob Dylan concert at the Hutton Brickyards.  Visit Ticketmaster.com to purchase tickets.