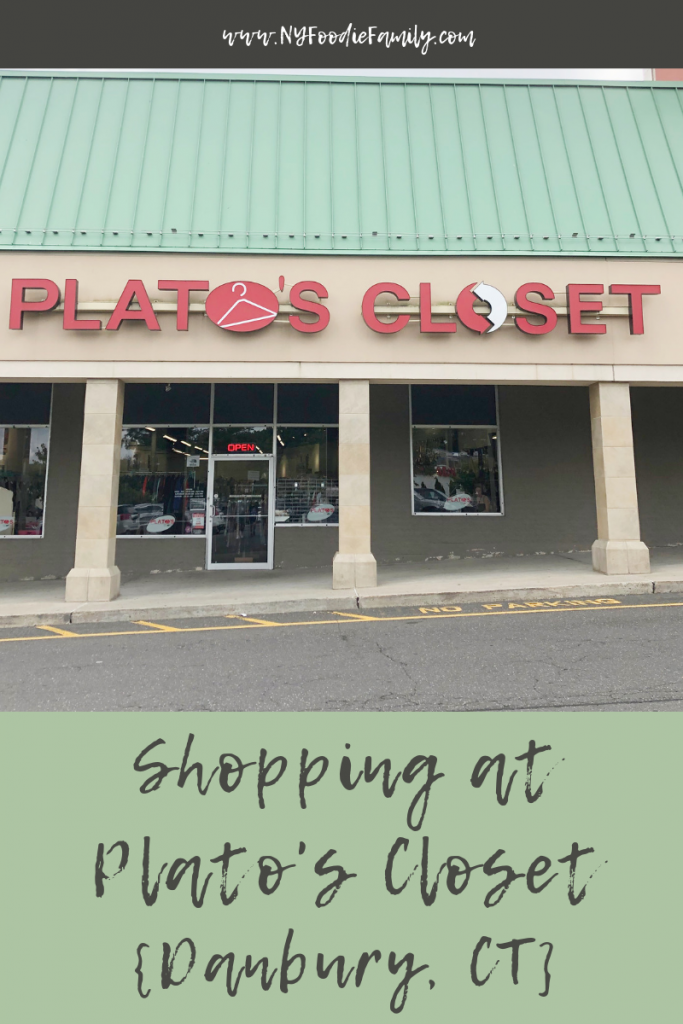 Do you have a teenager obsessed with ALL the brands, like we do?!! If so, then you have to make a trip to Plato's Closet. Plato's Closet is a second-hand, gently used clothing store that is geared towards teens and young adults. They buy and sell all the popular name brands: Victoria Secret Pink, Vineyard Vines, Brandy Melville, Free People/Urban Outfitters, Uggs, Vans, Converse and more. The stores are franchises, each independently owned, with locations throughout the country. However, the closest Plato's Closet to us, in northern Westchester County, is the one in Danbury, almost an hour away.
While I had heard of Plato's Closet, I didn't think there were any locations near us. But when our 13 year-old daughter asked us to take her to the one in Danbury, how could we say no?! She had seen their Instagram page and couldn't believe the name brand deals that she was seeing. I told her not to go with high expectations, but we were all pleasantly surprised!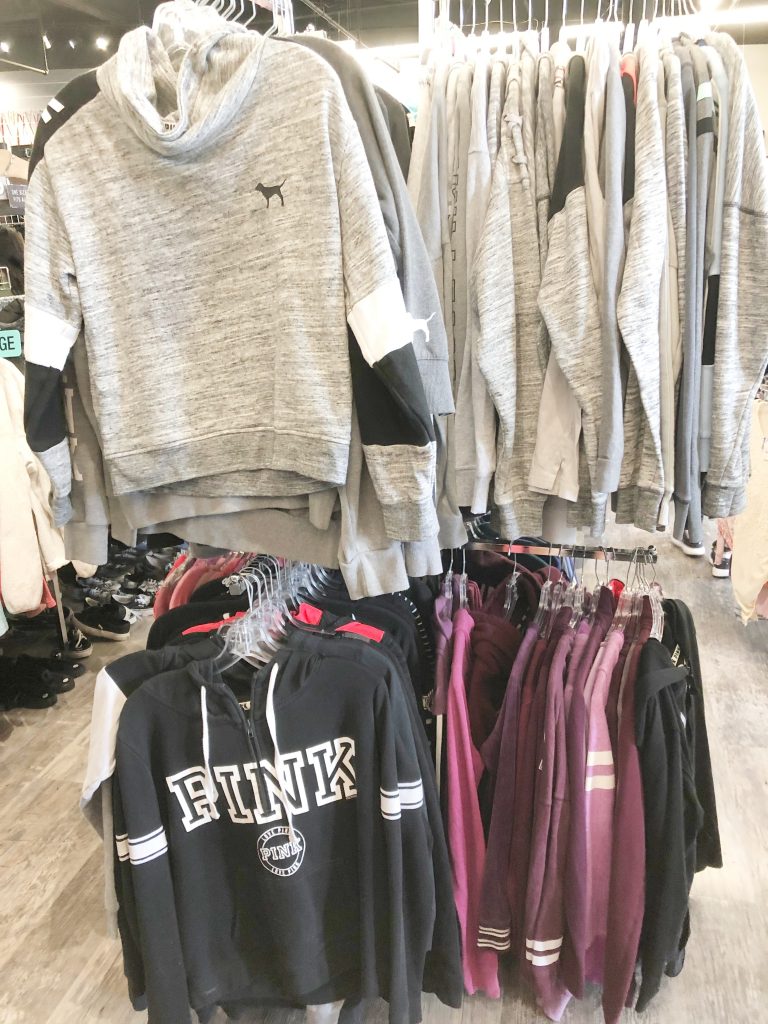 The Danbury Plato's Closet is located in a strip mall right off of I-84, on Newtown Road. The story is super organized, albeit a bit small for all of the merchandise they sell. When you enter the store, they have some of the more popular name brand clothing displayed together. They had a couple of Victoria's Secret Pink racks as well as several Free People/Anthropologie/Urban Outfitters racks and a North Face rack right in the front of the store. These racks are not grouped by size, so you do have to do some searching.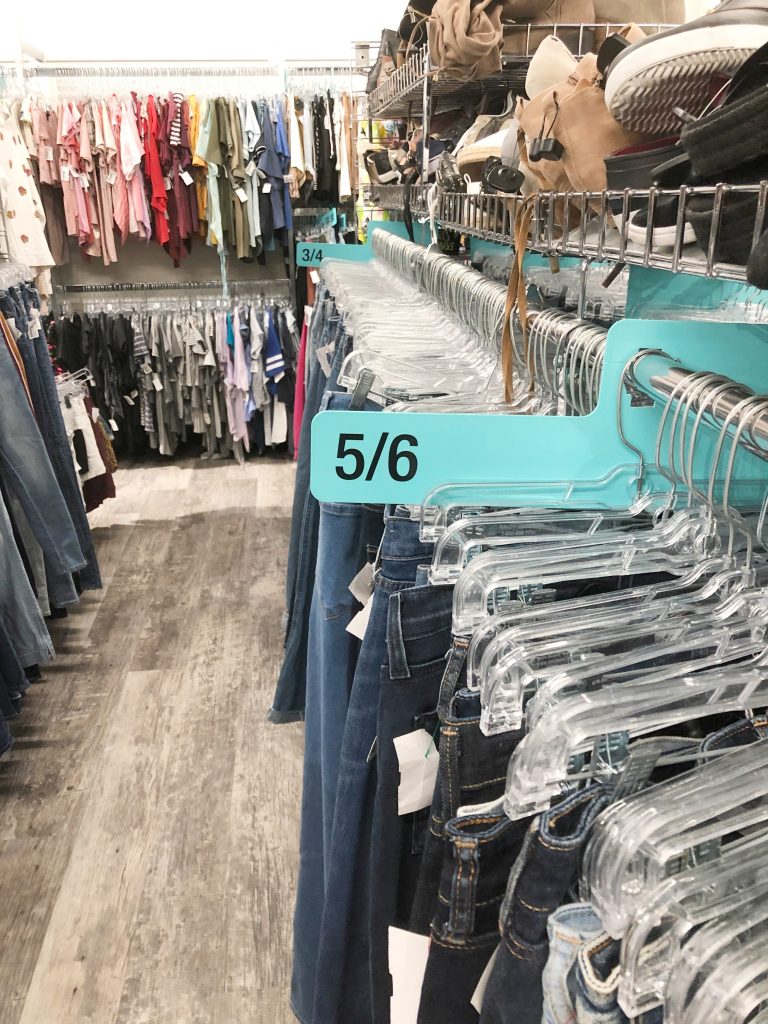 The rest of the clothing in the store is grouped by style (jeans, outewear, sweaters, shorts, long-sleeve shirts, athletic wear) and size. And it is also sorted by color, for the most part, as well! I'm not sure from this picture if you can tell how narrow the aisles are. But they are! The whole time I felt like I was saying "excuse me" or walking down a different aisle to avoid the congestion. The store buys and sells current clothing styles. Everything I saw seemed to be on trend (but really, what does a mom know?!) and my daughter had no complaints. The store was filled with teens of all ages, both male and female, my 13 year-old daughter being on the younger end of the shoppers.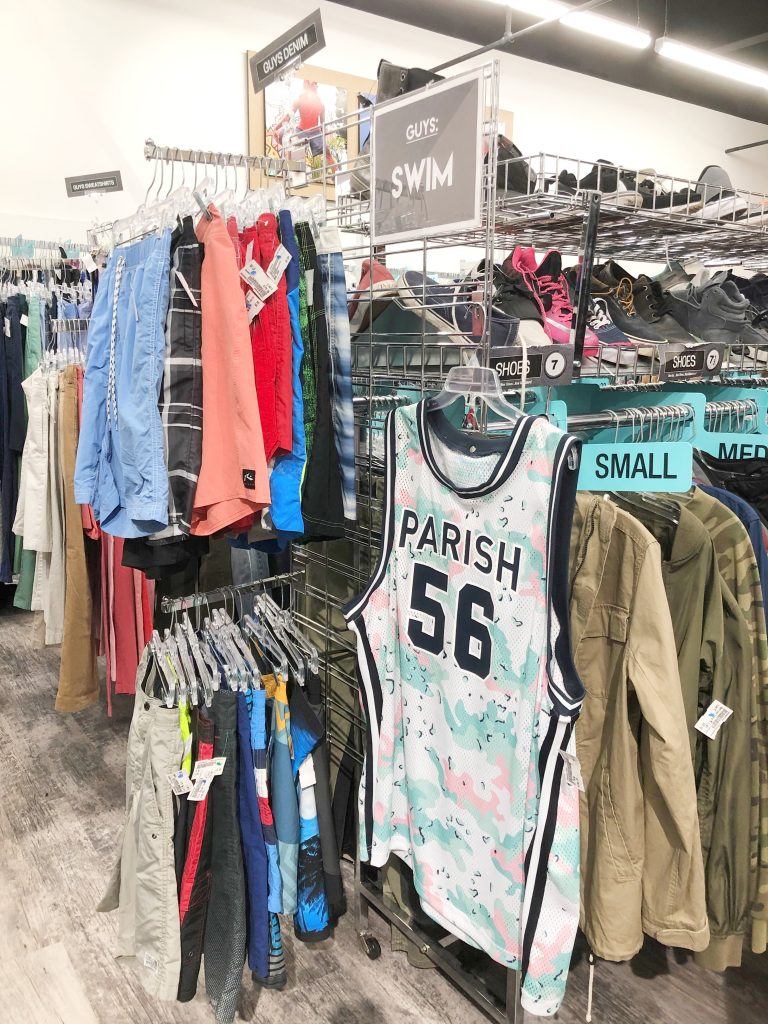 There's a much smaller Men's section located in the back of the store. Athletic wear, outer wear, jeans, sweatshirts, footwear and more are available. Even though the selection wasn't as large, my husband was able to score a pair of shorts and a long-sleeve button-down shirt from J. Crew, for $12 each.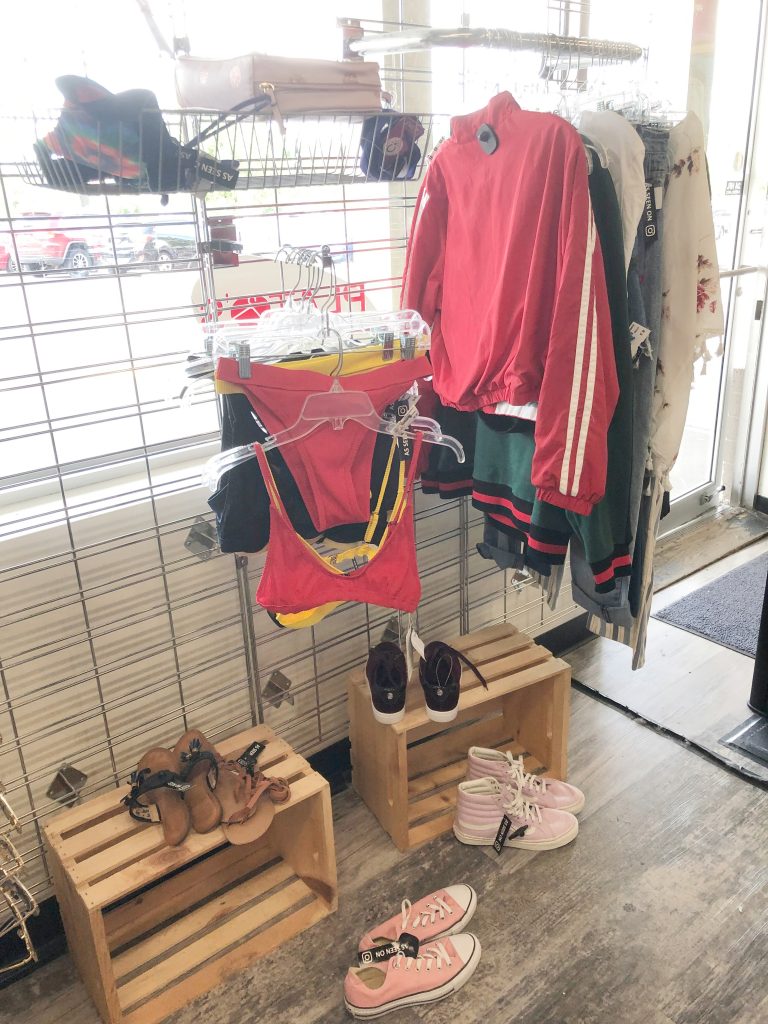 The store showcases some of their new merchandise, cultivated outfits and trending pieces on its Instagram page. They even have a section in the front of the store where you can easily find these items, that are specially identified with an "as seen on Instagram" tag.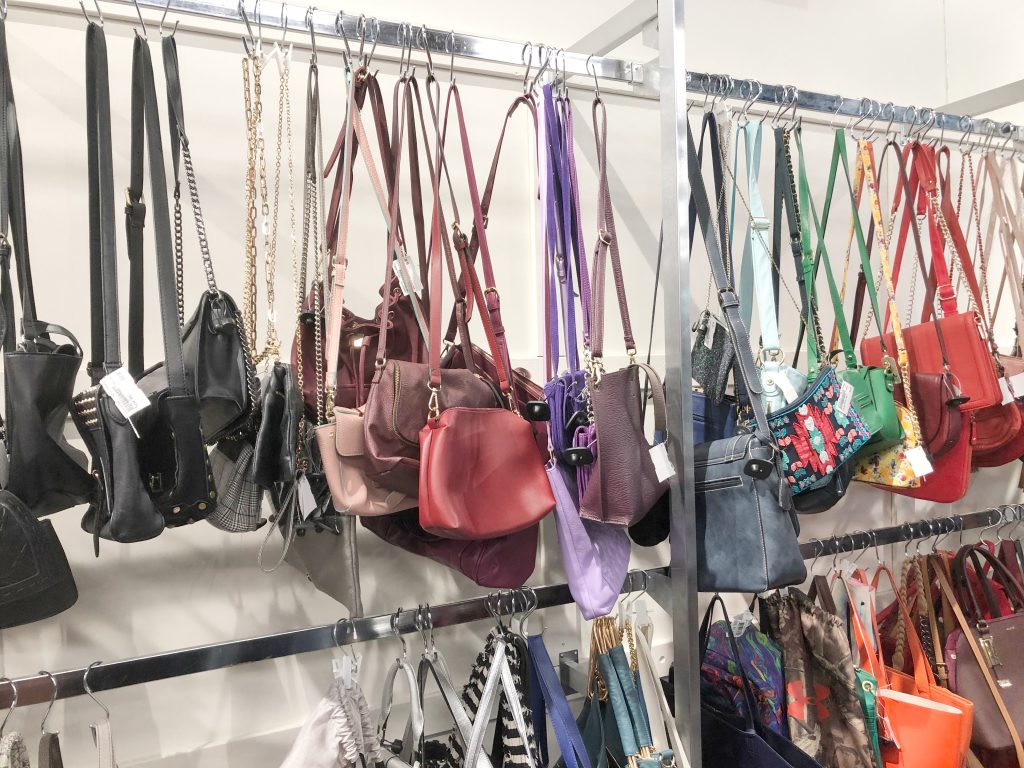 Plato's Closet doesn't just sell clothing and shoes. They also sell pocketbooks, accessories like belts, scarves, wallets, hats and even jewelry. Some of the more expensive purses and shoes are displayed behind the checkout counter.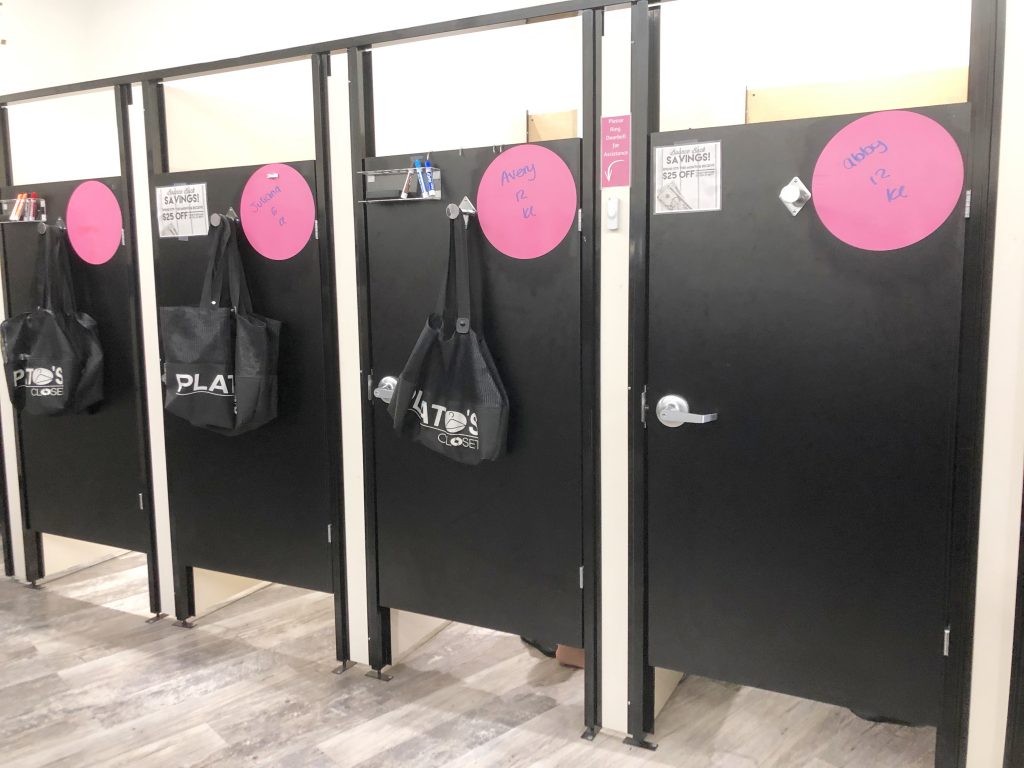 Have no fear, there are changing rooms available to try on clothing. This mom was not buying anything without seeing it on my daughter first! There was no limit to the number of items allowed in the dressing room. They just asked for your name and the number of items you were trying on.

Plato's Closet has a loyalty rewards program as well. Signing up is free and requires only a name and phone number. For every $20 spent, you earn a point. Once you earn 20 points you get 30% off.
We ended up buying my daughter a pair of slip-on Vans sneakers ($22), two pairs of jeans (Aeropostale – $8 and American Eagle $16), a pair of Nike athletic shorts ($14) and a gray cropped sweatshirt ($14). I had seen an Instagram post where they were celebrating Tax-Free Week early and by showing the post, I got 7% off everything. With my husband's two items, altogether we spent $104!! The store is bag-less, so you either have to bring in your own shopping tote bag or carry out your purchases.
This shopping trip was a win for everyone. My daughter got some name brand clothing and we payed a fraction of the retail cost. This is the type of store that is getting new merchandise daily, so every visit will be different. She's already mapped out other Plato's Closet locations and discovered that there's one right near my parent's house in Rhode Island! I think we are in trouble! But if you have a teen who is into ALL the brands, but you, as a parent don't want to pay the crazy retail prices, definitely check out Plato's Closet!

The Details:
Plato's Closet Danbury
67 Newtown Road
Danbury, CT 06810
(203) 917-4860

Store Hours:
Sunday: 11:30 AM – 6:00 PM
Monday – Saturday: 10:00 AM – 9:00 PM

Buyback Hours:
Sunday: 11:30 AM – 4:00 PM
Monday-Saturday: 11 AM – 7:00 PM

Tips:
*Get there at opening if you are looking to sell clothes. During our afternoon visit, the wait was 1 1/2 to 2 hours for people selling clothing.

*Have your child try everything on – especially jeans! Even though they may be a certain size in a brand, the cuts/styles are not labeled like they are when you buy them brand new.

*Check out the Instagram page before going to see if there are any special offers or deals!
*Do not visit if you are in a rush. This was our first visit and we spent close to almost 3 hours in the store! There were a couple of dressing room visits. Between the time spent waiting in line for a room and then waiting for my daughter to try on the clothes…..yes, it felt like 3 hours!
*There is a Game Stop, Spirit Halloween (seasonal) and a Pet Store nearby. My husband and son visited these stores while we waiting for our daughter.
*The store carries sizes XS/(00) to 2X/3X (with limited quantities) and even a few items in sizes 4X-6X.