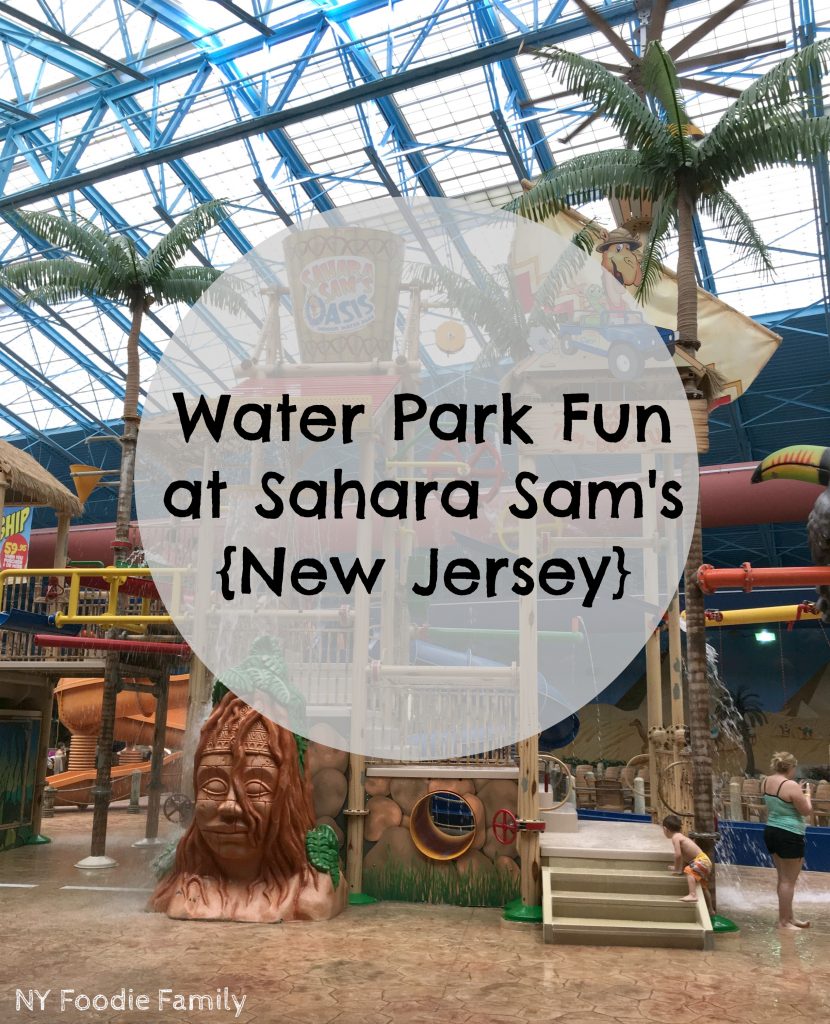 I had won passes to Sahara Sam's Oasis from a blogger giveaway.  I didn't realize that the park, located in West Berlin, New Jersey, was 2 1/2 hours away from our house in Westchester County, New York.  So, when we recently took a trip to Philadelphia over the kids' spring break we planned a stop at Sahara Sam's on our way home.
We arrived pretty close to the 10 AM opening.  We had to use the Route 53 entrance, as the facility is in the process of expanding the outdoor water park area, and is slated to open this Memorial Day weekend.  We had our complimentary passes, however, one day tickets cost $29.95 and twilight tickets, valid after 3:30 cost $24.95.  If we lived closer to the park, we'd purchase an annual pass, which is currently on sale for $59.95.
While at the desk, we rented a small locker to store our things.  The locker cost $7 to rent but we also needed to pay a $20 deposit, which we got back when we returned the key.   The lockers, pictured above, use keys, but they give you a waterproof key holder that you can wear around your neck.  The small locker was big enough for us to store a book bag that held changes of clothes for the four of us.
The water park was pretty empty when we first arrived.  We threw our towels on some chairs, but very little sitting was done on this visit by anyone except me!  Indoor cabanas are available to rent for $85 a day.  They honestly were pretty small, and like I mentioned, our family is not one to just sit and hang out, so this wasn't a useful option for us.
We first headed to Congo Bongo, the lazy river that spans almost the entire length of the right side of the park.  There are a couple of waterfalls that I managed to avoid, as I was not quite ready to be soaked at this point!
After the lazy river we decided to try some slides.  Mount Kilimanjaro is the family slide, where the four of us were able to slide together in a giant tube.  There are two different Snake Eyes tube slides which you can ride in either a single or a double tube.  As there were super short lines, we rode these slides a couple of times.  Be warned that except for the family slide, you must carry your tube up the steps to the other slides.   None of us opted to try the Nile Mile body slide.
Tim-Buk-Tu, the large play area, pictured at the beginning of this post, is in the center of the park.  The kids loved being soaked by the water bucket and playing on the structure.  I liked that there's plenty of seating in front of it, so I could sit and keep an eye on them while they played.
The kids had a fun time crossing Crocodile Flats.  You have to hold onto the ropes as you traverse the lily pads to cross from one end of the pool to the other.  They also enjoyed Sam's Slamdunker aqua basketball area, located adjacent to Crocodile Flats, and spent a lot of time in this area with my husband.  Unfortunately, there is not an inside wave pool, though one is being built for the outdoor expansion.  The aqua basketball area got pretty crowded with parents holding toddlers and little kids trying to swim.  So, you had to be super aware of the basketballs being thrown.
I was super surprised that my daughter wanted to ride The Flow Rider, surfing simulator.  Waivers need to be signed prior to riding and riders need to be at least eight years old, so unfortunately, my son couldn't ride.  After signing the waiver, which required a photo ID, my husband and daughter were given special wrist bands.  Riders are given approximately five minutes of "surf" time.  They both rode a couple of times and had a blast!
For little ones, Lizard Lagoon offers slides and bucket seats perfectly sized for infants and toddlers.
Outside food is not allowed into the park.  The Desert Palm Café Food Court offers something for everyone.  They have pizza, sandwiches, burgers, hot dogs and more.  We found there to be plenty of seating inside the food court, but if it is crowded, food is allowed to be taken into the park.
We found the prices to be on the more expensive side.  Burgers were $11 + and Italian Sausage or Polish Sausages were $10+.  The four of us ended up sharing a Family Fun Bucket for $32.  This came with 9 chicken fingers and way too many fries for the four of us to eat.  They accept credit cards but require a valid ID with it.  This policy held up the line as people had to run back to their lockers or bags and get their license.
If you didn't have enough fun in the water park, there's an arcade that you can play in either before or after your visit.  The arcade is accessible without water park admission tickets.
As I mentioned earlier, the Beach Club Outdoor Water Park opens this weekend (Memorial Day Weekend) and stays open until Labor Day.  The outdoor park includes a pool, splash zone and wave pool.  The recent expansion also includes outdoor water slides and an indoor pool leisure pool.
We had a fun time visiting Sahara Sam's Oasis and enjoyed getting in some water park and pool fun during the winter.  However, the park is open year-round with outdoor attractions available from Memorial Day through Labor Day.  The park is located in Southern New Jersey and is easily accessible from the Philadelphia and New York City areas.