On a recent trip to New York City, we had to revise our lunch plan, when eating at Eataly was not a viable option.  See this post for details.  We were with the Mr.'s brother, who lives in New York City and suggested that we go to Republic.  He frequents the place and thought that we would enjoy it.  The restaurant is located in Union Square, convenient to the subway.  When you enter the restaurant, there are a few tables in the front and a long bar to the left.  The majority of the eating area is in the rear of the restaurant space and consists of long picnic style tables and benches.  It is likely that you will be sharing your table with another party.
Republic can best be described as an Asian Fusion restaurant.  They serve small dishes including dumplings, green papaya-mango salad,  and crispy tofu.  They serve many different varieties of broth noodles, which many people were eating, including spicy beef, curry chicken, lime chicken, and spicy seafood.  These small dishes range in price from $5 to $8.  Republic serves a variety of noodle dishes as well including pad thai, glass noodles, and peanut noodle salad.  Plus, they serve rice dishes including grilled chicken pesto over black rice, seared marinated salmon over curried rice with raisins, and chicken and mushrooms with broken rice and Asian vegetables.  These main dishes range between $12 and $15.  We visited on a weekday during lunch time and were able to take advantage of their special lunch bento boxes.  The Mr., the Mrs. and the kids each chose a different bento box, so we were able to sample three out of the five that they offer.  Each came with three different things so it was great that we got to try a variety of their menu items.   The Mr.'s brother ordered the Sauteed Curry Chicken, which he had before and enjoyed.  There is a small children's menu that we didn't really spend too much time looking at.  We figured the kids would get more food and variety by sharing an adult bento box.  Overall, we enjoyed everything that we ate.  The kids especially loved the sautéed mini dumplings and the peanut noodles.  The Mrs. really enjoyed the glass noodles and the Asian chopped veggie salad.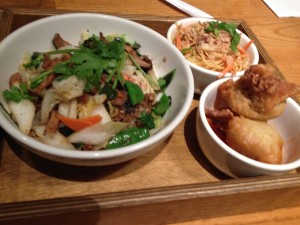 The kids shared this!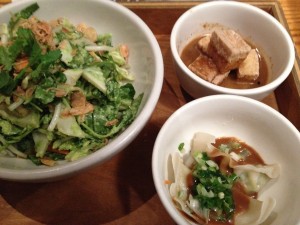 The Mrs.  had this Vegetarian bento box
They have a large non-alcoholic specialty beverage menu  as well as a full bar menu including a selection of sakes and Asian beers. While the Mr. opted for a diet Coke, the Mrs. tried the non-alcoholic Asian Basil Lemonade and the kids had a Coconut Lime Cooler and a Pineapple Coconut Cooler.  The drinks weren't too pricey at $4 each.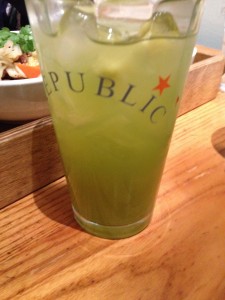 Asian Basil Lemonade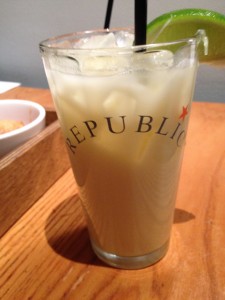 Coconut Lime Cooler
We had already eaten gelato before coming here for lunch, so we skipped dessert.  The dessert menu didn't look that interesting with a couple of ice cream flavors (green tea and black sesame) sorbet, coconut tapioca and taro-coconut cake.  After lunch we strolled the Union Square farmer's market, located right across the street from the restaurant.
We were very happy with our lunch at Republic.  While we, as a rule, tend not to frequent the same restaurants twice in New York City, we would recommend this for a family-friendly lunch or dinner.