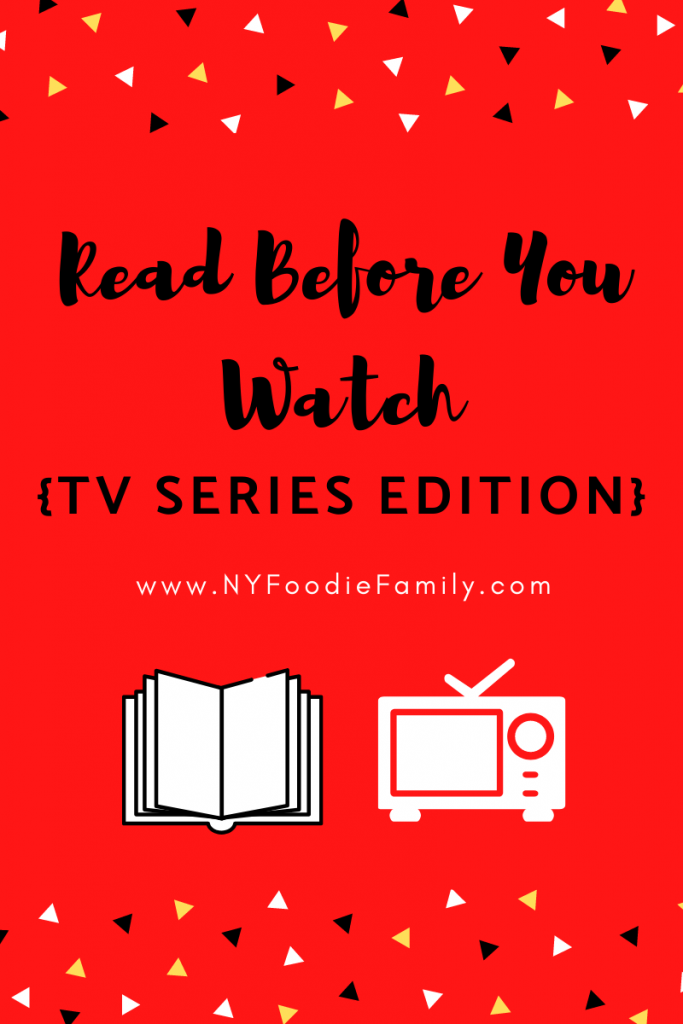 With a long, hot summer approaching, some of us may need some new book and television recommendations. It's surprising how many television shows are based on books. I'm always a fan of reading the book first and then comparing how different the show or movie is. Many of these television shows have been streaming for awhile now, so you have probably watched some of them. But have you read the book(s) that they are based on? In this first edition of Read Before You Watch, catch up on your summer reading and watching with these books and the television shows that they inspired. While this list isn't comprehensive, it's a good start!

Newer Shows:

Read: The Black Echo (Book #1 in the Harry Bosch series) by Michael Connelly. There are 22 books in the series.
Watch: Bosch on Prime Video if you like police drama and suspense. Season 6 began streaming in April 2020.

Read: Little Fires Everywhere by Celeste Ng
Watch: on Hulu if you like family drama. This show started streaming in March of 2020.

Read: Stealing Home (Book #1 in The Sweet Magnolias series) by Sherryl Woods. There are 11 books in the series.
Watch: On Netflix if you like southern small town drama, friendship and romance. The show began streaming in mid-May.
Read: Normal People by Sally Rooney
Watch: Normal People on Hulu if you like Irish coming of age dramas. The show began streaming at the end of April.

Read: Unorthodox by Deborah Feldman
Watch: on Netflix if you want to learn more about Hasidic Judaism and one woman's journey escaping her religious roots. The show began streaming in March 2020.

Older Shows:


Read: 13 Reasons Why by Jay Asher
Watch: on Netflix if you like teen drama that deals with heavy topics like suicide and rape


Read: Altered Carbon by Richard K. Morgan
Watch: on Netflix if you like action, science fiction and mystery


Read: Big Little Lies by Liane Moriarty
Watch: on HBO if you like family/friendship drama


Read: Darkly Dreaming Dexter by Jeff Lindsay (8 books in the series)
Watch: Dexter, originally aired on Showtime. You can now watch it on Netflix if you like crime, psychological


Read: The Feed by Nick Clark Windo
Watch: on Amazon Video if you like futuristic, dystopian, psychological thrillers


Read: A Game of Thrones by George R.R. Martin (7 books in the series)
Watch: on HBO if you like fantasy, action-packed, drama

Read: Gossip Girl by Cecily von Ziegesar (13 books in the series)
Watch: on Netflix if you like YA drama involving wealthy teens


Read: The Handmaid's Tale by Margaret Atwood
Watch: on Hulu if you like dystopian fiction


Read: House of Cards by Michael Dobbs (3 books in the series)
Watch: on Netflix if you like political dramas/thrillers


Read: Orange is the New Black by Piper Kerman
Watch: on Netflix if you are interested in seeing a woman's prison comedy/drama, based on a true story


Read: Outlander by Diana Gabaldon (9 books in the series)
Watch: on Starz if you like historical fiction, romance, time travel and fantasy


Read: Pretty Little Liars by Sara Shepard (There are 16 books in the series)
Watch: on Netflix if you like YA teen drama and mystery

Read: The Stranger by Harlan Coben
Watch: on Netflix if you like mystery/thrillers


Read: The Awakening by L.J. Smith (There are 7 books in the series)
Watch: on Netflix if you like YA supernatural drama, fantasy



Read: Westworld by Michael Crichton
Watch: on HBO if you like action-packed, dystopian science-fiction thrillers


Read: You by Caroline Kepnes
Watch: on Netflix if you like psychological suspense thrillers featuring a stalker