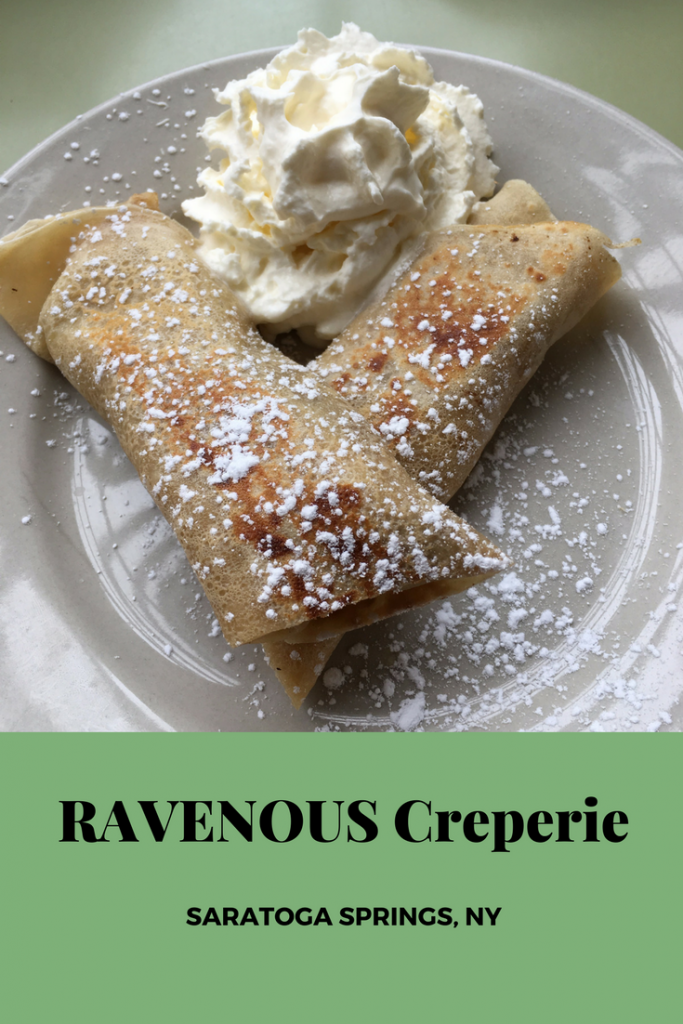 On a recent visit to Saratoga Springs the kids and I were wandering down Phila Street looking for lunch.  Many of the restaurants have menus posted outside with most offering the usual burgers, salads and sandwiches.  When we stopped to look at the Ravenous Creperie menu, the kids unanimously voted that we eat lunch here.
Ravenous Creperie is locally-owned and serves lunch, dinner and brunch.  We visited on a Tuesday afternoon and arrived at 12:15, prime lunchtime.  The restaurant space is small and cozy and it was packed!  There are several tables in the middle dining space that can be pushed together to seat a larger group.  There is also counter seating with a great view of the crepes being made and window counter seats with views of the street.  We had to wait a few minutes to be seated and were given three seats at the window counter.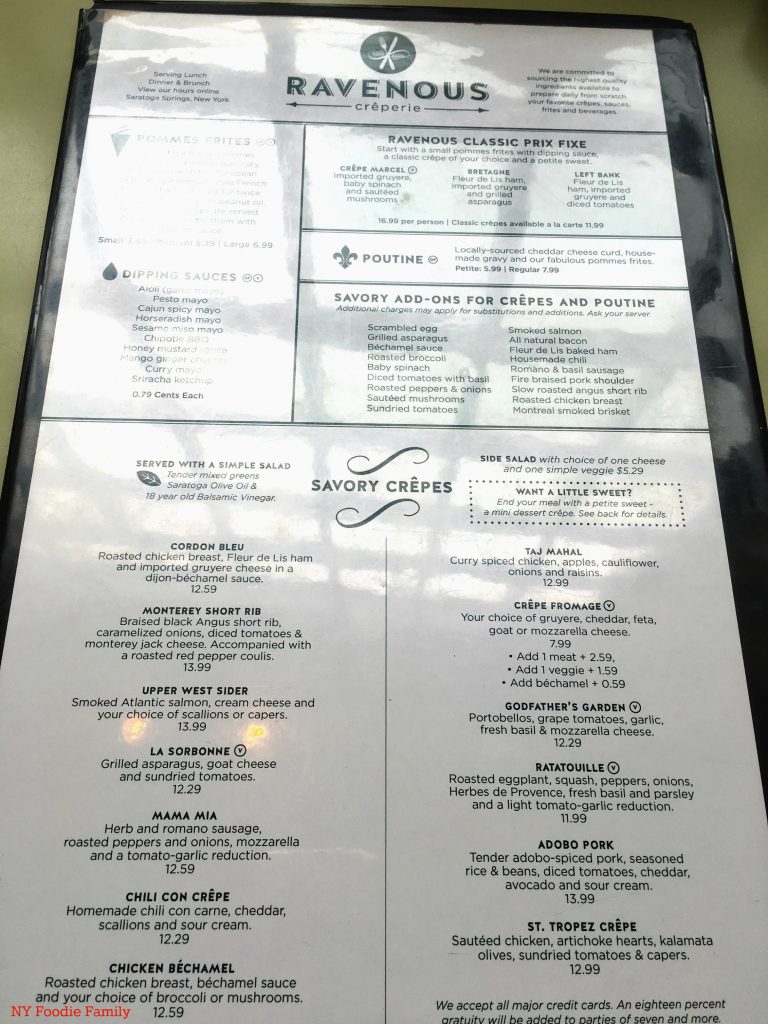 This was our first time eating at a creperie and we were not disappointed!  I told the kids that we'd split a savory and a sweet crepe and either an order of pommes frites or poutine.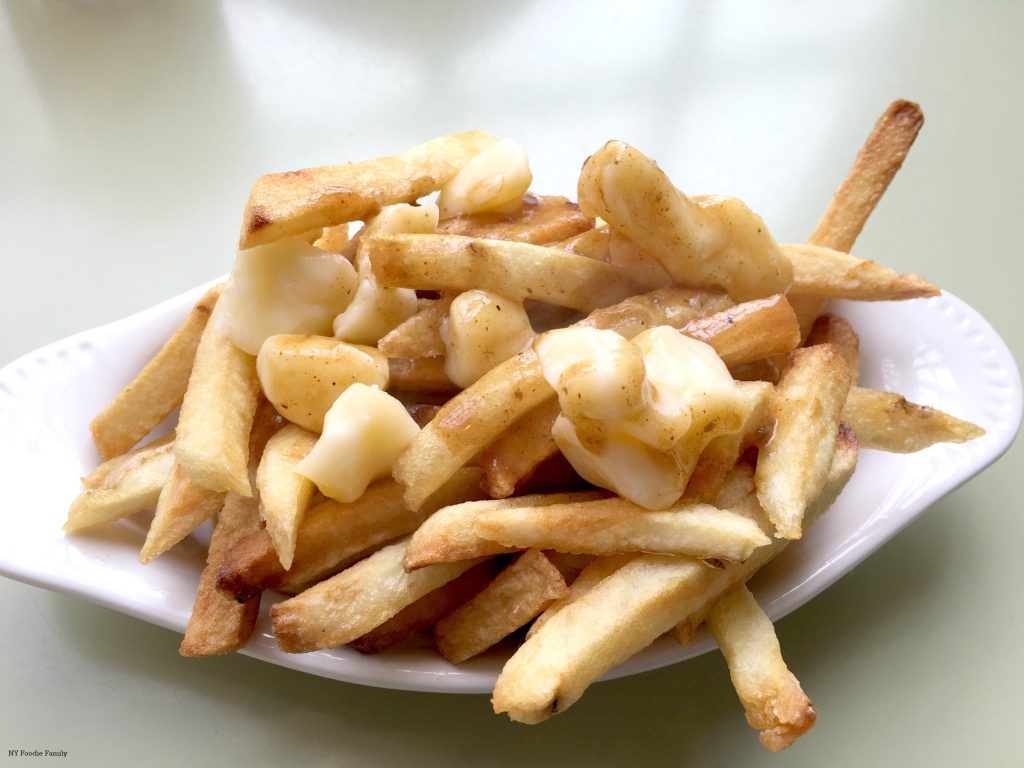 The pommes frites are a popular starter.  As I looked around the restaurant, almost every table had a paper cone atop it filled with the frites.  But, the kids opted for poutine, and I wasn't complaining about that!   We ordered the petite-sized poutine.  The ceramic dish was filled with crispy hand-cut pommes frites topped with locally-sourced cheddar curds and a house-made gravy.  We devoured this in no time!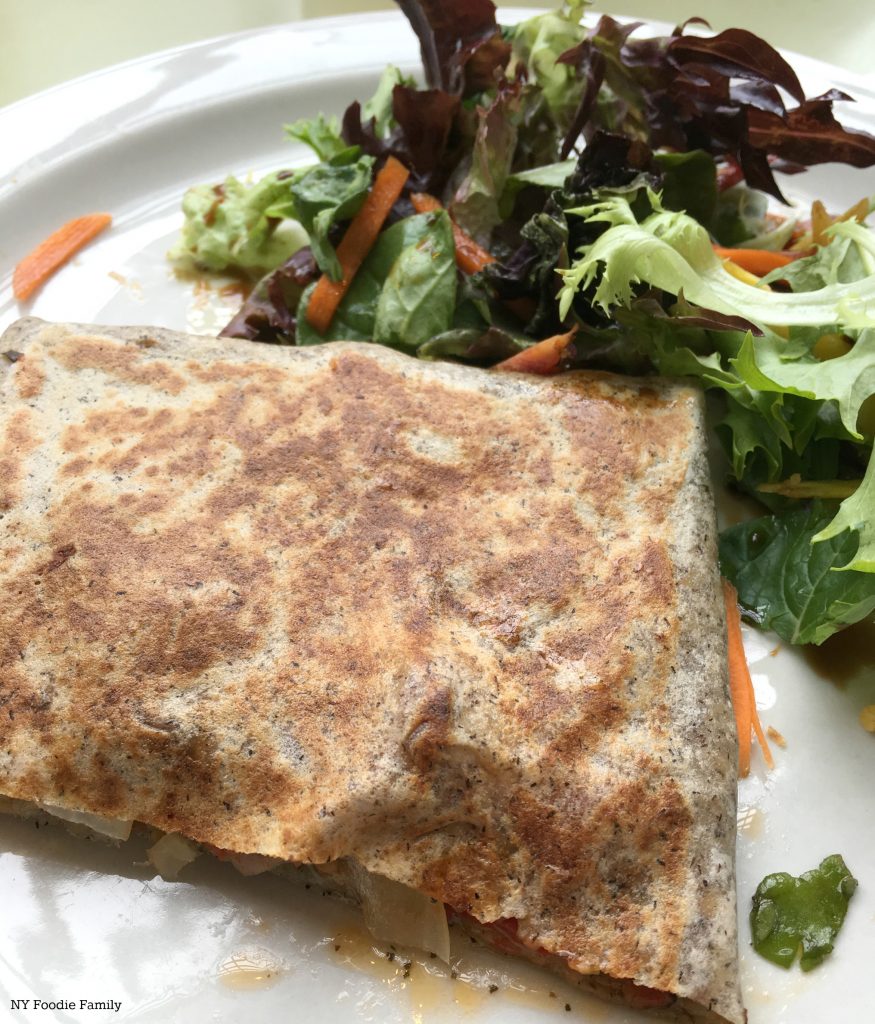 The savory menu has a crepe for every palate including several vegetarian options.  They also offer a daily crepe special, which was a kale and white bean crepe the day of our visit.  If I was ordering a crepe, I would have chosen the Monterey Short Rib (braised black Angus short rib with caramelized onions, diced tomatoes and Monterey jack cheese) or the Upper West Sider (Smoked Atlantic salmon, cream cheese and a choice of scallions or capers).  However, the kids decided on the Mama Mia.  Although it's difficult to see in the picture, this crepe was filled with Herb and Romano sausage, roasted peppers and onions, mozzarella and a tomato-garlic reduction. All savory crepes are served with a salad of mixed greens that is dressed with Saratoga Olive Oil & aged Balsamic Vinegar.  This is only half the crepe and salad, as my daughter had already started eating the other half!  The savory crepes are served in what looked and tasted like a wrap, versus a traditional crepe, which wouldn't have been able to hold all of the tasty filling.  The Mama Mia crepe is kid-approved.  My two were very happy with their crepe pick!  There was plenty of filling and the sausage was flavorful but not spicy.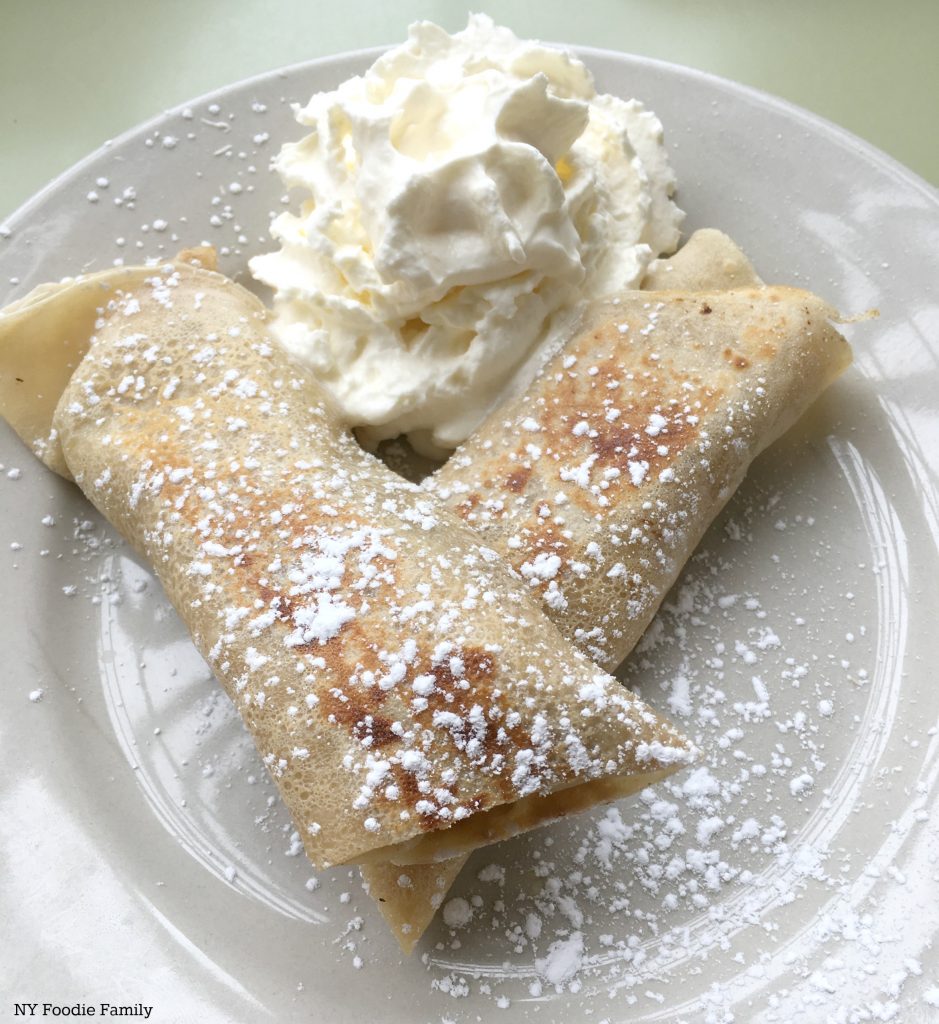 The sweet crepe menu has twelve different crepes to choose from which include everything from fresh strawberries, lemon curd, chocolate-hazelnut spread, fruit jam, Ghiradelli brownie and more!  Four of the crepes come in a petite size, for those looking for just a little something sweet to end their meal.  The kids opted for the Pommes & Caramel crepe (Maple glazed apples and house-made sea salt caramel).  This crepe was delicious!  Caramel and apples are a great combo and we could taste the sea salt pieces in the caramel.  While this dessert was sweet, it wasn't overly-so.
I shared these three dishes with my two children, ages 9 and 11.  We left satisfied but not stuffed.
Ravenous Creperie has a prix fixe menu where you can get a small pommes frites with dipping sauce, a choice of one of three different classic crepes and a petite sweet all for $16.99/person.
For those local, they have a Rewards program, where you can earn points for every dollar spent.  Online ordering is also available (with pickup only, no delivery).
If you are in the Saratoga Springs area, I highly recommend stopping by Ravenous Creperie for some tasty eats!
The Details:
Ravenous Creperie
21 Phila Street
Saratoga Springs, NY 12866
(518) 581-0560
Hours:  
Closed Mondays
Tuesday – Thursday:  11 AM – 8 PM
Friday:  11 AM – 9 PM
Saturday: 9 AM – 9 PM
Sunday:  9 AM – 8 PM
Prices:  Most savory crepes are priced between $12-$14, most sweet crepes are priced between $6.59 and $8.59. Petite sweets (mini sweet crepes) cost $2.99.   Pommes Frites come in small, medium and large sizes ($3.49-$6.99) and poutine comes in petite ($5.99) and regular ($7.99) sizes.