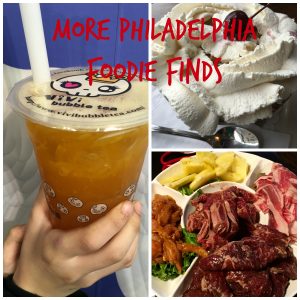 This is the third post about our recent family trip to Philadelphia.  In the first post I wrote about our food finds at Reading Terminal Market.  In the second post I wrote about our 2-day itinerary of Philly with the kids.  Today, I sharing some of our additional foodie finds while on our visit.  Philadelphia is a great city for foodies and we barely sampled all of its great eats.  Which of course gives us reason to go back to visit!
Franklin Fountain:  The Stock Market Crunch – Located at 116 Market Street, the Franklin Fountain has been featured on television shows like Man vs. Food and Best Thing I Ever Ate.  Although it was established in 2004, this ice cream parlor has the look and feel of times past, with the "soda jerks" dressed in "old-timey" garb.  The four of us shared "The Stock Market Crunch" sundae, which consists of rocky road ice cream, peanut butter sauce, salted pretzels, whipped cream and a Bordeaux cherry.  For $11, it was definitely worth it!  Please note, this is a cash only operation.  Although we were there on a pretty cold and rainy day, the place was still crowded!
Cuba Libre – This restaurant, located on 10 S. Second Street, was walking distance from our hotel.  After a long day of walking through the historic district, we were looking for something close by but different.  We don't get to eat Cuban food often.  We didn't realize until sitting down that this restaurant is a chain.  We ended up ordering a couple of appetizers including Cuba Libre Chicharrones and Empanadas and some tapas including Grilled Baby Octopus, Coconut Crab Fritters and Bruschettas de Tostones.
Logan Square Pizza & Grill  – Instead of eating at the cafeteria-style Franklin Foodworks eatery at the Franklin Institute, we opted to walk to Logan Square Pizza.  This pizza place is located at 161 North 21st Street, just a short walk from the Franklin Institute.  They offer a variety of different specialty pizzas, sandwiches and other eats, including gyros and tacos.  Unfortunately, unlike most New York pizzerias, we couldn't order specialty pizzas by the slice.  So, we ended up splitting a 16″ Margherita pizza.  While tasty enough, this was no New York pizza, in either taste, or size!  However, it was reasonably priced and in our opinion, much better than eating "cafeteria-style" museum food.
Nine Ting – I saw pictures of the Korean BBQ at Nine Ting on Instagram (#phillyeats) and had to go!  All you can eat Korean BBQ for under $30 a person.  That is just unheard of in New York for that price!  We had short ribs, chicken curry, corn, two types of steak, pork belly and pineapple, although there were lots of other bbq choices available.  We were just too stuffed to try them!  They have a make your own sauce bar and gave a small selection of banchan (small dishes).  Surprisingly, they didn't give us kimchi!  If we ever visit again, we will have to try the hot pot!
T-Swirl Crepe:  Chocolate Nut Party – While we were walking to Nine Ting, we passed T-Swirl Crepe and both of the kids mentioned that they might want a crepe for dessert.  After stuffing ourselves with Korean BBQ, we stopped in to check out the crepes.  The crepes are made with gluten free rice flour and are made to order.  The kids chose Chocolate Nut Party, which is almond, crushed pistachio, chocolate gelato, chocolate truffles, chocolate sauce, whipped yogurt, chocolate custard cream, chocolate pearls and Pocky sticks.  There were so many tasty looking crepes (I'm looking at you Blueberry NY Cheeesecake!) and they serve both sweet and savory crepes.  The Chocolate Nut Party crepe was super delicious.  The crepe was about $7.   There are several T-Swirl Crepe locations in New York City, but we were super excited to learn that they will be opening up a T-Swirl Crepe right near my husband's office in White Plains.
Vivi bubble tea – For those of you who aren't familiar with bubble tea, it's a Taiwanese tea-based drink, usually mixed with fruit or milk, in which tapioca balls or fruit jellies are added.  I am not a fan of bubble tea…(it's a texture thing) but wandering through Chinatown, my son really wanted one.  He chose the peach ice jelly, which he shared with his sister.  We ordered the regular (smaller size) which cost about $4.  This is a franchise, with locations throughout the United States, including many in New York City.  The Philadelphia franchise is located at 145 N. 10th Street in Chinatown.
Sonny's Famous Steaks – Located at 228 Market Street, we stopped here on our last night since we hadn't had a cheesesteak yet, and I wasn't leaving Philly without having at least one!  We ordered a Cheesesteak with provolone and grilled onions.  Hand-sliced rib eye on a sub roll, topped with melted provolone and sweet, grilled onions…..deliciousness all for just $9!  The four of us split one and enjoyed it.  We were full from our dinner earlier, but all had room for this sandwich.