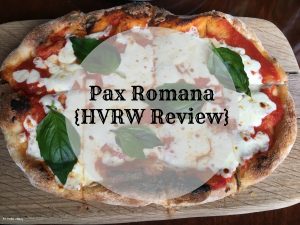 I am a Hudson Valley Restaurant Week Grazer.  In exchange for posts about my HVRW experience, part of this meal may have been compensated.  However, all thoughts and opinions are my own.
This past Wednesday, I got the rare chance to have a lunch date with my husband.  Hudson Valley Restaurant Week (HVRW) ends this Sunday the 13th and I wanted to get another delicious three course meal in! Since my husband works in White Plains, we had several options for lunch.  We had heard good things about Pax Romana – homemade pasta and great pizza?  We had to try it!  The restaurant, which opened in February of this year, is located at 189 East Post Road in White Plains  in the former Taleggio space.
Pax Romana is open every day beginning at noon, serving both lunch and dinner.  Although they don't take lunch reservations, the dining room  is spacious with lots of seating.   Be sure to leave room for some gelato, which you will see in the case on the left when you first enter the restaurant!
I enjoyed the casual modern decor of the restaurant including the graffiti wall and arched windows.  Vintage kitchen accessories were showcased on shelves, hung from the ceiling and decorated the walls.  Vases of fresh herbs were placed on each table.
Pax Romana has one HVRW menu and serves the same dishes for both lunch and dinner.  The restaurant also has a regular $10 Pax Lunch menu, which my husband ordered from.  This menu includes a choice of soup, salad or fries with one of the listed entrees.  Before we even ordered, crispy, herbed bread sticks were placed on the table.
For my starter I ordered Suppli'e Olive Ascolane.  All menu items are listed in Italian and English.   This is a large, fried risotto ball with mozzarella cheese in the center.  It was served with four meat stuffed olives, also fried.  I enjoyed this appetizer a lot, which I shared with my husband.
My husband ordered the soup of the day as part of his lunch special.  The soup, Zuppa de Cavolfiore, is the same pureed cauliflower soup offered on the HVRW menu.  This soup was smooth and creamy.
For his entree my husband ordered the Maccheroni cor Ragu de Sarsiccia e Spuntature – macaroni with pork rib and sausage ragu.  This pasta dish is also offered on the HVRW menu.  He wanted to try the homemade pasta and this dish stood out to him.  It was flavorful, hearty and filling!
For my entree I ordered the Pinsa Margherita.  Pax Romana is the only restaurant in New York that directly imports Pinsa Romana flour directly from Rome, which they use to make their pizza.  This pizza had a light, crispy crust.  With just san marzano tomatoes, mozzarella and fresh basil, this pizza proves that good quality, simple ingredients can make a delicious dish.
My husband's lunch special did not come with dessert.  However, the Nutella Bombolone, a Nutella-filled Italian doughnut, was big enough for the two of us to share.  This doughnut is stuffed with Nutella and was a sweet ending to our meal.
Overall, we had a great lunch at Pax Romana during HVRW.  The servings were generous in size and delicious in taste.  Service was friendly and attentive.  We will have to return and try the gelato since we didn't take our own advice and had no room for the extra dessert!