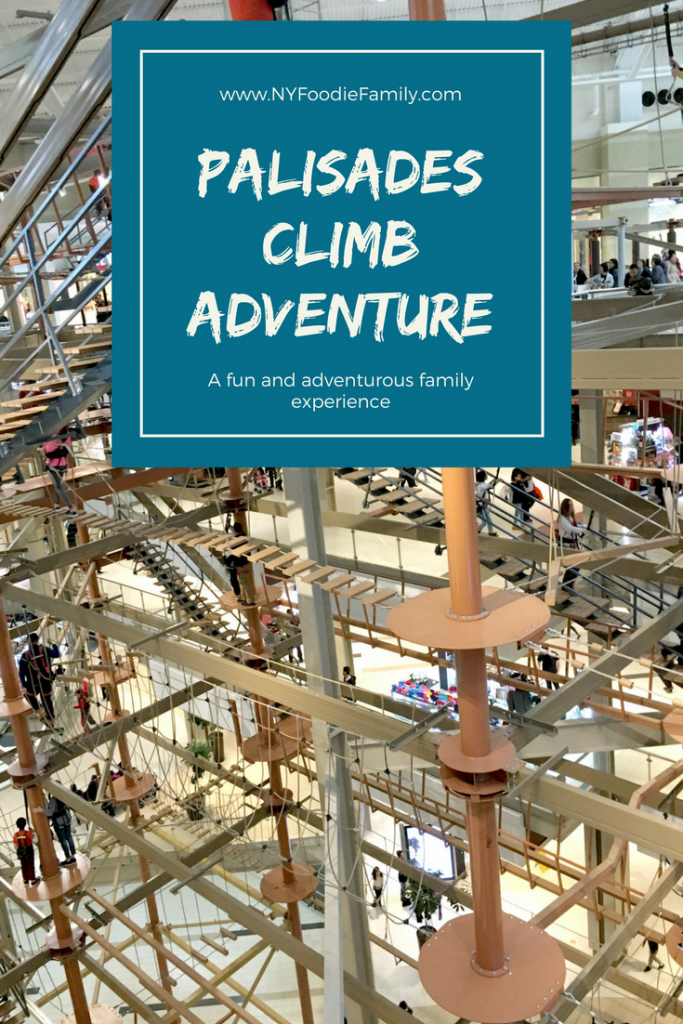 (We were provided tickets to Palisades Climb Adventure.  However, all opinions are our own.)
The temperature has been dropping and the holiday break will be here before you know it.  For a fun, indoor activity for the entire family, give Palisades Climb Adventure a try.  Located at the Palisades Center mall in Rockland County, Palisades Climb Adventure is the world's tallest indoor ropes course.  There are 75 different elements throughout five different levels that climbers can experience as they make their way through the 85-foot tall course.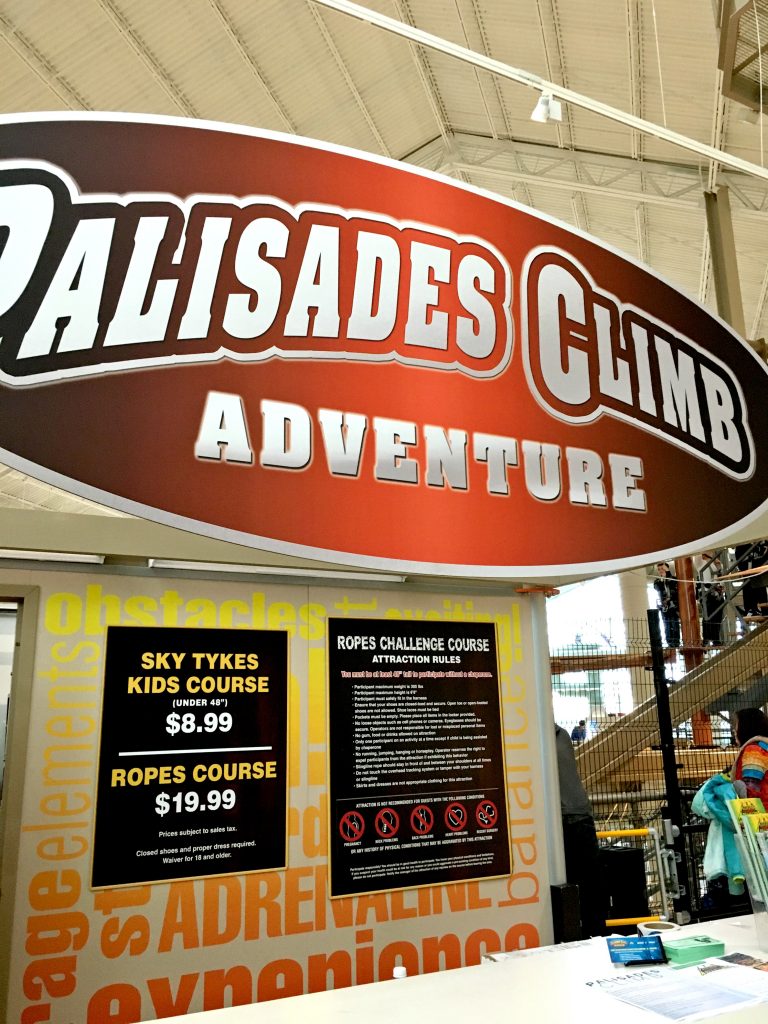 After a day spent shopping at the mall, our family decided to do the ropes course before leaving.  This was not our first time doing the Palisades Climb.  All four of us did the course two years ago during the Christmas break.  Having experienced the course before, I did not participate this time as I wanted to take pictures of the family while they climbed around. You must empty your pockets and place everything in a locker before you can climb.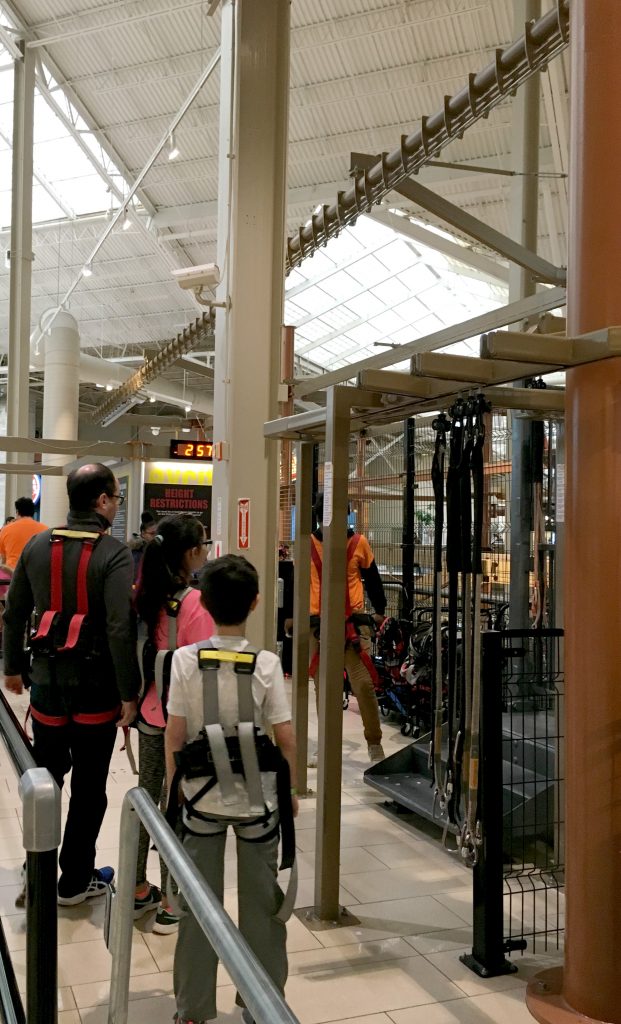 Once you pay for the climb, you are given a wrist band.  Then, you wait on line to get harnessed and start the course. On this most recent visit, there was hardly any lines or waiting.  On our previous visit, during the holiday break, there was a substantial wait.  Only 75 people are allowed out on the course at one time, so there can be a long line, depending on when you go.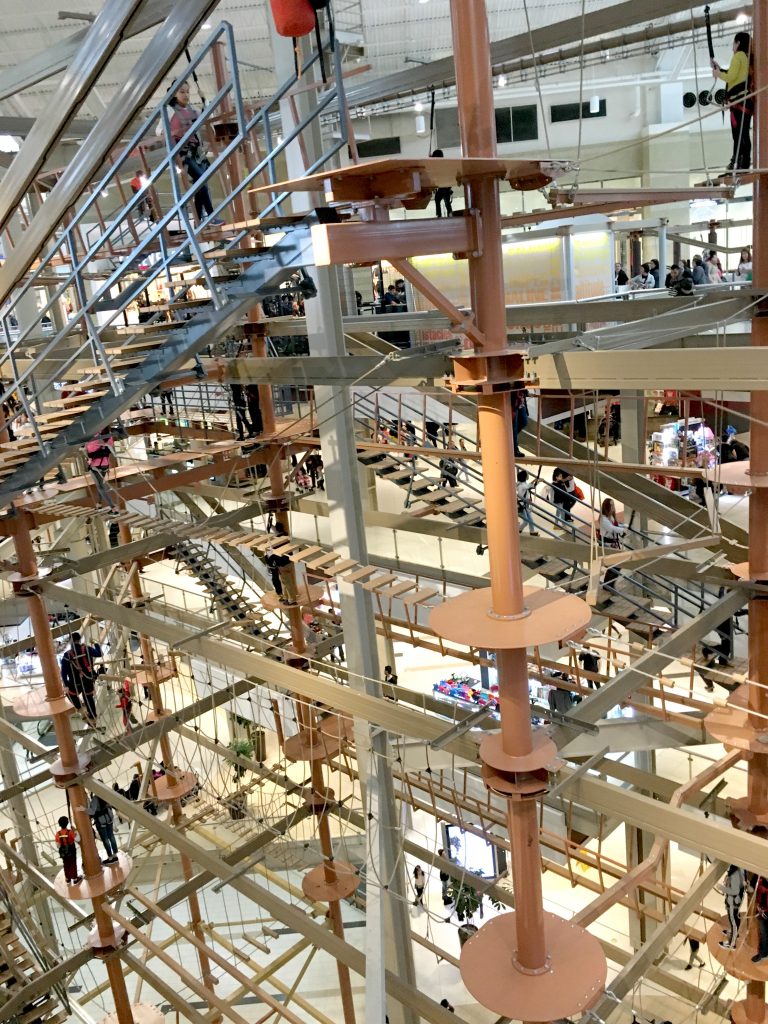 Employees fit each person with a harness and tighten the straps.  The harness gets clipped to a cable that runs on an overhead track. The cable ensures that you will not fall.  No matter how scary it appears, you are safe!  If your child is on the shorter side, they may have difficulty pulling their cable along the track in spots.  My husband had to assist my son at times.  If you are sending your child out on the course without an adult, there are employees out on the course to assist participants, if needed. Only one person is supposed to be on an element at a time.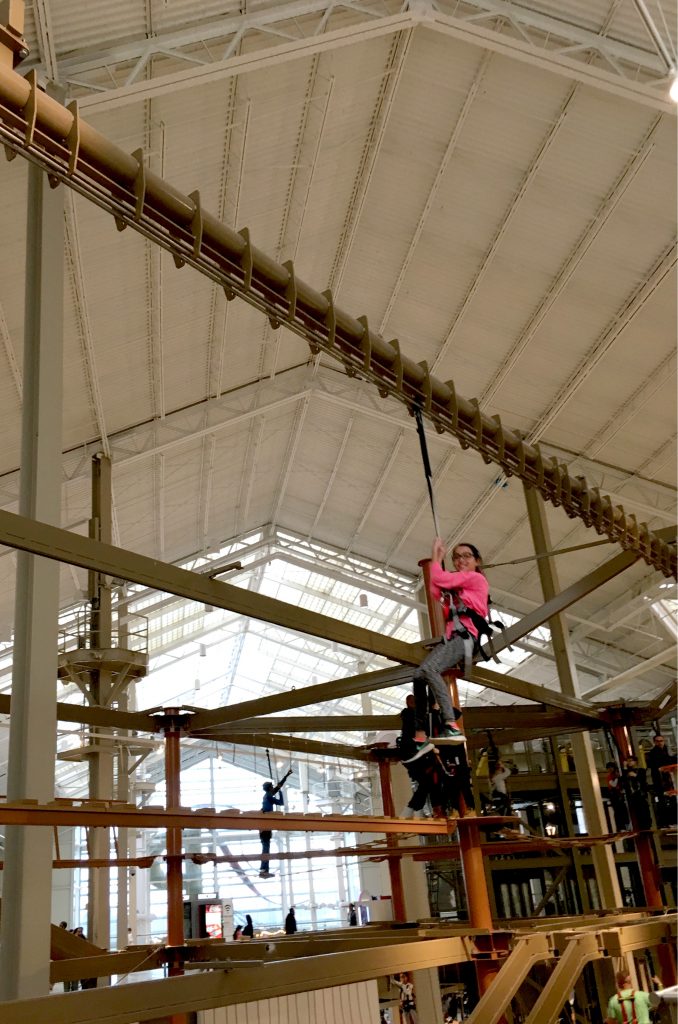 Once on the course, my family gravitated to the upper obstacles.  They especially enjoyed the zip line at the very top of the course.  There was barely any wait for the zip line and they rode it three times in a row.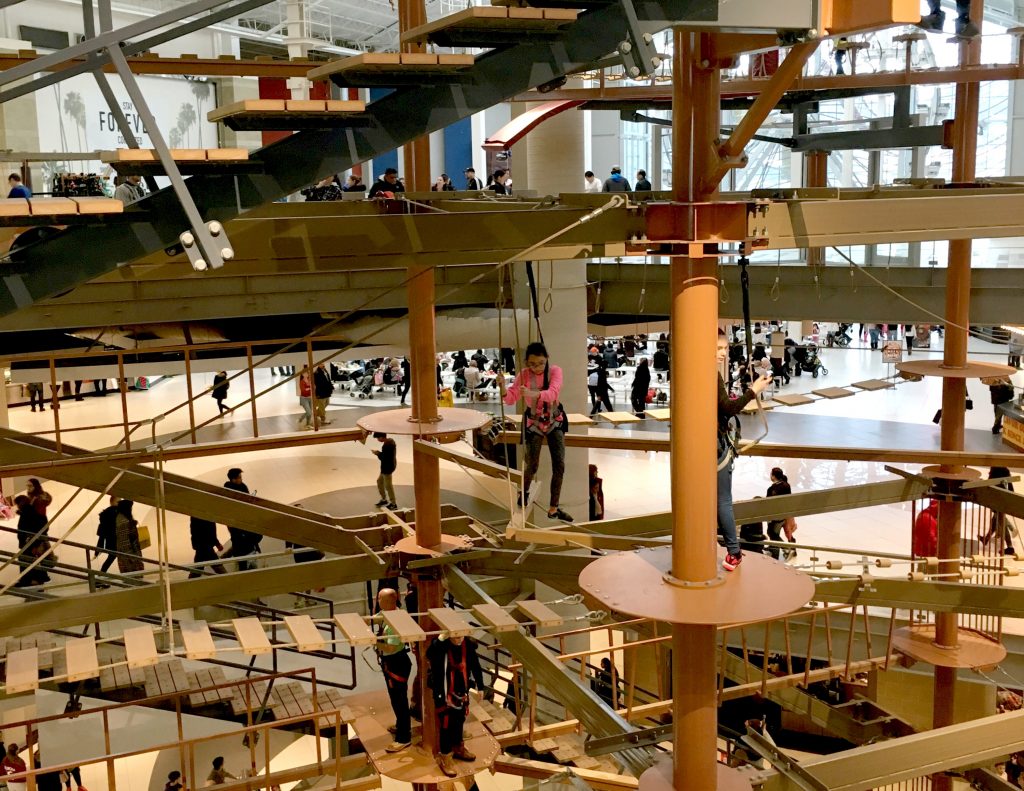 They eventually made their way down to the bottom levels of the course but discovered that those elements are apparently the easier ones.  So they made their way back up to the middle levels.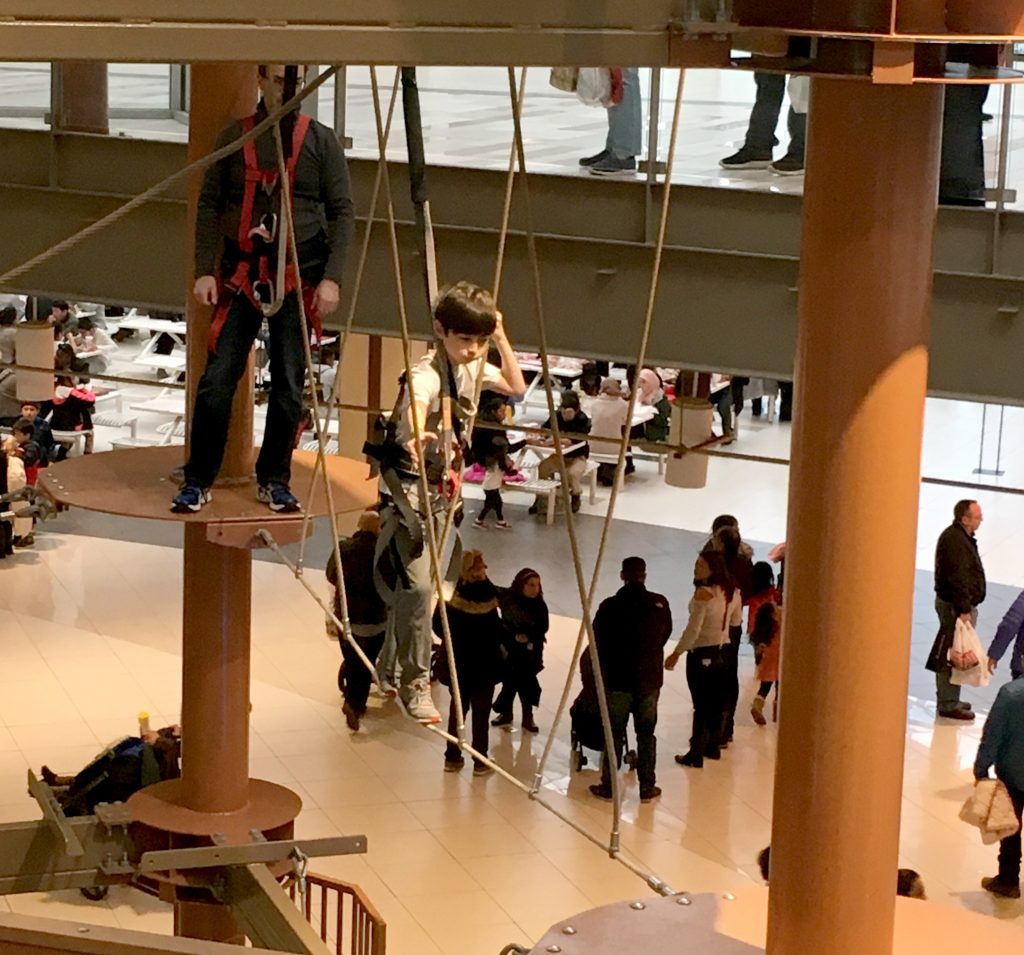 They spent a good hour on the ropes course and had a great time.  My son was a lot less fearful this time out and tried some elements that he hadn't on the last visit.   For those with smaller children (under 42″ tall) there is a Sky Tykes kids course that they can participate in.
The Palisades Climb Adventure is in the middle of a large shopping mall.  There will be lots of people stopping to watch you climb. Believe me, you'll be so focused on getting across the elements, that you won't even notice them!  Relax and enjoy the experience!
The Details:
Palisades Adventure Climb
Palisades Center (Course entrance is on the 4th Floor)
4590 Palisades Center Drive
West Nyack, NY 10994
(845) 727-3500
Website
Hours:
Monday – Thursday 2 PM – 8 PM
Friday 2 PM – 9 PM
Saturday:  11 AM – 10 PM
Sunday: 11 AM – 7 PM
Parking:  Plenty of free parking in the mall parking lot.  Park in the Level 4 parking lot (Target/Barnes&Noble/etc) for closest access
Admission:  $19.99/person for the Rope Course  $8.99/person (under 48″) for the Sky Tykes Kids Course
Tips:
*If you want pictures of your family climbing, you will need to bring someone who doesn't want to climb.  No phones, bags, etc. are allowed on the climb.
*The course gets busy during the holiday vacation.  Plan your visit accordingly.
*Although any closed toe shoes are acceptable, I recommend wearing sneakers.
*Lockers are available to store your jackets and bags.