I am linking up again with Anne and Jenna for their monthly Currently linkup.  I am currently:
Eating: Just ate this Pizza Casserole for dinner last night.  The kids both had playdates with their friends at our house yesterday afternoon and this meal was super quick and easy to throw together!  And for dessert…..ice cream.  Since the Weekend Chef has stopped eating sugar and the kids keep losing their treats, I get to continue to enjoy this Turkey Hill Limited Edition Butter Brickle ice cream all to myself!  It's really good!
Exploring:  Not much. With a jam packed schedule, it's hard to find time to explore anything!  I am looking into possible pizza recipes to make for our pizza-themed Supper Club next month.  Unfortunately, we will have to start exploring new car options, as we will need to replace one of our cars soon.
Wearing:  Currently sitting here typing this post in my pajamas while watching Netflix!  However, during the day, jeans and long sleeve shirts/blouses are my current go-to. It is definitely feeling like fall around here!  However, the cooler weather hasn't deterred my son from continuing to wear shorts and t-shirts!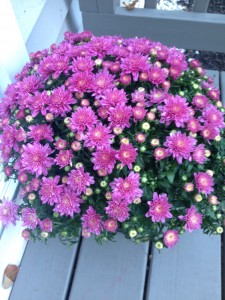 Admiring:  All things fall including my mums (which sadly do not look like this anymore!) and the leaves changing colors.  I'm also admiring my daughter's perseverance practicing her saxophone.  She's having difficulty with it and getting frustrated, but she continues to keep practicing.  And finally, I'm admiring my husband's dedication to his new diet and healthy eating habits.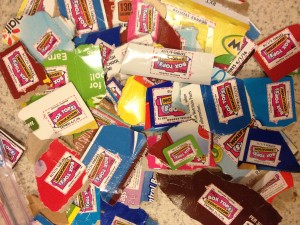 Collecting:   Box tops for the kids school, and magazine and nut/candy orders for my daughter's Girl Scout fall product sale.
**And on a side note, NY Foodie Family is finally on Facebook!  Please feel free to stop by and like our page!