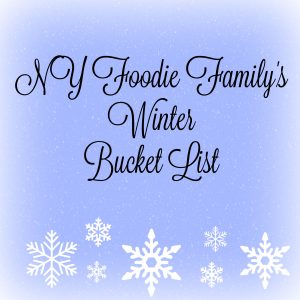 Today is the official first day of winter and boy does it feel like it here in New York!  So I thought today would be appropriate to share our family's winter bucket list.  We haven't created a seasonal bucket list in awhile.  However, there are some things that we've been wanting to do for awhile.  Why a bucket list?  Because having something written down makes us more likely to do it.  When we create a bucket list, each family member chooses one seasonally appropriate activity that he or she would like to do.  We then have three months to try to complete the activities.  Although we try to have more than four family fun experiences during the winter, we only commit to the four bucket list items.  Two kids means two busy activity schedules.  Plus, winter means unpredictable and sometimes bad weather.  Here is a look at our 2016 family winter bucket list:
Me:  I would like to go snow tubing.  I don't mean sleigh riding down the hill at our local school.  I mean visit a ski resort and go tubing down the big hills!  The kind of tubing where they have a lift to help carry the tube back up the hill!  I even bought snow pants for myself last winter thinking we'd go….but we never went.  So, it's on the list which means we are doing it!
Husband:  My husband would like to go to local ice hockey game.  Although my son likes to play NHL '16 on the Xbox, neither of the kids have ever seen an ice hockey game before.  We will most likely go see a game at West Point, which is close to home.
Daughter (age 10):  My daughter's bucket list activity is to go see Matilda on Broadway.  This is probably our first bucket list item since the show is closing after the January 1, 2017 performance.  We are hoping to go next week during their holiday break.
Son (age 8):  My son's bucket list item is going to a basketball game.  We seem  to have a sports theme this year!  My son has been playing basketball for four years now through our local recreation department and he loves it.  He'd like to see the professionals play.  While I'm not ready to shell out $75+ per ticket for us to attend a professional basketball game, I'm happy to go to the Westchester County Center.  The venue is close to home and much more affordable!