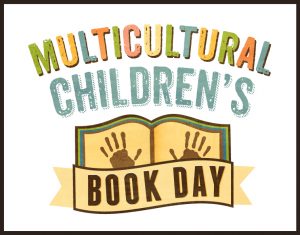 Multicultural Children's Book Day 2017 (1/27/17) is in its fourth year and was founded by Valarie Budayr from Jump Into A Book and Mia Wenjen from PragmaticMom. Our mission is to raise awareness of the ongoing need to include kids' books that celebrate diversity in home and school bookshelves while also working diligently to get more of these types of books into the hands of young readers, parents and educators.
Despite census data that shows 37% of the US population consists of people of color, only 10% of children's books published have diversity content. Using the Multicultural Children's Book Day holiday, the MCBD Team is on a mission to change all of that.
Current Sponsors:  MCBD 2017 is honored to have some amazing Sponsors on board. Platinum Sponsors include Scholastic, Barefoot Books and Broccoli. Other Medallion Level Sponsors include heavy-hitters like Author Carole P. Roman, Audrey Press, Candlewick Press,  Fathers Incorporated, KidLitTV, Capstone Young Readers, ChildsPlayUsa, Author Gayle Swift, Wisdom Tales Press, Lee& Low Books, The Pack-n-Go Girls, Live Oak Media, Author Charlotte Riggle,Chronicle Books and Pomelo Books
Author Sponsor include: Karen Leggett Abouraya, Veronica Appleton, Susan Bernardo, Kathleen Burkinshaw, Delores Connors, Maria Dismondy, D.G. Driver, Geoff Griffin,  Savannah Hendricks, Stephen Hodges, Carmen Bernier-Grand,Vahid Imani, Gwen Jackson,  Hena, Kahn, David Kelly, Mariana Llanos, Natasha Moulton-Levy, Teddy O'Malley, Stacy McAnulty,  Cerece Murphy, Miranda Paul, Annette Pimentel, Greg Ransom, Sandra Richards, Elsa Takaoka, Graciela Tiscareño-Sato,  Sarah Stevenson, Monica Mathis-Stowe SmartChoiceNation,Andrea Y. Wang
We'd like to also give a shout-out to MCBD's impressive CoHost Team who not only hosts the book review link-up on celebration day, but who also works tirelessly to spread the word of this event. View our CoHosts HERE.
MCBD Links to remember:
MCBD site: http://multiculturalchildrensbookday.com/
Free Multicultural Books for Teachers: http://bit.ly/1kGZrta
Free Kindness Classroom Kit for Homeschoolers, Organizations, Librarians and Educators: http://multiculturalchildrensbookday.com/teachers-classroom-kindness-kit/
Free Diversity Book Lists and Activities for Teachers and Parents: http://bit.ly/1sZ5s8i
Hashtag: Don't forget to connect with us on social media and be sure and look for/use their official hashtag#ReadYourWorld.
Nowhere Girl by A.J. Paquette
Published by:  Walker & Company (imprint of Bloomsbury), September 13, 2011
Genre:  Children's Middle Grade Fiction, Asian culture
Pages: 256
Price:  $16.99
Source: Provided by the author/publisher for a review for Multicultural Children's Book Day
From Bloomsbury:
Luchi Ann only knows a few things about herself: she was born in a prison in Thailand. Her American mother was an inmate there. And now that her mother has died, Luchi must leave the only place she's ever known and set out into the world. Neither at home as a Thai, because of her fair skin and blond hair, nor as a foreigner, because of her knowledge of Thai life and traditions, Luchi feels as though she belongs nowhere. But as she embarks on an amazing adventure-a journey spanning continents and customs, harrowing danger and exhilarating experiences-she will find the family, and the home, she's always dreamed of. Weaving intricate elements of traditional Thailand into a modern-day fairy tale unique unto itself, Nowhere Girl is a beautifully rendered story of courage, resilience, and finding the one place where you truly belong.
My Review:  13 year-old Luchi was born in a prison in northern Thailand, where her American mother was imprisoned.  This prison is the only life Luchi has known.  When her mother passes away, Luchi decides that she needs to leave the prison.  With her mother's ashes sitting in a small canister  tied to her back and an old list of names of people in Bangkok, Luchi is escorted to the city by the Chief warden's nephew.   Luchi with her blond hair and gray eyes looks American but has only known Thailand as her home.  She's always, "felt like a monkey in the middle" but feels it even more so, as she discovers the world around her for the first time.  When she sees Thailand for the first time she is amazed by all the sights and sounds.  We as the reader, get to experience Thai culture along with Luchi as she tries new foods and sees the sights of Bangkok.
As Luchi's journey unfolds, we learn secrets about her mother's past and her family back in America.  Luchi realizes that she can reinvent herself and be anyone she wants.  We accompany her as she heads to America to find her grandmother, the only family that she has.  Will Luchi be successful in finding her mother's family?
Having never been to Thailand before, (but hoping one day to visit!), I thought that Paquette captured the Thai culture well.  I also liked how Thai words are interspersed throughout the text but are understandable in context.
Luchi is such a likable character who shows such resilience and perseverance on her journey.  While I thoroughly enjoyed the story, I found it to be a little rushed at the end to tie up all the loose ends.  (**Possible spoiler alert ahead!)  And I'm still left wondering what happened to Helena when she went missing for four days.
This book is such a  great read and I highly recommend it.  It is unfortunate that this book has been published for over five years now and this is the first time that I have heard of it.  I really appreciate the efforts of Multicultural Children's Book Day to bring awareness to diversity in children's literature.  I am happy to be passing this book along to my ten-year-old daughter to read.
Overall Rating: Recommended Read.