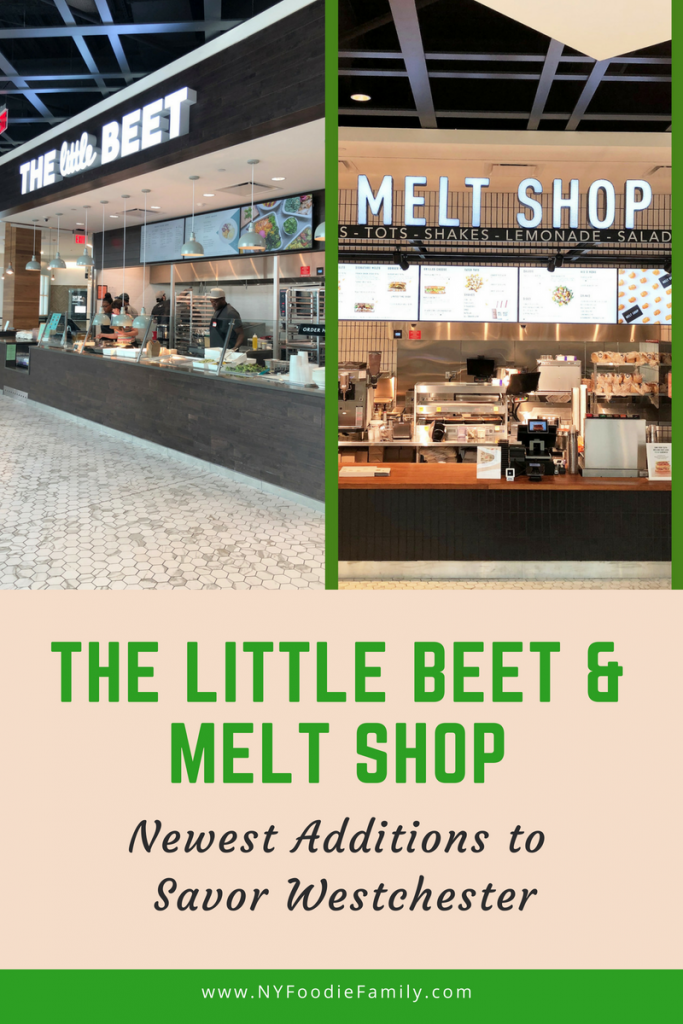 (Thank you to The Little Beet for hosting NY Foodie Family.  As always, all opinions are our own.)
Two new eateries, Melt Shop and The Little Beet recently opened at Savor Westchester, the food hall type dining experience at The Westchester in White Plains.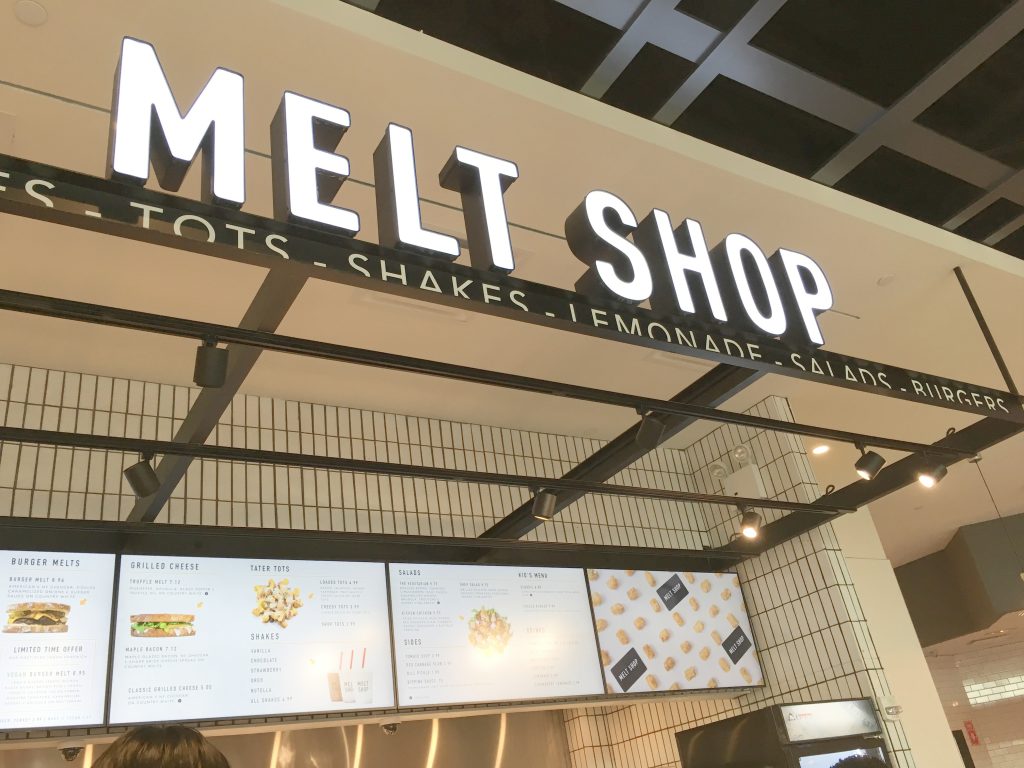 Melt Shop is all about comfort food.  We're talking grilled sandwiches (with, of course, lots of melty cheese!), tater tots, and milkshakes.  Sandwiches are reasonably priced, ranging from $5.05 to $8.96.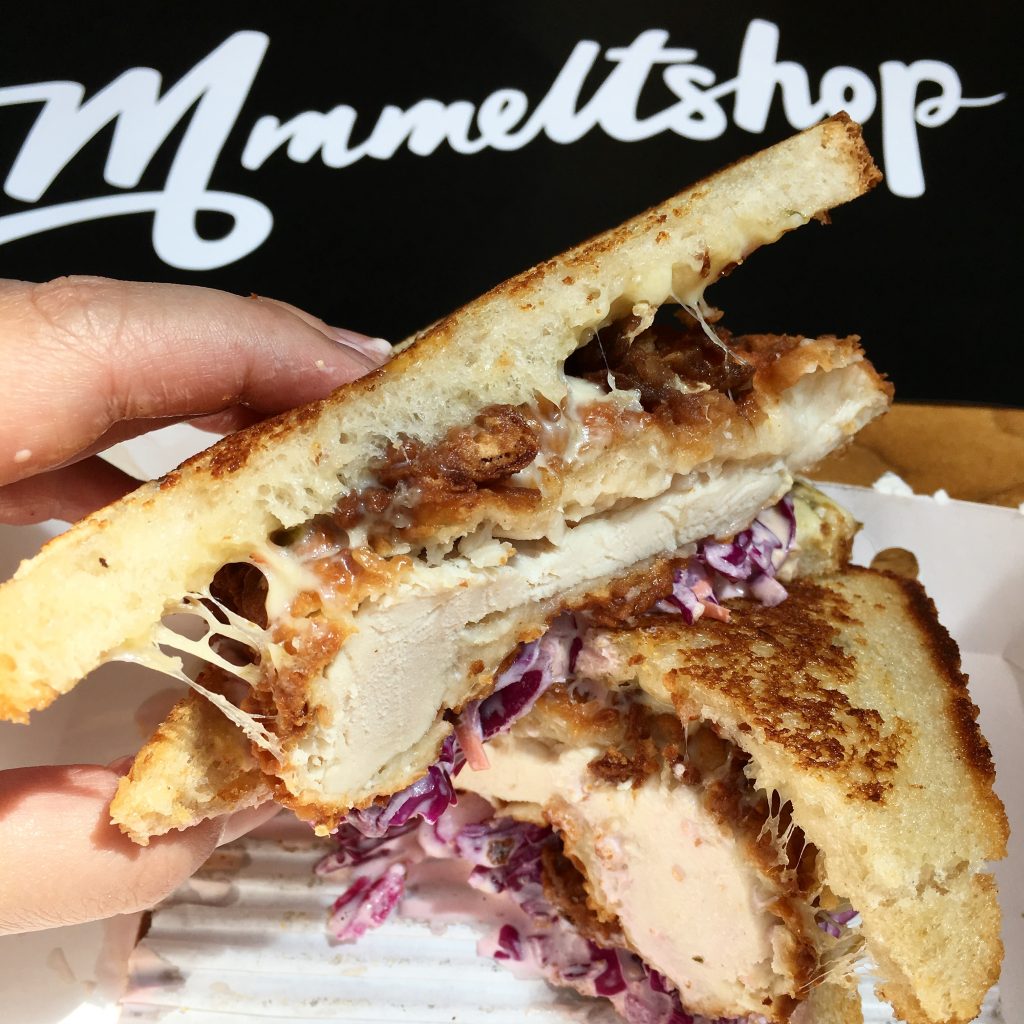 One of our favorite Melt Shop sandwiches is the Signature Fried Chicken.  A generously-sized piece of fried chicken is topped with pepper jack, red cabbage slaw, and Melt sauce.  A warning: This sandwich is messy, but so good!  Have plenty of napkins on hand.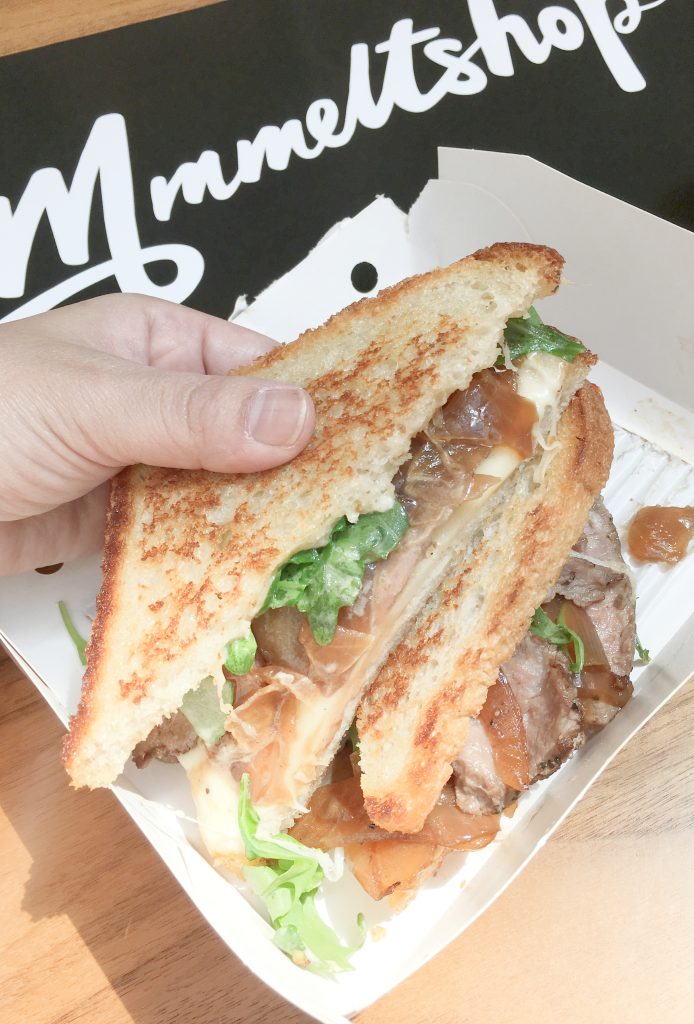 We also tried the French Onion Beef.  Roast beef, frenched onions, Muenster cheese, arugula, and sherry vinaigrette are piled on Country White Bread.   This was a tasty sandwich as well, though the fried chicken was definitely preferred.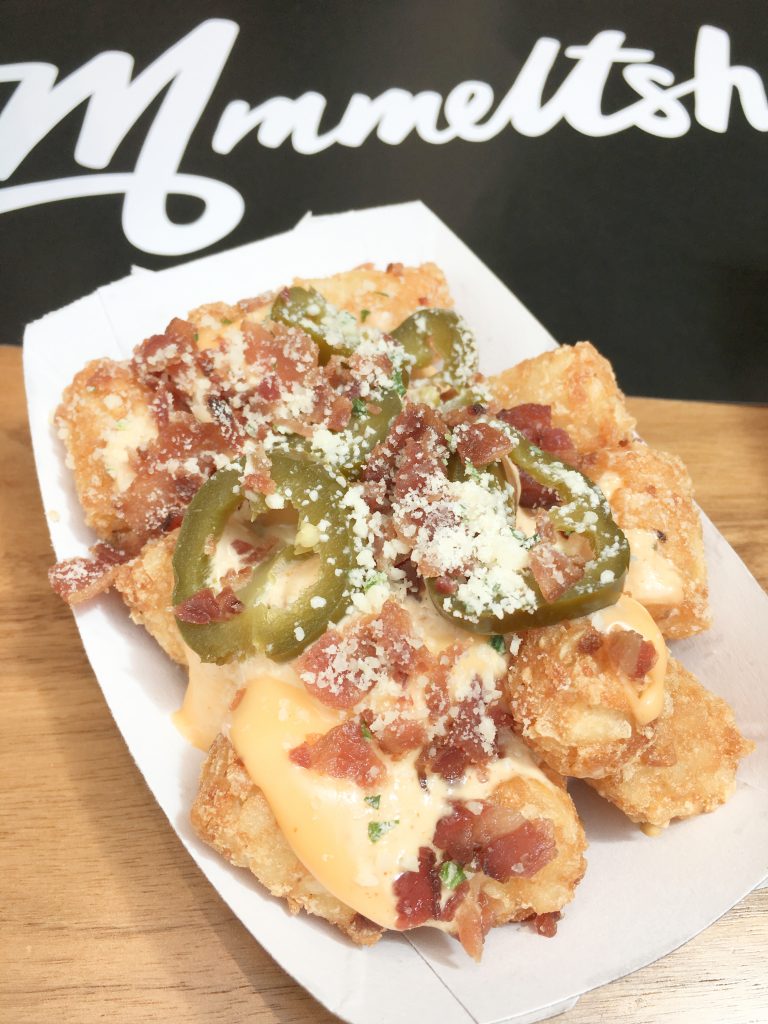 Melt Shop doesn't serve fries, they have tater tots.  You could choose tots topped with just cheese sauce.  However, we opted for the loaded tots which are covered in cheese sauce, bacon, jalapeno and herbed parmesan.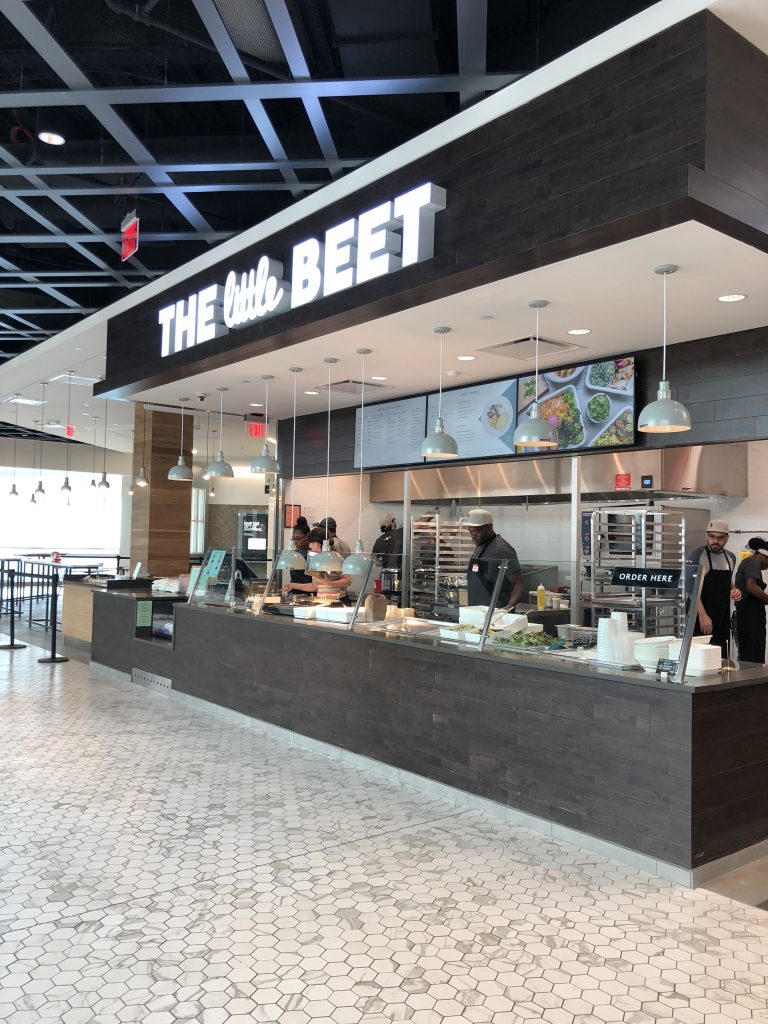 Another new addition to Savor Westchester is The Little Beet.  This eatery has a strong plant-based focus, featuring lots of veggies. They have dining choices for special dietary preferences including gluten-free, vegetarian, dairy-free and more.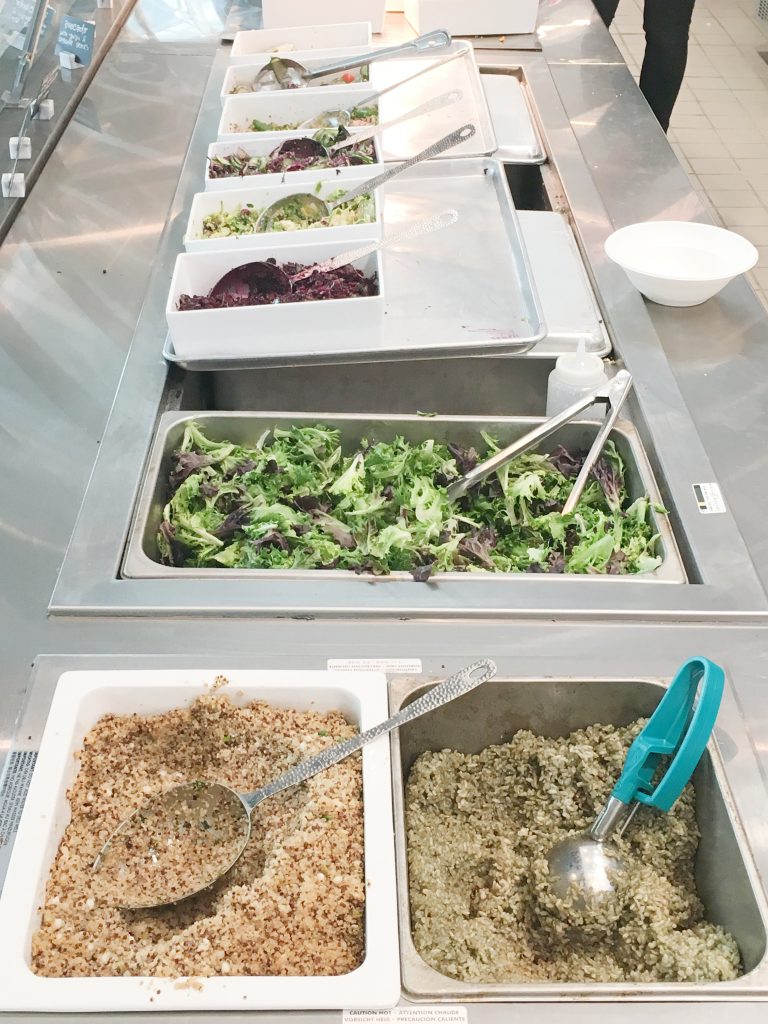 This is a quick-service create-your-own bowl restaurant.  You choose a base of either field greens, brown rice and spirulina (FYI -spirulina is a superfood algae), or a gluten-free ancient grain blend.  Then choose two veggies for your bowl.  They offer cool choices, like the cukes and tomatoes (which happens to be a fave of the staff at the Savor Westchester location), seaweed slaw and pea and radishes.  Warm veggies include chipotle kale, charred sweet potato and more. If you don't want one of the bases, you can opt for a third veggie instead.  Step two is picking a protein.  Salmon is one of the best-selling options, since no other eatery at Savor Westchester offers a salmon dish.  Other options include chicken, tofu, beet falafel, sesame avocado, and braised pork.  Step three is to choose a sauce; Chimichurri, beet hummus dip and sweet chili garlic sauce are a few of the choices.  Finally, you can pick a garnish of either super seeds, turmeric almonds, pickled ginger or hibiscus pickled onion.  The combinations and options are nearly limitless!  Prices are based on the type of protein chosen but range in price from $11.40 for sesame avocado to $14.00 for salmon.  You can also just have the veggies and base only for $8.95.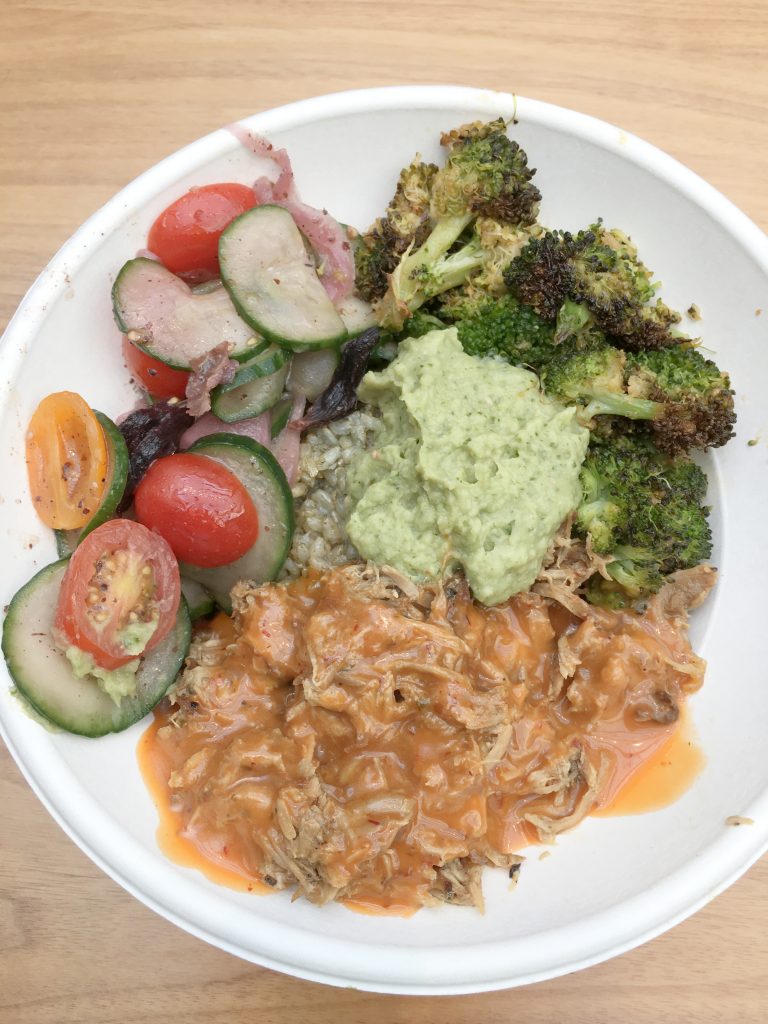 One bowl we opted for was brown rice and spirulina topped with charred broccoli, cukes and tomatoes and braised pork.  We chose to top it with avocado bean dip and sweet chili garlic sauce.  This combo was definitely one of our favorites!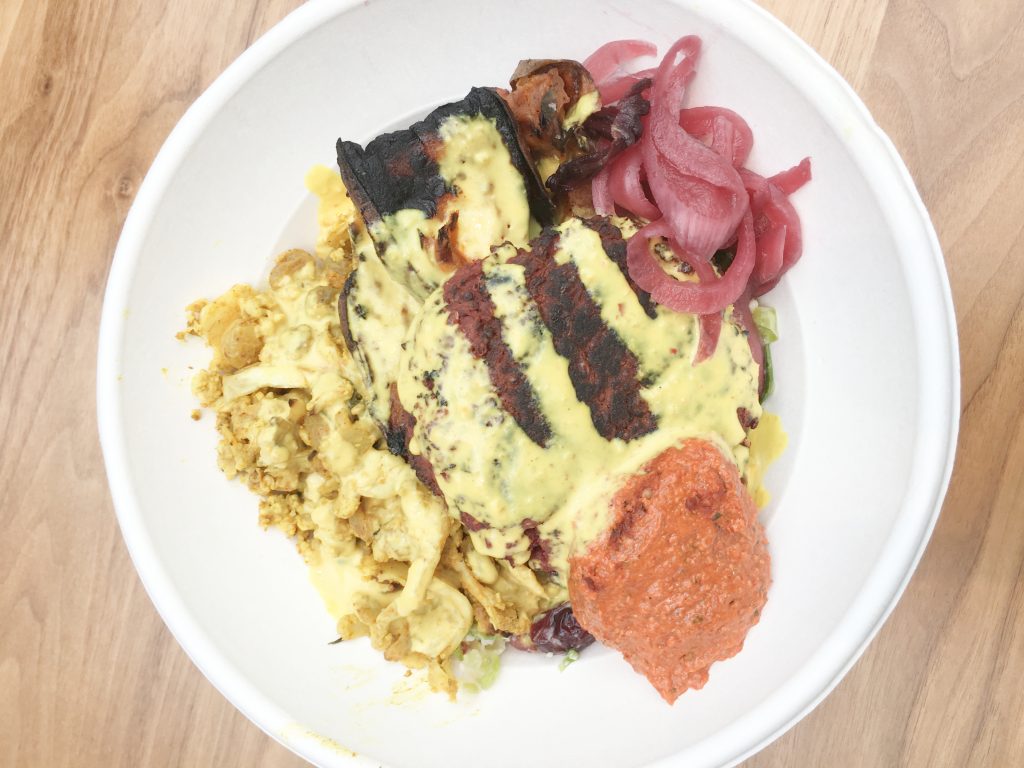 On this bowl we opted for a third veggie instead of a base.  We chose charred sweet potatoes, golden cauliflower and shaved brussels sprouts topped with turmeric tahini, roasted red pepper and walnut dip and pickled onions.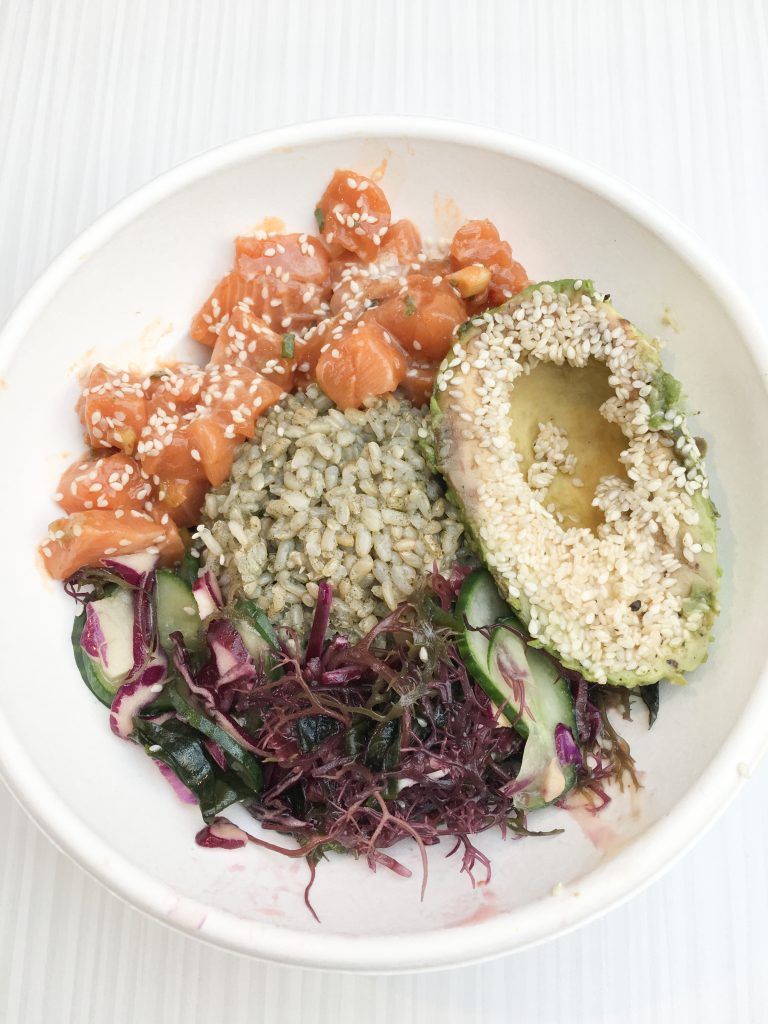 We also tried the Chef Made Yuzu Poke Bowl.  We opted for a rice base which is then topped with salmon poke, grilled avocado, cucumber, sea vegetables, pickled ginger and sesame seeds.
I am not kidding when I tell you everything was delicious.  The kids loved it all as well and my husband noted that you don't even need the meat.  The veggies and sauces are so flavorful.  If we could eat this every day, we could totally become vegetarians!
So the next time you are at Savor Westchester, make sure to stop by either Melt Shop or The Little Beet for some tasty eats!  Click the link to read more about some of the other dining options at Savor Westchester.