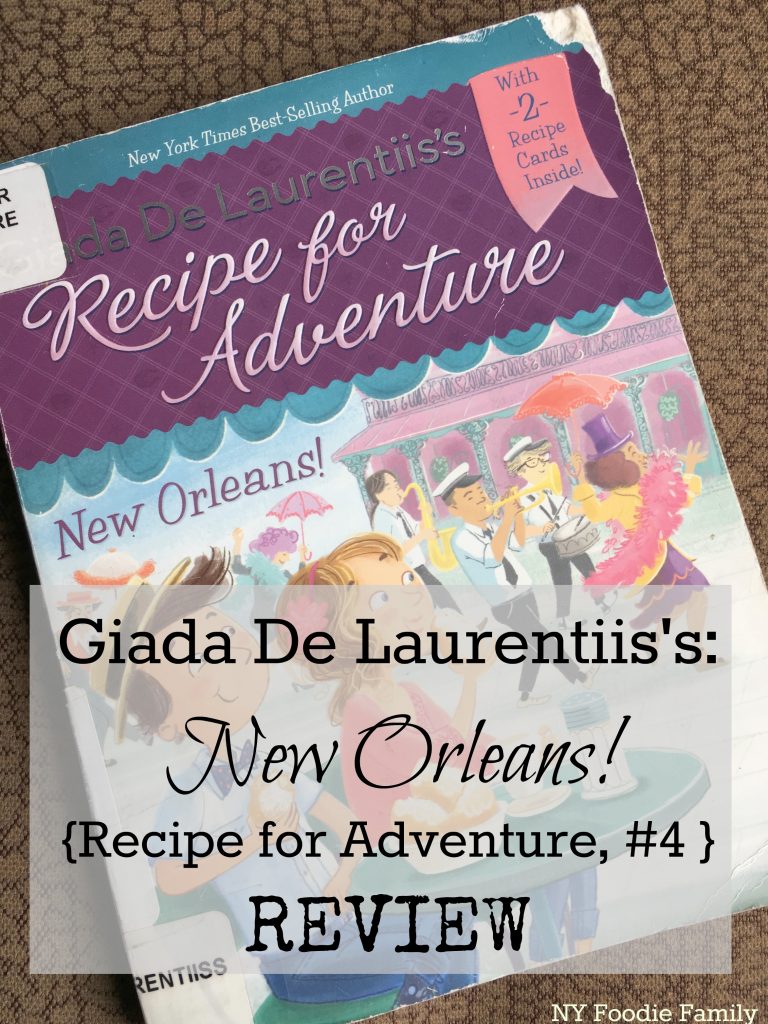 New Orleans! (Recipe for Adventure #4) by Giada De Laurentiis
Illustrated by:  Francesca Gambatesa
Published: 2015 by Grosset & Dunlap (imprint of Penguin Random House)
Pages: 144
Price: $6.99 (paperback)
Source:  Borrowed from library
Rating:  4/5 stars
This is the fourth book in Giada De Laurentiis' Recipe for Adventure series.  Most of us know De Laurentiis as a chef and judge on the Food Network and from her cookbooks.  With the Recipe for Adventure chapter book series she shows us new talents.  These books are not award-winning works of writing.  However, De Laurentiis presents engaging stories that introduce children to the world of food and travel.  The series is targeted for readers ages 7-10.   In the series, siblings Emilia and Alfie are transported to different cities around the world.  They get to taste all kinds of new foods and visit famous sights as they help a new friend solve a problem.
In New Orleans!, Alfie and Emilia are transported to the city via a bowl of their Zia Donatella's gumbo.  There, they meet up with the La Salle kids, who play in a jazz band and run their family restaurant.  Alfie and Emilia help their new friends try to save their family's restaurant.
While in New Orleans Alfie and Emilia get to try all kinds of food including blackened catfish, red beans and rice, collard greens, grits, beignets, Po'boys and more! Cooking terminology like the holy trinity (onion, celery and bell pepper) and roux is introduced as well.
Children also learn about the city of New Orleans as they read.  The Louisiana Purchase and the history of the city is mentioned, as well as Hurricane Katrina and the importance of jazz. While there, Emilia and Alfie visit many popular sights including the French Quarter, the Mississippi River, the Garden District and the bayou.
This book, like the others in the series, has an element of fantasy.  Emilia and Alfie magically appear in New Orleans and later are then transported back home.  Other parts of this book, like the La Salle children living on their own while their parents travel with their riverboat gigs seemed unbelievable.  Also, none of the children really questioning the absence of Alfie and Emilia's "aunt" whom they mention they are staying with but is never seen, is a bit suspect.
Two recipe cards are included at the back of each book.  In New Orleans! recipe cards include Zia Donatella's Gumbo and Bananas Foster.  My kids and I made both of these recipes.  Knowing that these are Giada De Laurentiis recipes, I knew they were going to be good!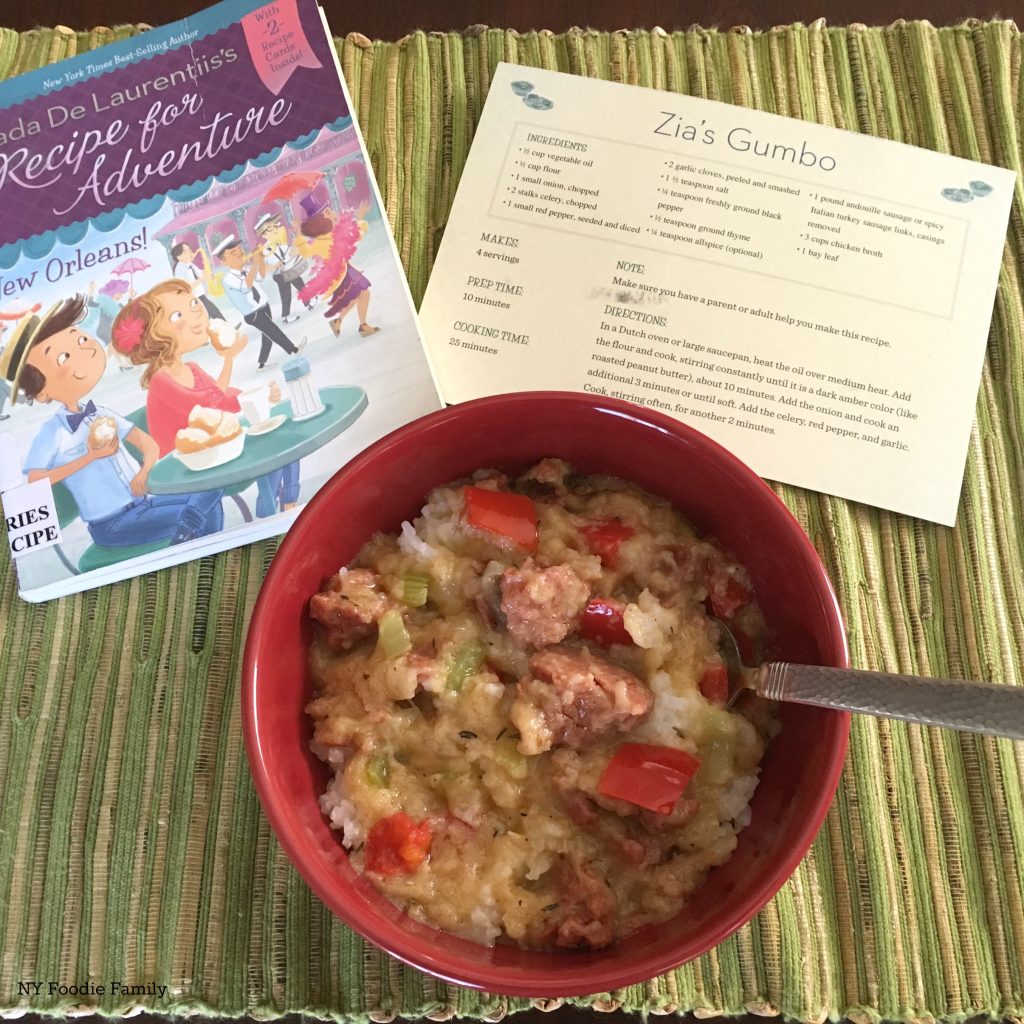 Zia's Gumbo:  Both kids helped me make this gumbo.  Adult assistance is a must with this recipe, as there is quite a lot of vegetable chopping involved.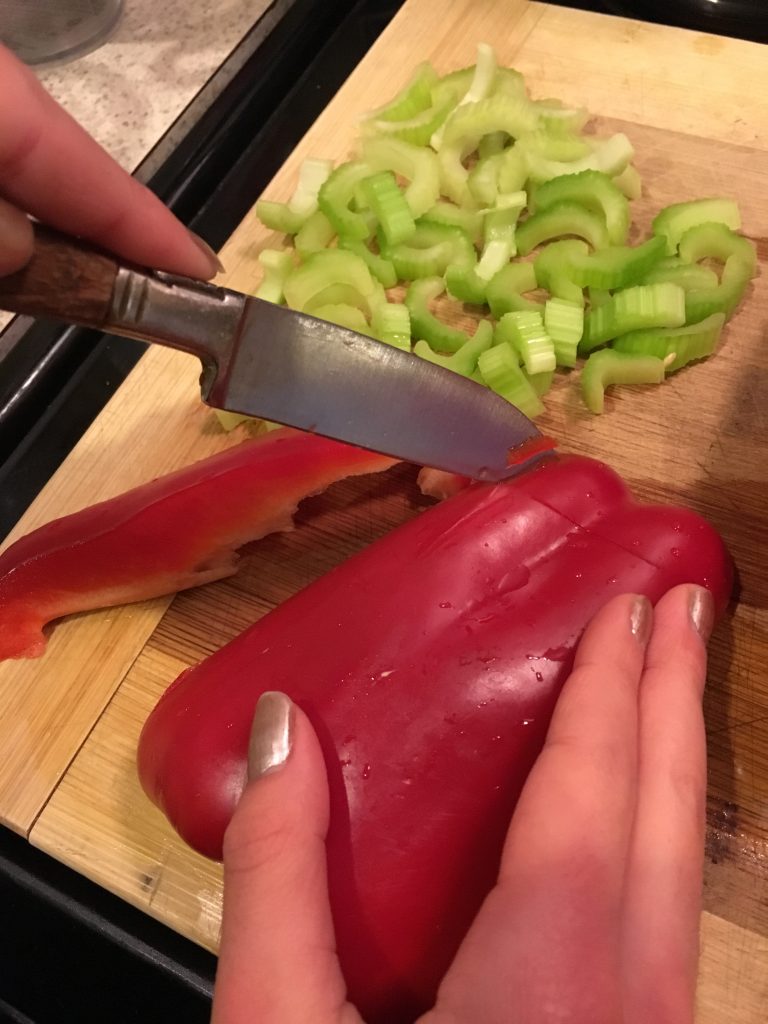 The kids helped remove the andouille sausage from the casing.  My daughter cut the celery and pepper (as pictured above) and my son was in charge of stirring the ingredients in the pot. Andouille sausage is a bit spicy and I was surprised at how much heat this dish had.  It was very tasty and the kids ate it, but they did comment on the spice.  I want to point out that this gumbo takes close to an hour to make!  I did not realize this when we decided to make this on a weeknight.  I highly recommend saving these recipes for a weekend activity.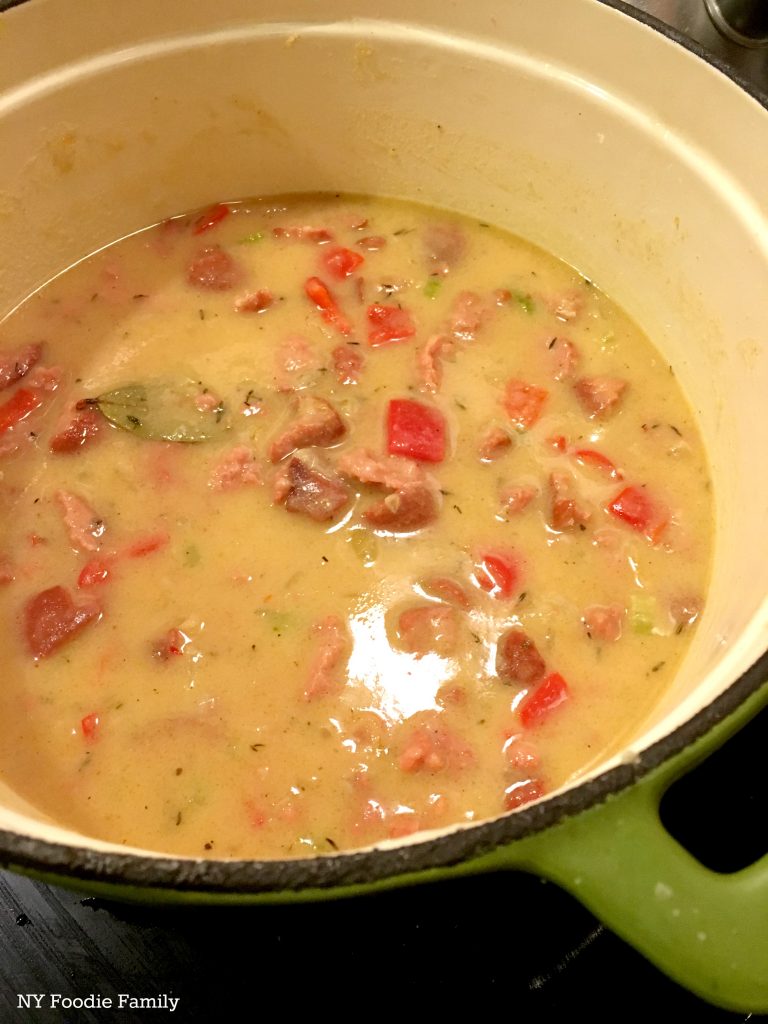 Also important to note, this dish does NOT reheat well, as seen in the first picture.  When reheated, this gumbo remains thick and chunky.  When we first made it, as seen in the picture above, it was nice and liquidy.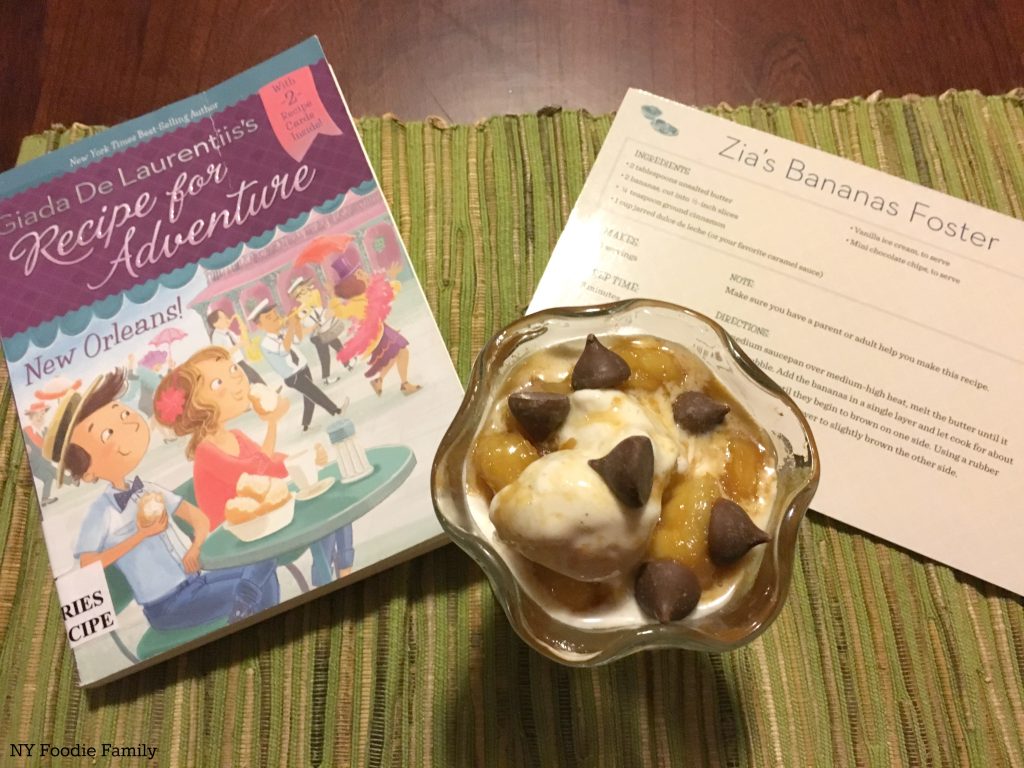 Zia's Bananas Foster: A traditional Bananas Foster has dark rum and banana liqueur that gets ignited.  I think part of the enjoyment of this dessert is the table side flambe.  Obviously, Zia's Bananas Foster is kid-friendly and alcohol-free!  Due to time constraints, I ended up making this dessert on my own for the kids.  This recipe was much easier to make in terms of ingredients and time.  As seen in the picture, I mistakenly bought mini kisses, thinking they were tiny.  They were indeed smaller than a typical Hershey's Kiss, but a little larger than I had wanted for this dessert.  The family loved this Bananas Foster.  The kids often have ice cream for dessert, but this was an extra special treat!
Overall, New Orleans! is a fun book that introduces readers to both the food and sights of the city.  The recipe cards add a nice touch and are a great way to get kids cooking in the kitchen.  It's also a great way to motivate them to try new foods.  I recommend this book as well as the others in the Recipe for Adventure series!