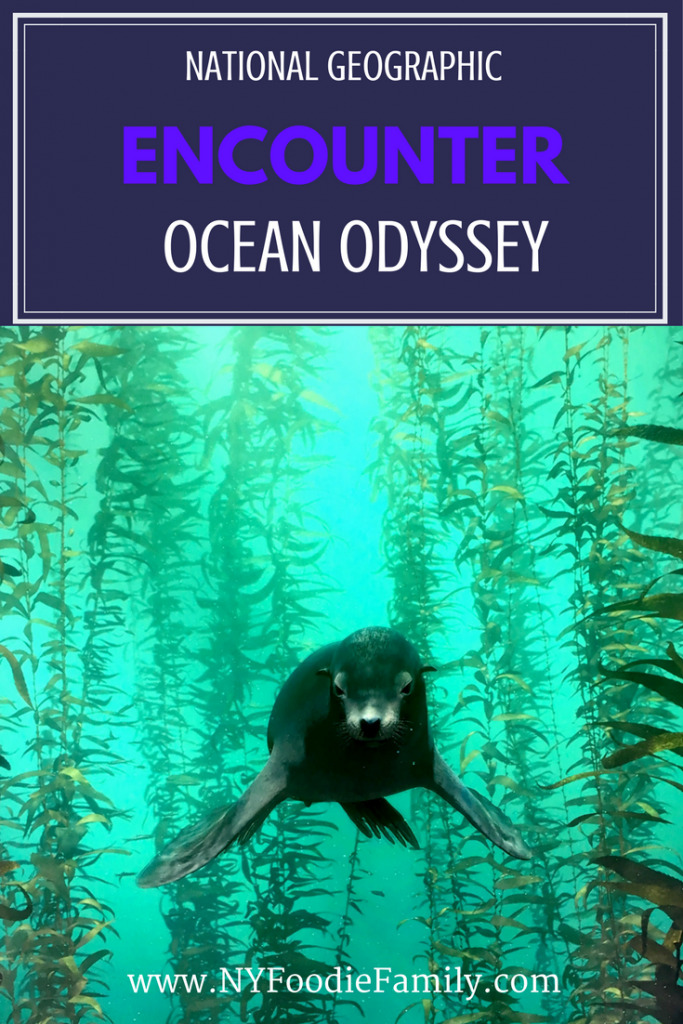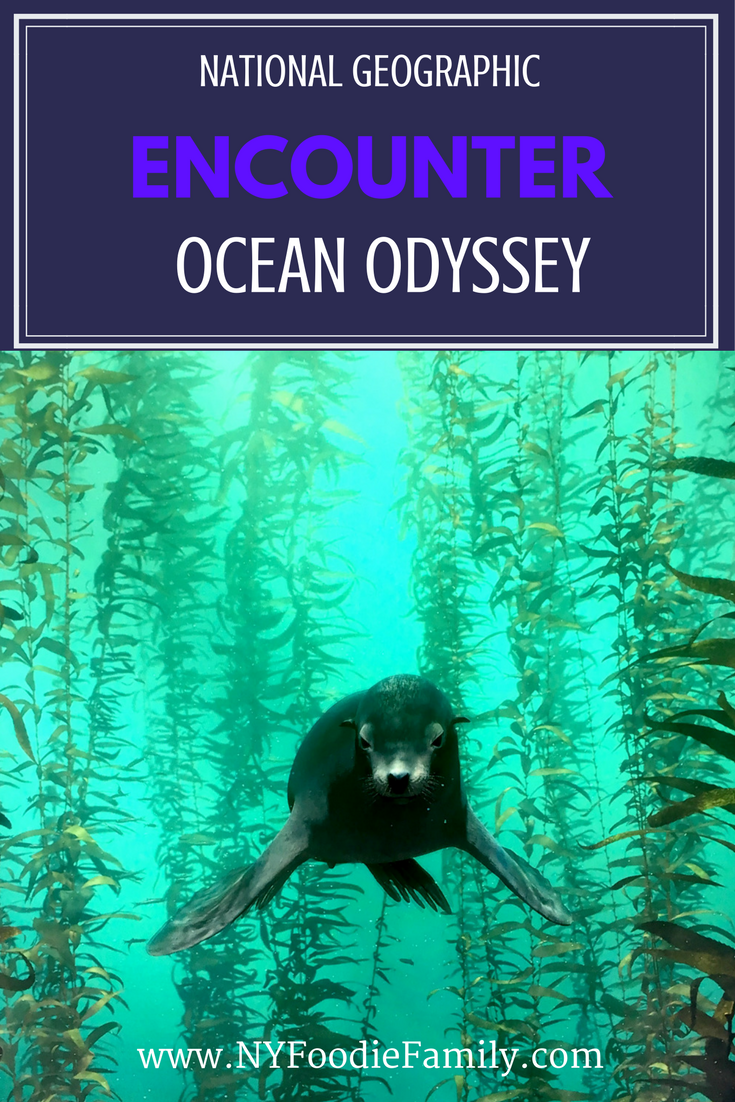 (We were provided tickets to Ocean Odyssey.  However, all opinions are our own.)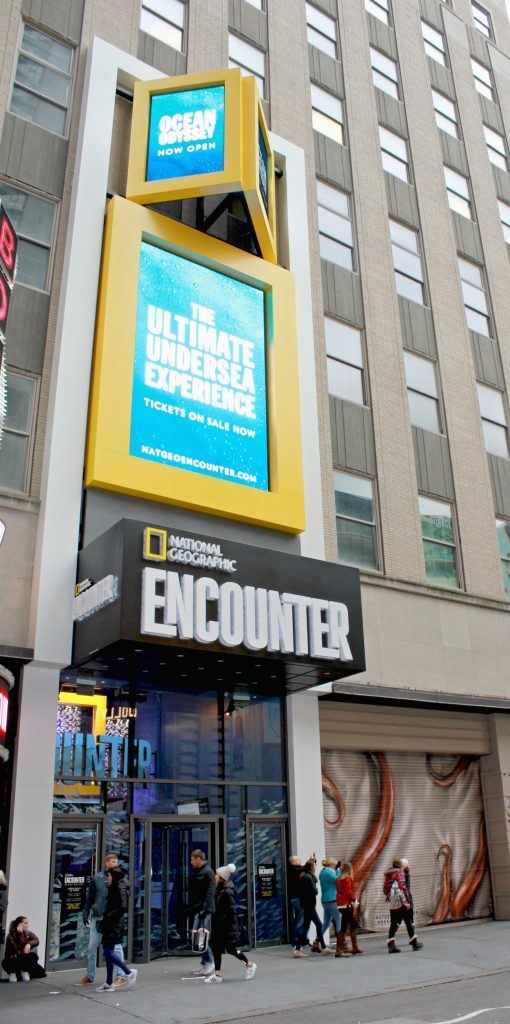 If you are looking for a new, one-of-a-kind family outing in New York City, you must check out National Geographic Encounter: Ocean Odyssey. Conveniently located in Times Square, Ocean Odyssey is an immersive, underwater experience.  You will use almost all of your senses as you "travel" from the Solomon Islands in the South Pacific to coastal California via the Pacific Ocean.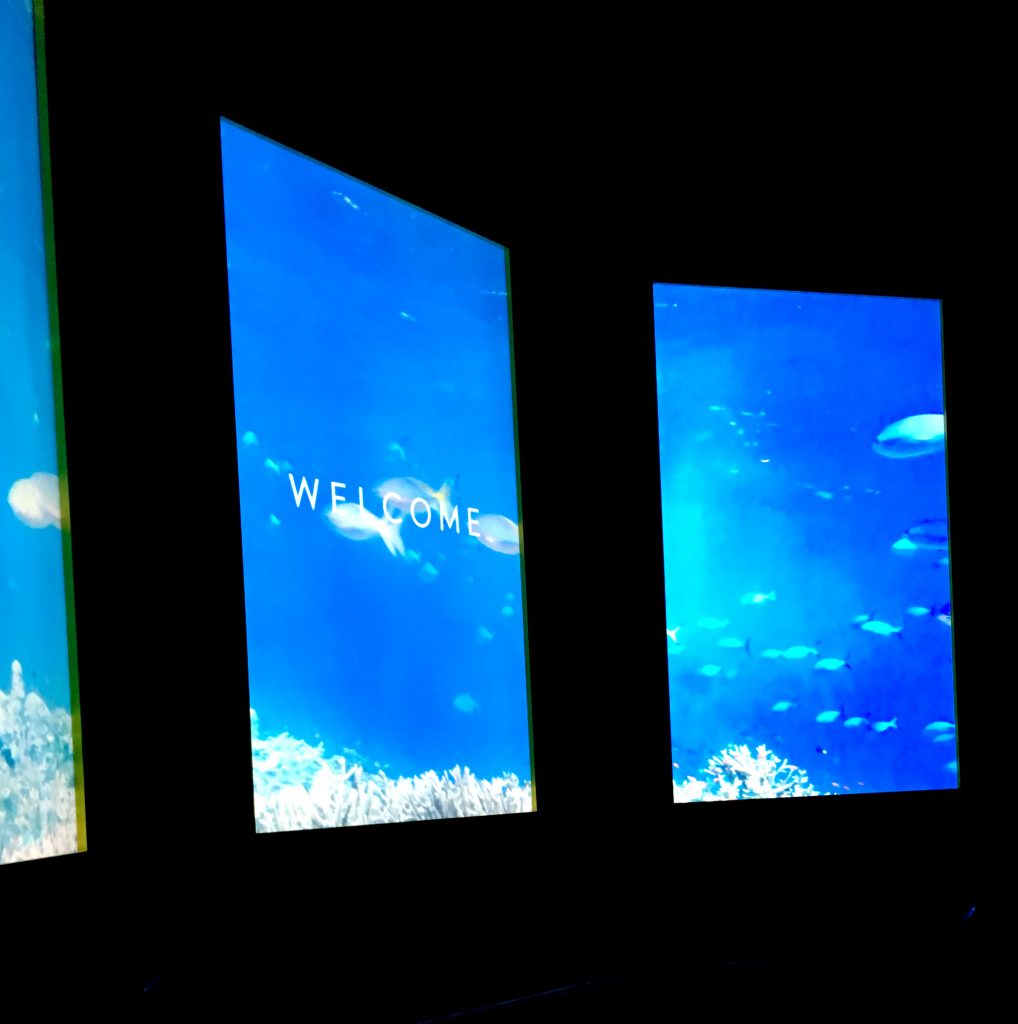 While I'd love to fill this post with pictures of our experience and give you all the details, I'm going to try my best to keep it short, but informative.  The Encounter really needs to be seen and experienced in person.
Entrance to the Encounter Ocean Odyssey is by timed ticket.  We had 2 PM tickets but arrived early and were admitted in.  We were placed in a group of approximately 25 people and began our journey.  You move with your group throughout the majority of the Encounter, over 60,000 square feet of space.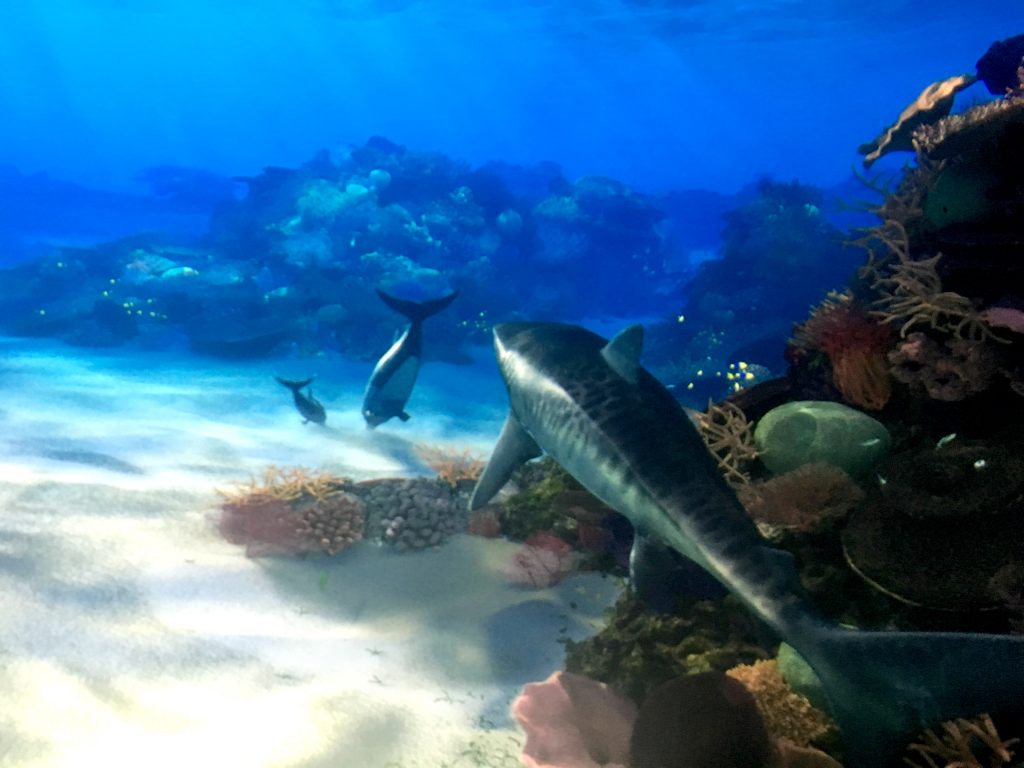 The Encounter begins in The Shallows.  Here we were introduced to sea life via a screened wall and floor.  After a few minutes here, we then entered the Coral Reef.  The reef is fairly dark lit by the glow of the bioluminescent coral and eels.  There is some seating in this room but the exhibit is interactive and meant for guests to walk around. After the Coral Reef you visit Deep Ocean at Night. This is a very dark room with benches for guests to sit on.  In this exhibit we used our sense of hearing to listen to the sounds of the ocean at night.
The journey then continued to Squid Battle.  Here we watched on surround screens as two Humboldt squid battled it out.  We then walked to the Kelp Forest & Sea Lions.  The kelp forest is a maze that you must navigate.  At the end, you get to play with a sea lion and make him do tricks with your hand movements. Our Encounter ended at Bait Ball where we watched a 3-D viewing of a feeding frenzy.
In every room there are knowledgeable guides, who explain what is going on. They usher you from one room to the next.  The group experience lasts for approximately 45 minutes.  After that, you are free to stay and explore in Exploration Hall for as long as you wish.
In Exploration Hall children can color ocean images, learn more about the animals in the exhibit via touch screens, or "clean up" a portion of the ocean via the Pristine Seas Challenge.  There is also a scavenger hunt which anyone can complete by watching a series of videos.  Once the scavenger hunt is completed and shown to an Encounter Guide, you are given a puzzle piece to design and place on the Ocean Community Wall.  Although our kids spent some time exploring the exhibits in the hall, they did not wish to participate in the scavenger hunt.  As you exit the experience you are routed through a gift shop selling branded memorabilia and ocean-related gifts.
National Geographic definitely went for the "wow" factor with the Ocean Odyssey Encounter.  It was such a fun and different experience.  However, keeping with the Society's mission, they did a great job of educating guests as will.  Visitors will leave with a greater knowledge of the wildlife living in the Pacific Ocean and the importance of keeping the oceans clean.
The Details:

National Geographic Encounter: Ocean Odyssey
226 W. 44th Street between 7th and 8th Avenue, Times Square
New York, NY 10036
(646) 308-1337
Hours: Sunday – Thursday 10 AM – 10:30 PM, Friday & Saturday 10 AM – midnight
Last tickets are sold one hour prior to closing time
Tickets:  Online, for reserved time, $39.50/adults, $36.50/seniors (65+) and veterans, $32.50/child (12 and under)
Tips:
*Reservations are highly recommended.  Order tickets online if you are looking to visit at a specific time.  If purchasing onsite you will be admitted for the next available time slot.
*This experience is recommended for ages 3+.  Strollers are not permitted in the experience. but there is place to park them during your visit.
*Photography is allowed, but flash photography and video recording are prohibited.
*If you are looking for someplace to eat before or after your Encounter, there are many restaurants within walking distance including Junior's, Guy's American Kitchen & Bar, Carmine's, Sardi's, City Kitchen and Bubba Gump Shrimp Co.