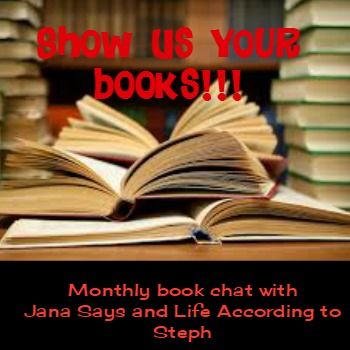 I had so much fun reading all the book posts yesterday that I decided to post a day late to the monthly Show Us Your Books link-up with Jana Says and Life According to Steph.  If you've been reading this blog, you know that my whole family loves reading.  I love that I get to share my love of books with others in this link-up and get some ideas for new reads.  This is an awesome resource if you're looking for some good reading recommendations!  Here's a round-up of what I read in June.  My top recommendation is The Nightingale by Kristin Hannah!
All the Light We Cannot See by Anthony Doerr.  This book has been on the bestseller list and I was waiting forever for it on hold from the library.  Overall, I enjoyed the story (I enjoy historical fiction, especially books about WWII) but found the book too long and wordy in some parts.
Cooking Up Murder by Miranda Bliss – This is the first in the Cooking Class Mystery series.   Cooking class mixed with Romanian gun smugglers didn't hold my interest. Wasn't really impressed and won't be continuing with this series.
The Kind Worth Killing by Peter Swanson – Megan from MeginTime had recommended this book for me when I was looking for a suspenseful read.  This was definitely a suspenseful read with twists that kept me interested.  I even gave it to the Weekend Chef to read.  I wasn't wowed by it, and it was a bit on the dark side, but fit my need for a quick, suspenseful read.
Saint Anything by Sarah Dessen – I hadn't read Dessen's books in a really long time.  I decided to give her newest book a try and am glad that I did.   While she's a YA author, even as an adult I enjoy the themes she writes about.  I really empathized with Sydney and disliked her mom a LOT!   I enjoyed this story and am looking forward to getting back into reading some of her older stuff.
The Recipe Club: A Novel About Food and Friendship by Andrea Israel and Nancy Garfinkel – I love to eat food, watch shows and movies about it and read books about it as well.  This book has a neat concept – you see the history of a friendship from little girls to adults told via letters and e-mails.  Tons of recipes are  included in the book as well.  However, the story itself disappointed and it felt like a waste of my time.
All Four Stars by Tara Dairman – This is a children's middle grade chapter book that I had borrowed from the library for my daughter, but ended up reading.  It's a cute story about a 6th grader who likes to cook and her parents who don't.  The young food lover secretly ends up becoming a restaurant reviewer for a newspaper.
The Art of Baking Blind by Sarah Vaughan – This book is told through five women who are contestants in a baking competition to become "The New Mrs. Eaden."  This was a 3 star okay book for me.  Nothing special.
You by Caroline Kepnes – Jillian from Just Life: Take Two had recommended this book to me when I was looking for suspense recommendations.  This felt very similar to The Kind Worth Killing in its dark and twisted style.  The book is told in the second person which is different from most books that I've read.  This is another suspenseful (and a bit psycho) page-turner.
The Nightingale by Kristin Hannah – This was my favorite book by far this month.  It's another historical fiction book centered around WWII.  Hannah ranks up there as one of my favorite authors and this book did not disappoint.  This book was very different from her usual contemporary fiction that I'm used to.  It really focused on the women's war taking place in France and the surrounding area during the war.
I Regret Nothing by Jen Lancaster – I've read a couple of Lancaster's books and find her memoirs humorous.  In this book she writes a bucket list and this book documents her attempts to achieve it.   Not bad – a 3 1/2 star read for me.
I'm currently reading Little Beach Street Bakery by Jenny Colgan.  Looking forward to linking up again in August with my July reads!