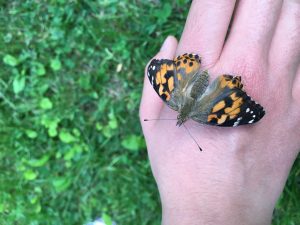 Yesterday, I attended my daughter's moving up ceremony.  She is officially a 5th grader and will be heading to middle school in the fall.  I share the sentiments of many parents that time is going by too quickly.  It seems like yesterday, that I was putting her on the school bus for her first day of Kindergarten and today she walked across the bridge to middle school.  My baby girl is growing up.
I am so proud of all that my daughter has accomplished in her five years of elementary school. Her teachers have nurtured her love of learning and she is constantly seeking knowledge.  She has made many friends throughout the years, and this past year in particular, she has developed friendships that have the potential to become life-long relationships.
Like Shonda Rhimes, 4th grade was my daughter's "Year of Yes."  She embraced her last year in elementary school with enthusiasm, wanting to participate in everything.  The Gym Show, the school musical, the Tae Kwon Do club, the spelling bee, book club, the school newspaper, band and the science fair…..she did it all.  Plus she had outside of school activities  including piano lessons, Girl Scouts and religious education.  While it was not always easy for her to fit everything in and get her homework done, she somehow managed to do it all.  It wasn't always easy, with early mornings, late nights and little free time.  But she never gave up and stuck with it all.
I will admit that I've been a bit over-protective of my daughter; not wanting to see her fail at anything and to always be prepared and have whatever she needs.  I am learning that I need to take a step back and start letting her spread her wings.  In his speech to the parents, my daughter's middle school principal noted that his job is to help our children become independent.  Mistakes need to be made so she can learn from them.  And as her parent, I can help guide her towards making good decisions, but ultimately, she needs to make the final choice. And as difficult as that may be for both her and me, I think we will be okay.  Because we both know that I will always be here for her.
My daughter's official last day of 4th grade is tomorrow.  Then she is home with me (and her younger brother) for the summer.  Neither of the kids wanted to go to camp this summer and since I am home, I didn't push it.  I'm  hoping to spend some quality time with the kids while they both still want to do things with their mom.  As excited as I am for my daughter to start this next chapter in her life, I know that middle school will change her (and I'm hoping that it's for the better!).  I know that pretty soon spending time with her friends will be more important than spending time with her family.  So, as elementary school is ending for her, I am hoping that this summer we will be able to make memories that both she and I can look back on with fondness.