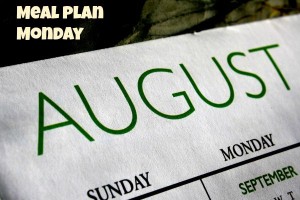 Last week's menu was filled with tasty dinners and LOTS of fresh produce!  As a volunteer at the food pantry, we are asked to take the leftover fresh produce, or else it ends up going bad.  Last week I came home with swiss chard, mustard greens, corn on the cob, carrots and squash!  I am happy to say that we cooked and ate it all, minus a bunch of carrots that are still sitting on our counter.
Saturday – We went to our neighbor's potluck BBQ.  The Weekend Chef made coleslaw and potato salad.
Sunday – The Weekend Chef made Peppers & Greens Skillet Hash from the Moosewood Restaurant New Classic Cookbook.   Topped with a fried egg, this was a tasty vegetarian dish in which we were able to use the swiss chard.
Monday – We had One Pot Cheesy Taco Skillet over rice.  I adapted this recipe a bit and will be posting my version on the blog soon.  It was a hit with the kids, easy to prepare and we will be having this again soon!
Tuesday – I made BBQ Bacon Peach Chicken Calzones from blog Melanie Makes.  Her original recipe called for turnovers using frozen puff pastry.  At over $5 a package, with the recipe using two packages I opted for a cheaper alternative and used pizza dough to make calzones.  I had featured this recipe as my favorite bookmarked recipe of the week in a recent Friday Favorites post.  These calzones had many of the kids' favorite ingredients and they ate these right up.  I found them to be a bit sweet, which might have been due to the barbecue sauce I used (Kraft).  As much as the kids enjoyed these, I told them that I would NOT be making these again, only due to the sheer number of steps and dishes it required!  I had to roast the peaches and cook the bacon.  I had to cook the chicken.  Then I had to bake the calzones.  It was just too time-consuming for me!  I served these with corn on the cob.
Wednesday –  I made Squash Pie adapting it from this Zucchini Pie recipe from Life According to Steph.  This time I used a variety of squash, but I've made it previously using just zucchini.  The kids like this a lot and it's another recipe keeper.  I served this with a salad.
Thursday – I made what I'm calling Caprese Pasta  inspired by this Summer Pasta recipe from Green Fashionista.  This was another recipe that I recently featured as my favorite bookmarked recipe of the week in a Friday Favorite's post.   I changed the recipe quite a bit but was inspired by Kate's recipe.  It too will be making an appearance soon on the blog!  I served this with a salad and garlic bread.
Friday – We had pizza with my parents at their place.  A night off from cooking is a plus!