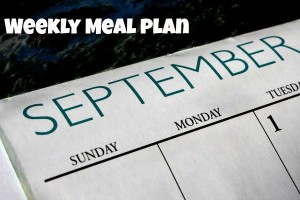 Happy Labor Day everyone!  Hope you are enjoying the day off that most of us have from school and work.  School is back in session and the weather will hopefully be getting a little cooler soon.  I am looking forward to quick and easy meals and using the crockpot more.  Here is what was on the menu last week at our house:
Saturday: The Weekend Chef and our daughter made Hawaiian Quesadillas, Cilantro-Lime Rice and refried beans for our first back from Disney dinner.  The Weekend Chef made some homemade guacamole to have with.  It was nice eating some home-cooked food for a change!
Sunday: The Weekend Chef cooked some Country-Style Ribs in the slow cookers and served with roasted potatoes and roasted broccoli.  Although he made a spice rub and sauce, the ribs ended up losing a lot of their flavor.
Monday: I made this Mexican Tortellini Salad.  The Weekend Chef and I enjoyed this but the kids weren't the biggest fans.  The leftovers were also great for lunch the next day.
Tuesday:  I made this Sweet Chili Chicken with Coconut Rice. I served it with a salad.  I wasn't sure if the chili sauce would be too spicy for the kids.  However, they loved this!  It was so quick and easy to make that I know this will be making an appearance on our menu again soon!
Wednesday: We made this Banana Chocolate Chip Fluffernutter French Toast Casserole.  Yes, the name is a mouthful.  I've mentioned that my kids love breakfast, so breakfast for dinner is always a hit in our house.  This casserole was so good!  While it probably counts more as dessert than dinner, it was winner for sure!  Note that this dish can mostly be prepared the night before but does have to cook for an hour.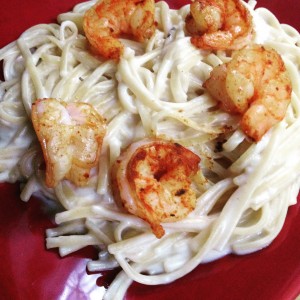 Thursday: I  made this Cajun Shrimp with Garlic Parmesan Cream Sauce.  I was worried that the Cajun seasoning might be spicy for the kids but they ate this.  The flavor of the pasta was actually somewhat bland and the seasoning helped spice it up.  Overall, this meal was just okay for us.
Friday: We were going to the kids back-to-school picnic so I made homemade pizza.  I fed the kids before going since I know there would be no eating once they saw all their friends.