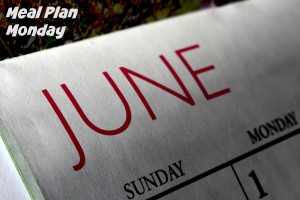 Here is a look at this past week's meal plan!  I hope this helps inspire you to find a new recipe or plan your weekly menu.
Sunday:  The Weekend Chef celebrated Father's Day by cooking dinner for both of our parents.  He made turkey burgers and we had a selection of toppings including lettuce, tomato, avocado, sautéed onions and mushrooms so everyone could create the burger of their choice.  We had leftover antipasto pasta salad that I had made Friday for a potluck dinner.  He made coleslaw, my mom brought a blue cheese and bacon potato salad and my mother-in-law made a garden salad.
Monday:  There was so much food leftover from Sunday's Father's Day dinner that we had leftovers tonight.
Tuesday:  I made Slow Cooker Apricot BBQ Chicken Sandwiches adapted from site Tasty Kitchen.  This was posted by Amber from Sprinkled with Flour.  Her recipe called for Peach preserves.  I ended up using Apricot preserves and served these sandwiches with some of the leftover coleslaw from Sunday.  The sauce itself was too sweet for my liking.  However, both kids had friends over for a playdate, so not having to worry about getting dinner ready was a win for me!  I served these sandwiches with fries.
Wednesday:  I made Italian Tuna Casserole from Rachael Ray.  I decided to dust off some of the cookbooks sitting on my bookshelf.  This recipe was adapted from Rachael Ray Express Lane Meals.  As far as tuna casseroles go, this was pretty good!  Recipe will be coming to the blog soon!
Thursday:  I made Cinnamon Apple Baked French Toast Casserole from blog The Pioneer Woman.  Check the blog Wednesday for my slightly adapted version.  This was amazing and we will be making this again!
Friday:  Homemade pizza.  Nothing fancy, just regular cheese for everyone this week.
Saturday:  The Weekend Chef made a Cilantro Curried Tilapia.  This was really flavorful and a different way to eat tilapia.  This recipe will also be on the blog soon!