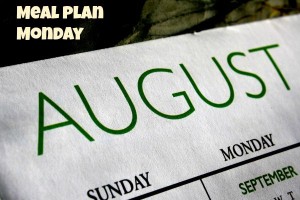 This past week was a hot one!  I tried not to use the oven too much.  Here's what was cooking in our kitchen this past week.  You can read about our meal planning process here.
Saturday – Out. We went to a local music festival and ate alfresco listening to the band play.
Sunday – Out.  We went out to eat with a couple from our Supper Club.
Monday – Onion Smothered Italian Burgers from Cooking Light and Sauteed Baby Squash with Basil and Feta which was also a Cooking Light recipe.  The burgers were a recipe repeat, with the last time I made these being about five years ago!  The balsamic onions definitely make the burger!
Tuesday – We cooked a whole chicken in the slow cooker which I served with some rice and Steamed Green Beans with Tomato-Garlic Vinaigrette.  These green beans were a bit garlicky but good.  We make a whole chicken in the slow cooker about once a month or so.  It's so easy and we end up with leftover chicken to use in another recipe later in the week.  This time, the Weekend Chef ate some leftovers and we froze the rest.
Wednesday – I went out to dinner with a friend but I made Zucchini Pancakes for the kids and the Weekend Chef which they ate with breakfast sausage and fruit.  Breakfast for dinner is always a hit in our house.  When my son found out I was making zucchini pancakes he complained and asked if he could have plain ones.  Well, guess who was eating these right up?!!!  You can't taste the zucchini and he loved them!
Thursday – I made Sausage And Vodka Pasta Sauce.  This was a twist on the traditional penne vodka.  It was good, but not my fave.
Friday – Out – We went to a local baseball game and ate at the stadium.