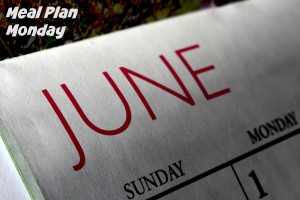 Here's a look at what was cooking in our kitchen last week.  Pictures, links and reviews have been provided, when applicable!
Sunday:  The Weekend Chef made Philly Cheesesteak Fries!  Recipe coming soon!
Monday:  I ended up doing the weekly grocery shopping with the kids after school Monday afternoon.  We needed a quick and easy dinner so I made 5-Ingredient Spinach Parmesan Pasta from blog Two Peas & Their Pod.  This was really easy to make and tasty.  It reminded me of Spaghetti Aglio E Olio with spinach.
Tuesday:  Taco Tuesday!  I made Slow Cooker Lentil Tacos.  This is one of the Weekend Chef's favorite meatless meals that I make.  The original recipe came from blog Melanie Makes.  While I don't repeat recipes very often, this is one that I have made several times that we all enjoy.  Plus, it's made in the slow cooker so it's quick and easy!
Wednesday: I made a breakfast casserole with some of the leftover ingredients from the Weekend Chef's Philly Cheesesteak Fries recipe.  I loosely used this Breakfast Casserole II recipe from allrecipes.com as my starting point.  This was an alright meal and we had lots of leftovers for breakfasts during the week.  We've made and eaten better casseroles though.
Thursday:  The Weekend Chef went out to dinner with a friend Thursday night.  My mom came over for dinner and I made these Strawberry  Balsamic Grilled Chicken and Bacon Quesadillas from blog Closet Cooking.  These were REALLY good!  However, these required A LOT of prep work and dishes.  I had to cook the chicken, cook the bacon, saute the onions and then put together and cook the quesadillas.  While super tasty, this was not a quick and easy meal.  I served these with some veggies.
Friday: It was hot and I wasn't really in the mood to cook.  But, I had already defrosted the chicken and ended up making the One Pot Italian Chicken and Rice from blog Café Delites that I had planned.  While this recipe needed a little prep work in the beginning, it then baked in the oven for 40 minutes, so I had a little time to relax.  However, this extra 40 minutes of cooking, plus the prep work may not make this meal suitable for those who are looking for something quick and easy.  I liked how everything was cooked in one pot, resulting in little clean-up!  This was tasty and we all enjoyed it.
Saturday:  Chinese take-out with my family who came over for dinner.