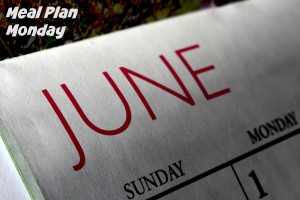 Here is what was cooking in our kitchen last week!
Sunday:  The Weekend Chef made some Asian Turkey Burgers.  We served the burgers with some fries and Kimchi Potato Salad from blog Two Red Bowls.  The potato salad was made last minute and the flavors didn't have time to really meld together.  While it was good, I think it would have been better if we had made it earlier in the day.  The kids had a little bit.  While the kimchi we had bought was pretty spicy, it really didn't taste as strong in the potato salad and the kids were able to try a bite or two without complaint of it being too hot.
Monday: We made Zucchini Boats adapted from blog Real Food By Dad and served these with a salad.  We didn't have, and forgot to pick up, roasted peppers.  Overall, these were just okay and I think needed a bit more flavor.  The kids each ate a half of a zucchini though.  On a side note, the Weekend Chef did the grocery shopping.  I had put four zucchini on the list and he came home with four giant zucchini!   Needless to say, we had a bunch of leftovers, which unfortunately, did not reheat well.  These are much better eaten on the first night you make them.
Tuesday: We made Baked Sun Dried Tomato and Spinach Chicken Parmesan Meatballs from blog I Thee Cook.  We served these with pasta and sauce and a Caesar salad.  We thought these meatballs were tasty and flavorful!
Wednesday: We made Lemony Risotto with Mascarpone from Every Day with Rachael Ray and served it with some roasted broccoli.  This was one of our meatless meals for the week.  My son helped with the lemon zesting and stirring of this risotto.  I added spinach to the recipe since we had some leftover and extra veggies never hurt!  The kids ate this, although my son complained that it was "too lemony."  He then proceeded to eat a lemonade Outshine bar for dessert after taking forever to finish his risotto….go figure!
Thursday: We made Peaches and Cream Pancakes (with Ginger Peach Compote) from blog Well Plated.  My daughter helped make the pancakes.  She loves to help cook pancakes by pouring the batter and flipping them in the skillet.  We had these with breakfast sausage and fresh-cut pineapple. We could have made the meal meatless by not serving the sausage.  Any breakfast for dinner meal is a winner, and this was no exception.  Next time I'd double the peaches since they were really tasty and we all wanted more!  I had never thought to put Greek yogurt on pancakes before and discovered a new tasty combination.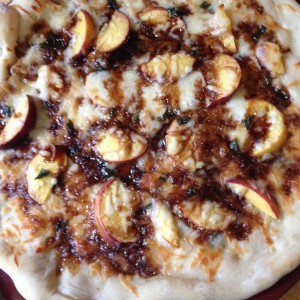 Friday:  We made Peach, Basil, Mozzarella & Balsamic Pizza adapted from blog Two Peas & Their Pod.   We had some ripe peaches that needed to be used.  We've made this in the past and it was really good!  I used my Blueberry Balsamic Vinegar from the Saratoga Olive Oil Co. gift basket that I had won awhile back.   My son saw the pizza and said, "Do I have to eat that?!"  I didn't realize that I had no more tomato sauce to make a regular cheese pizza for the kids, so yes, he did have to eat it.  Well go figure, both kids LOVED this pizza!