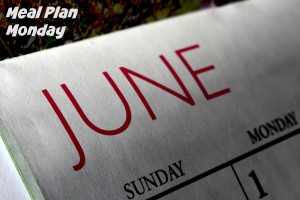 This week is the first week that we thought we would share our meal plan with you. If you're interested in seeing how we meal-plan, check out this post.   Instead of posting what we plan on making this week, we have decided to post what we made the previous week so we could share photos and reviews of the dishes.  Last week was my first week back at work after a two week recovery from surgery, so we didn't go crazy with the menu.  It was all about simple and easy.
Sunday:  My sister and her family were visiting over the Memorial Day weekend.   We marinated London Broil which the Weekend Chef grilled, cooked up some corn-on-the-cob and made Pasta Aglio E Olio.  The Weekend Chef threw together an Asian-inspired marinade and my mom made the Aglio E Olio.  This was an easy to put-together, simple but tasty meal.
Monday:  The Weekend Chef made an Indian-inspired eggplant dish as well as Indian Curried Potatoes and rice.  Look for these recipes on the blog soon!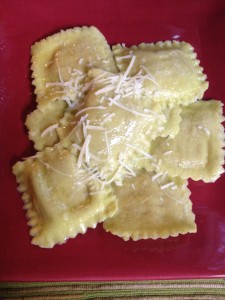 Tuesday:  We took a trip to Trader Joe's over the weekend and picked up some Goat Cheese and Sun-Dried Tomato Ravioli which we cooked up and served with a salad and garlic bread.
Wednesday:  We made Crispy Oven Baked Honey Garlic Tofu Bites from i am a food blog.  Even the kids who do NOT like tofu ate this with no complaints!  We served this with some rice and pork dumplings and kimchi (for the adults) that we picked up from HMart over the weekend.
Thursday:  We made Breakfast Tacos inspired by these from blog Diethood.   Basically, I got the idea from the blog to make them but went off and did my own thing.  We used a can of refried beans, made scrambled eggs at the request of the kids, and served with cheese, tomatoes and avocado.  We served these with potatoes that I diced and sautéed with onions and taco seasoning.
Friday:  By Friday I was beat.  We ended up cooking up some Applegate Beef  hotdogs.  I made some hot dog onion sauce adapted from this recipe from food.com and served with some tater tots.
Saturday:  We had our monthly supper club.  This month's theme was recipes from Ina Garten.  I made her Sagaponack Corn Pudding from cookbook Barefoot Contessa Family Style and the Weekend Chef made her Celery Salad, recipe found at POPSUGAR.  The Corn Pudding wasn't bad.  It used a whole stick of butter, milk, half-and-half, ricotta cheese and cheddar cheese so it's definitely not a "light" recipe.  I don't like celery, so the celery salad wasn't my fave.  The other dishes that we had at Supper Club were all kind of heavy though, so this salad was refreshing and light in comparison.  You really do need to like celery to fully enjoy.
What did you cook last week?  Have any recipe recommendations?!!!  Please share!