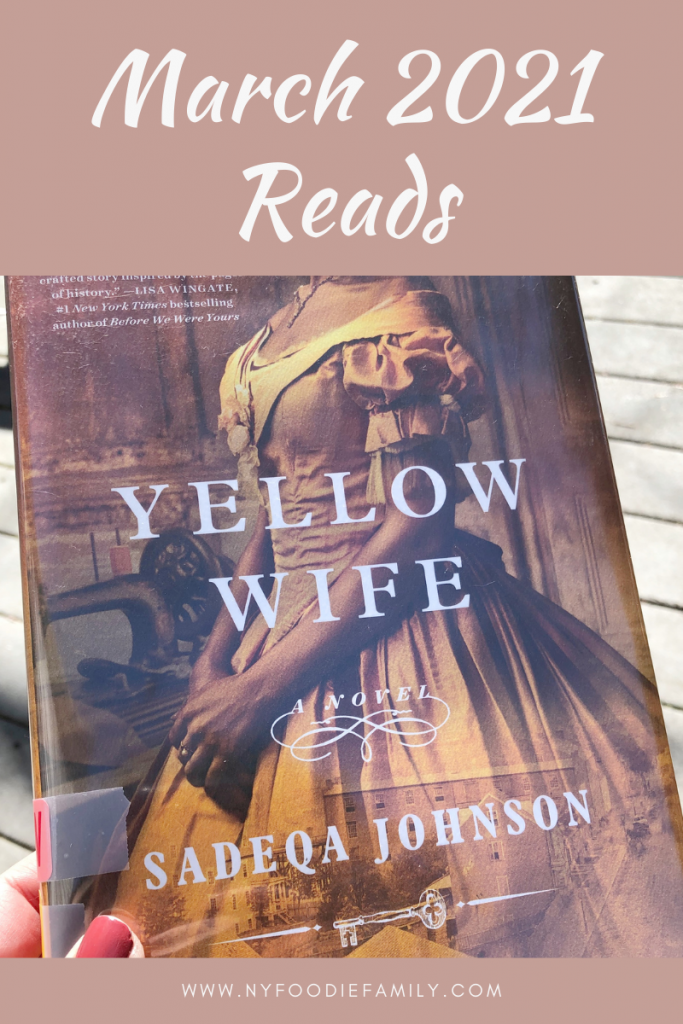 March seems so long ago! It was a good reading month though with a bunch of 4 and even a 5 star book! This month I read a lot of suspense/thriller books. Here are my March reads!
3 stars:

While I Was Away by Waka T. Brown – (January 2021, Middle Grade/Memoir) Twelve-year-old Waka is sent to Tokyo, Japan for five months to live with her grandmother to improve her Japanese. She attends school while navigating a new language and trying to make friends. This book is based on the author's own experiences. I found the book fairly slow and am not sure how much it will appeal to the targeted audience.

4 stars:


Dark Roads by Chevy Stevens – (August 2021, Suspense/Thriller) I received an ARC of this book from Netgalley. Hailey McBride is living with her aunt and her super strict husband. She runs away to live in the woods, hoping that people think she was a victim of the Cold Creek Highway killer. Meanwhile, Amber Chevalier is murdered by the killer. A year later her sister Beth arrives to attend a memorial for her sister and other victims and ends up staying in Cold Creek. As she tries to find her sister's murderer she puts herself in danger. I've been a fan of Chevy Stevens for awhile and this suspense read didn't disappoint.



Dear Child by Romy Hausmann – (May 2020, Suspense/Thriller) Lena Beck has been missing for 14 years. A woman named Lena appears at a hospital. She has killed her captor after being held captive in a cabin with her two children. The police and Lena's parents try to figure out what happened but there are many unanswered questions. Told from three different POV, this book is a bit on the dark side. It is different from, but has similarities to Room by Emma Donoghue.


Every Last Secret by A.R. Torre – (December 2020, Suspense/Thriller) – Cat and her husband William are a wealthy and successful couple. When Neena Ryder is hired as a life coach for William's company, she becomes a bit obsessive over Cat and William's life. Told in alternating chapters between Cat and Neena, the two women become engaged in a game of manipulation. Although none of the characters were likable, this was an enjoyable, suspense read.
The Invisible Life of Addie LaRue by V.E. Schwab – (October 2020, Fantasy/Historical Fiction) In 1714 a young woman makes a deal to live forever but is forgotten by everyone she meets. But after 300 years, she ends up meeting a man who is able to remember her. This book has been so hyped up on previous book posts and social media. I didn't know anything about this book before reading it but decided to see if it was worth all of the hype. The first half of the book was pretty slow for me and I almost stopped reading it. However, it really picks up and I ended up really enjoying it.

When I was You by Amber Garza – (August 2020, Suspense/Thriller) Kelly Medina accidentally discovers that there's another woman in town with her same name. The two end up meeting and become friends but one of them becomes obsessed with the other and one of them disappears. This was a good suspense read with a lot of twists.


The Wife Upstairs by Rachel Hawkins – (January 2021, Suspense/Thriller) Jane is a dog walker in a wealthy suburban neighborhood where she meets Eddie. He is a young, wealthy recent widow, whose wife, Bea, died in a boating accident. The two end up falling for each other, but Jane can't get over Bea. This is allegedly a modern retelling of Jane Eyre (which I read YEARS ago and didn't love). However, I found this to be an enjoyable read with lots of twists.
5 stars:


Yellow Wife by Sadeqa Johnson – (January 2021, Historical Fiction) Pheby Brown was born a slave but promised her freedom on her 18th birthday. But on the day of her birthday she is sent to Devil's Half-Acre, a jail in Virginia where she is force to become the jail owner's wife. However, she does whatever she needs to do to protect her loved ones. This book is based on true events. Although it's about a difficult subject, this book is very well written.
Sharing with Steph and Jana's monthly Show Us Your Books linkup!