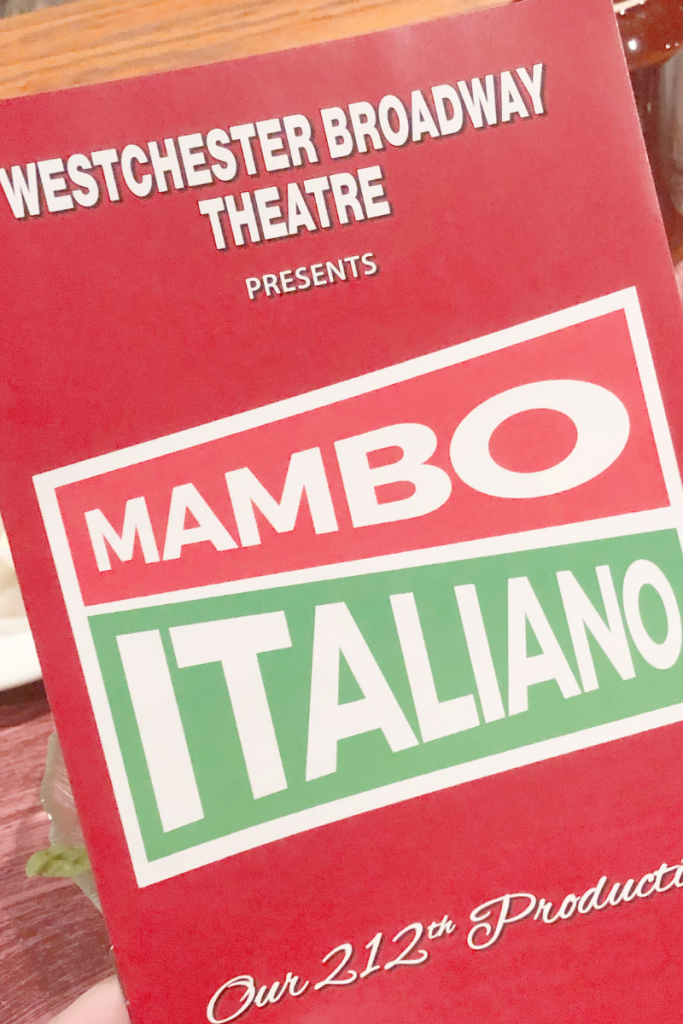 (We were given complimentary tickets to see Mambo Italiano. As always, all opinions are our own.)

I love the theatre! Growing up, I was fortunate that my parents took me and my siblings to NYC to see Broadway shows. Pre-kids, my husband and I were regulars of the NYC theatre scene. But then…..kids! Between busy schedules, ticket prices and having to trek into the city from the suburbs, we just haven't been to as many shows as we'd like. However, we are fortunate enough to have a theatre close to home that puts on amazing productions.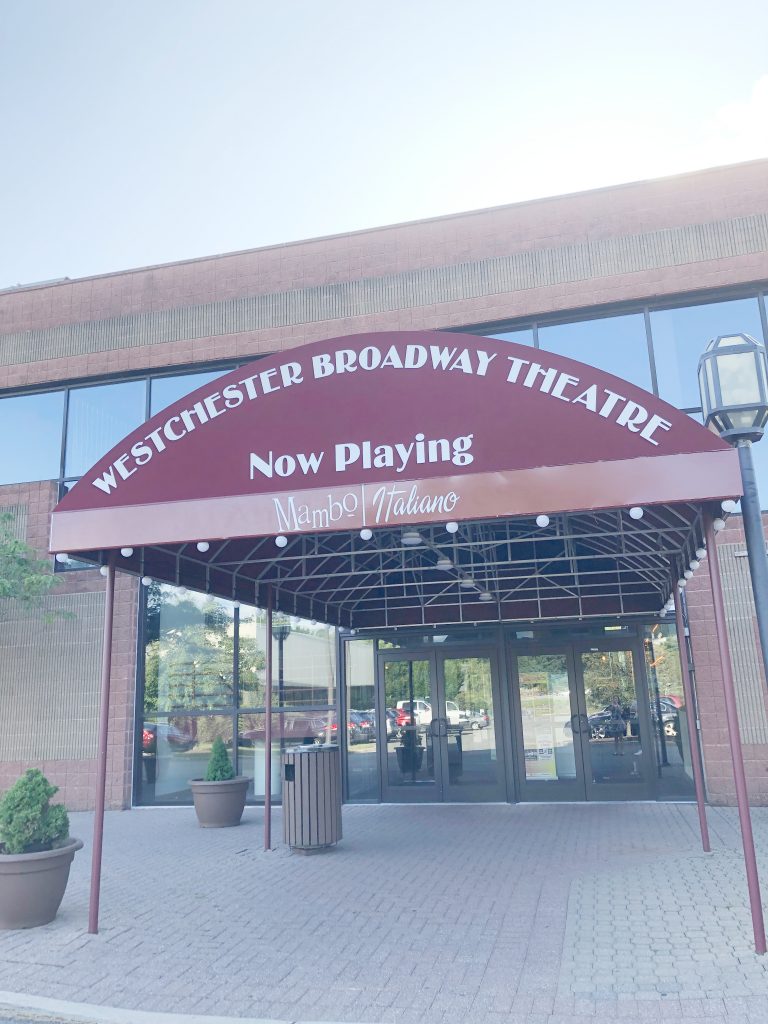 The Westchester Broadway Theatre in Elmsford has been hosting shows for 45 years, with over 200 main-stage productions. As a family, we've seen both Mary Poppins and Annie. Recently, my husband and I enjoyed a rare date night to see the current production, Mambo Italiano.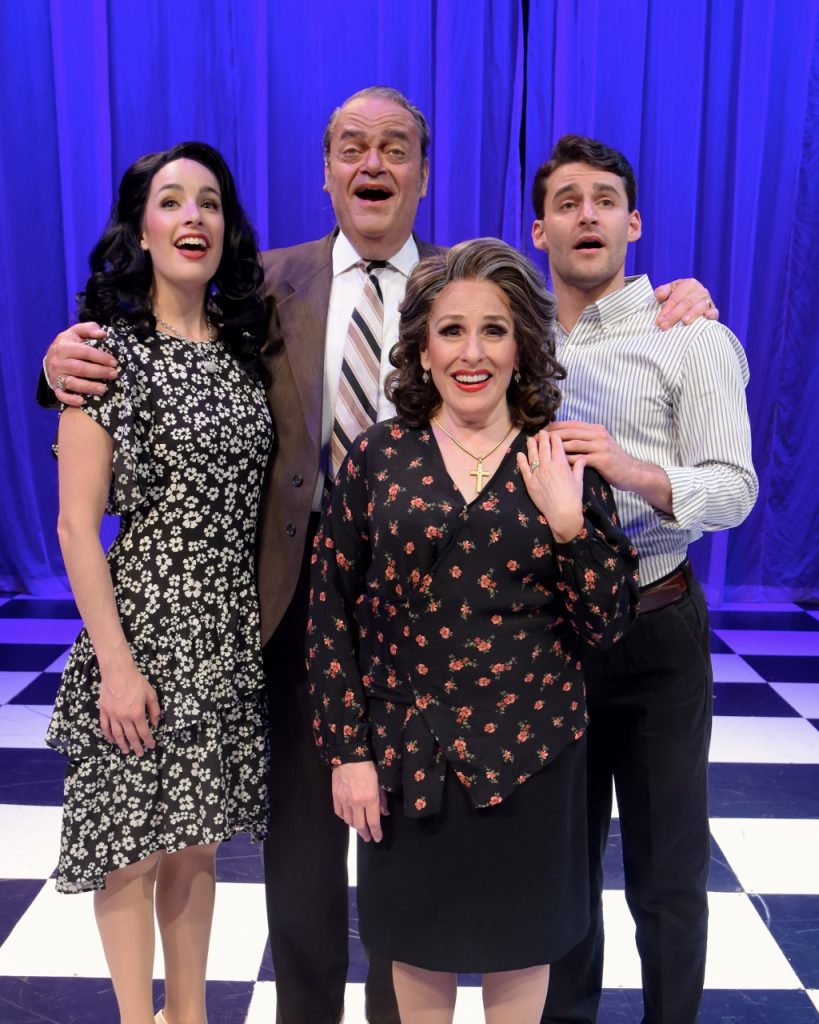 Mambo Italiano is based on a play and screenplay by Steve Galluccio & Emile Gaudreault and a book by Jean Cheever and Tom Polum. It tells the story of a traditional Italian family coming to grips with change. Maria and Gino Barbieri have raised their two grandchildren, Angelo and Anna, and they all work together in the family's Italian restaurant. When Angelo and Anna decide to move out of the house and get their own apartment, their grandparents don't take it very well. Things get worse when Angelo comes out as gay and then discovers that his boyfriend Nino is bisexual and has been sleeping with a girl.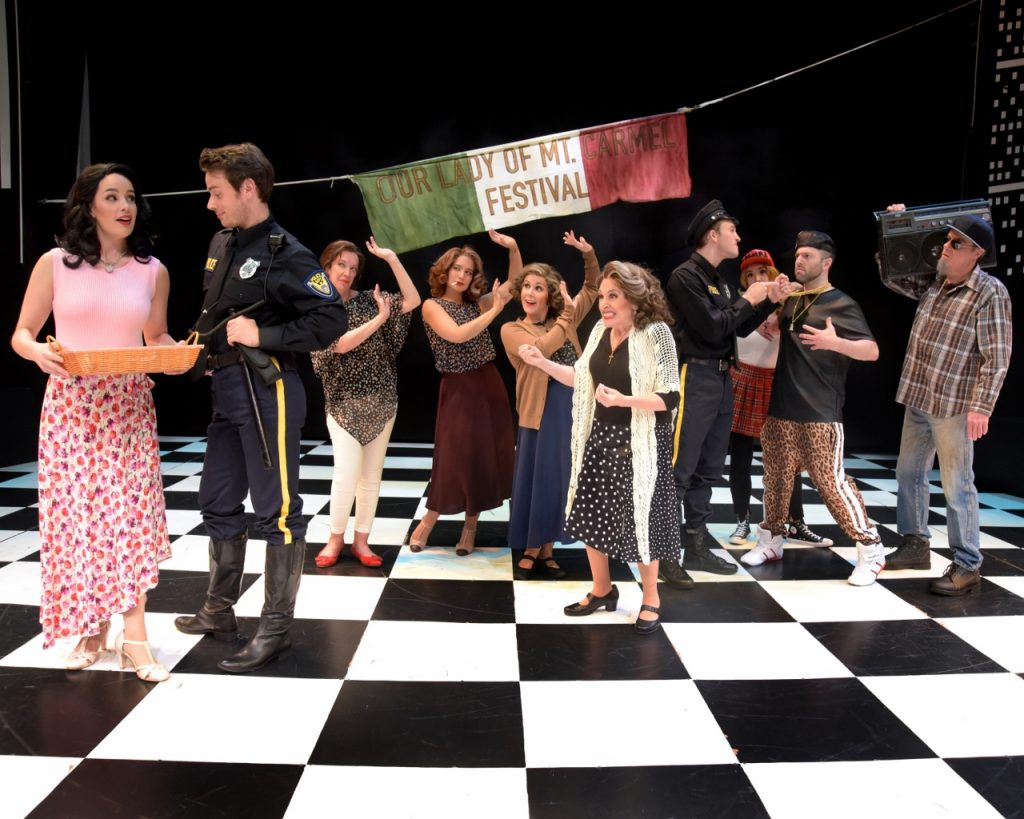 This story, set to music composed by James Olmstead, is much more than just a story about sexual orientation. It's a story about family, identity, love….and, of course, food! "Food is joy. Food is love. Food is famiglia." This theme is carried out throughout the production and regardless of cultural background, is one that I think most people can relate to.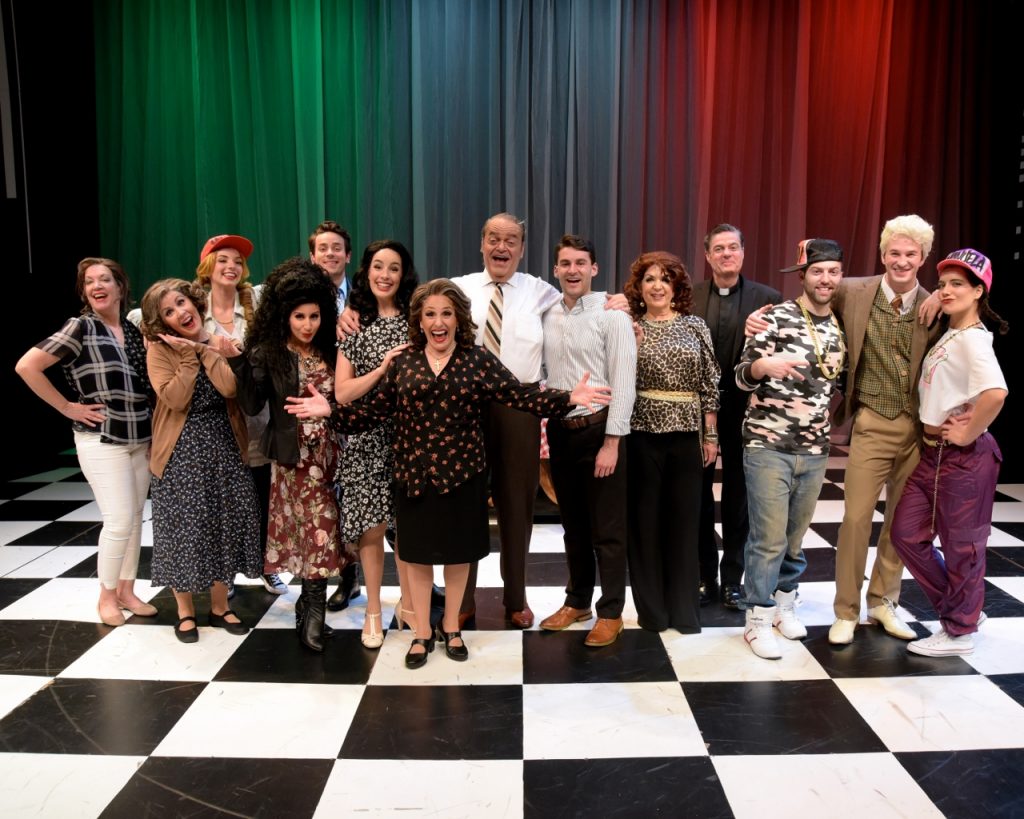 The show's cast is outstanding! While several members are making their Westchester Broadway Theatre debut, all of the cast are experienced on stage. Some of them have even performed in Broadway and Off-Broadway productions, showcasing the caliber of talent that is chosen for the Westchester Broadway Theatre.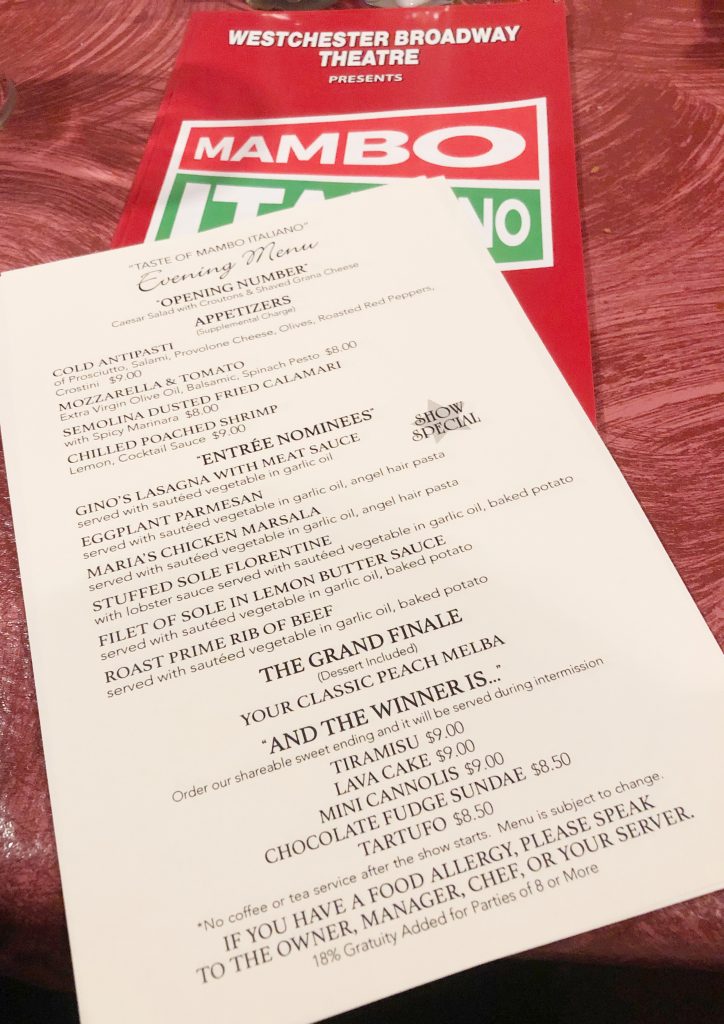 Let's not forget that the Westchester Broadway Theatre includes dinner (or lunch) and a show. For this show, they are featuring a "Taste of Mambo Italiano" menu. For the Sunday evening show, dinner service starts at 5:30 PM and continues until the show begins at 7 PM. We arrived around 5:20 PM and almost immediately after we were seated our salads arrived. We were finished eating dessert by 6:30, leaving some time before the show to relax….and digest!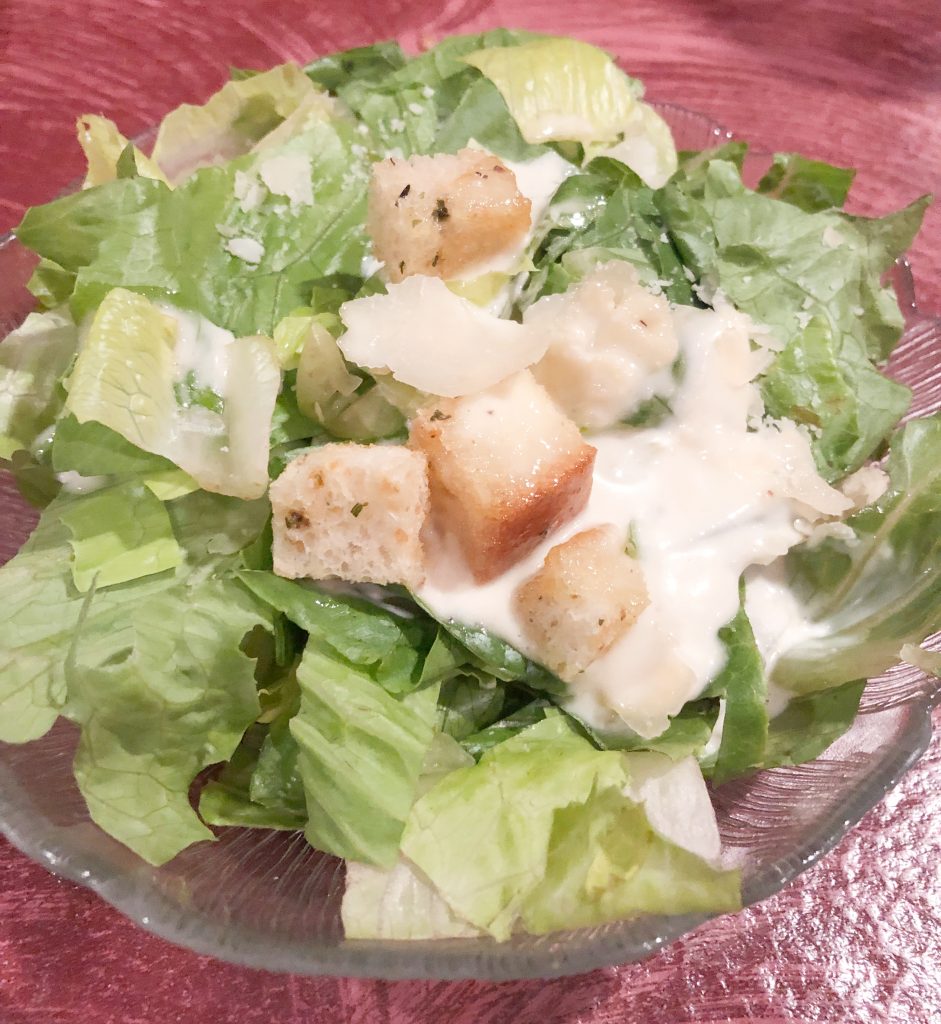 Dinner starts with a Caesar salad. They also offer four appetizer options (cold antipasti, mozzarella and tomato, fried calamari and a chilled shrimp cocktail) at an additional cost.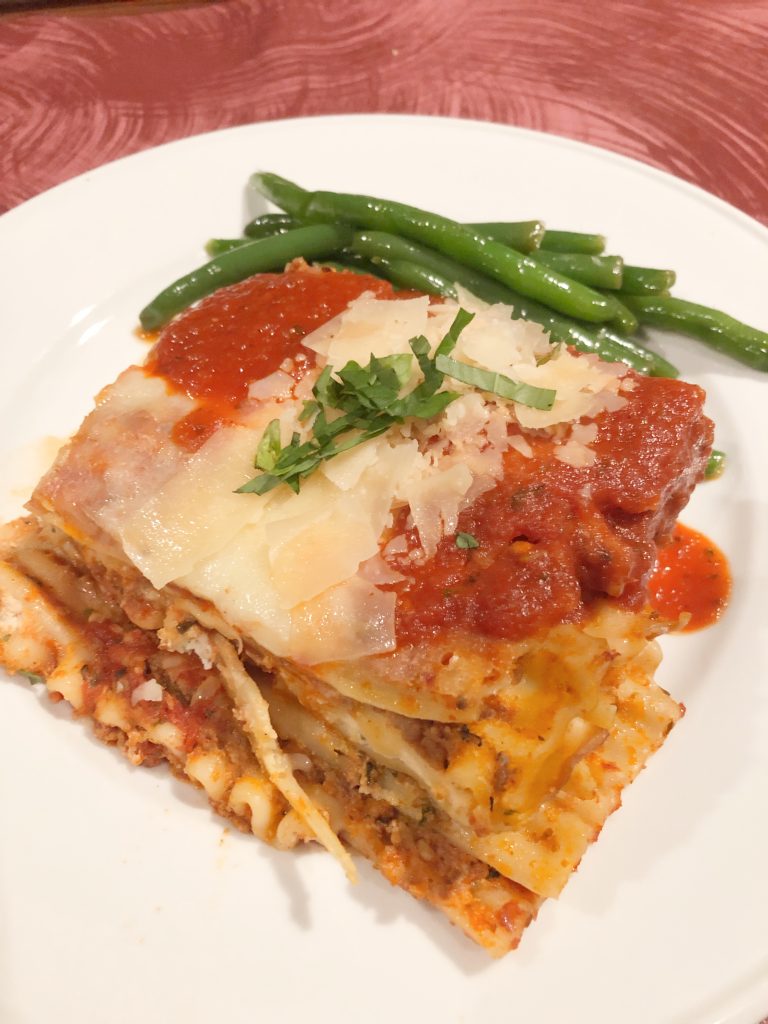 For the main course, I ordered Gino's Lasagna with Meat Sauce served with sauteed green beans.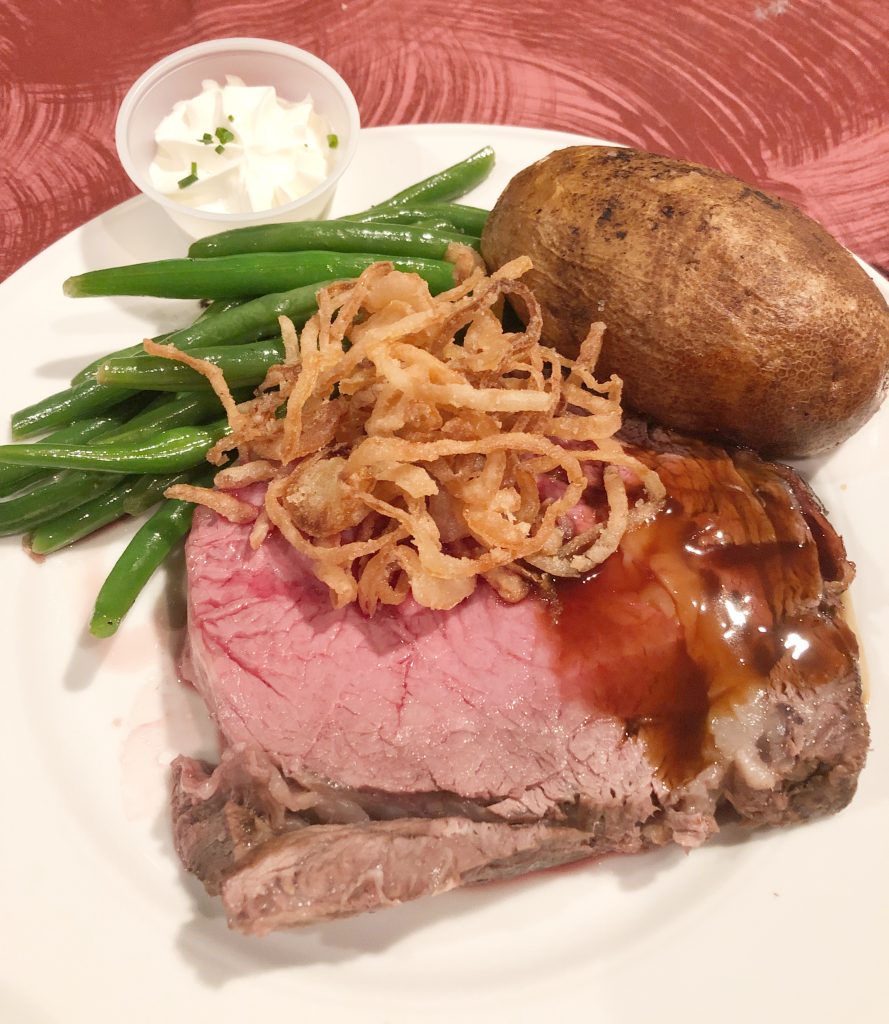 My husband had the Roast Prime Rib of Beef served with sauteed green beans and a baked potato and we shared both entrees. Out of the two entrees, we both preferred and recommend the prime rib.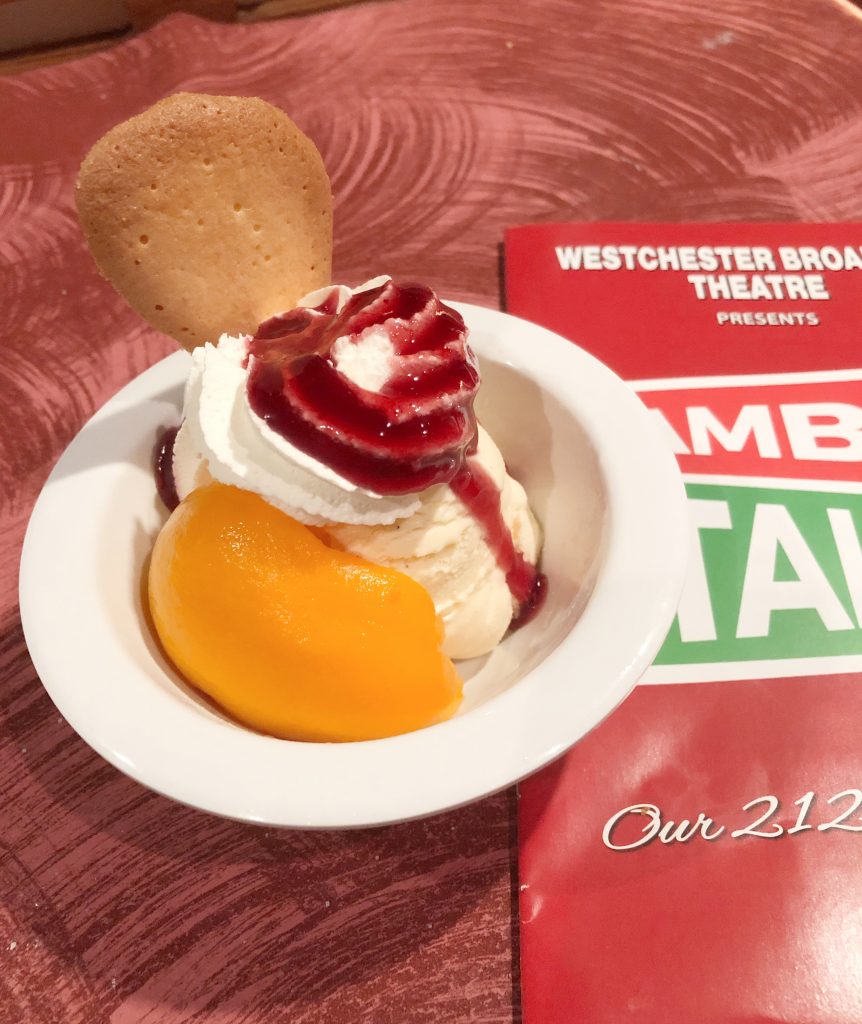 Dessert is their classic peach melba – canned peach halves topped with vanilla ice cream, whipped cream and raspberry sauce. It's garnished with a cookie that I could have eaten a dozen of! For an additional cost, other desserts are available (tiramisu, lava cake, mini cannoli, chocolate fudge sundae and tartufo) and are served during the intermission.
I'm going to be honest, my husband and I were not thrilled with the food overall. However, I understand that they are cooking for the masses (the theatre when at capacity seats 500, including the couple of luxury boxes available) and are trying to keep ticket prices down. Based on the price of dinner and a show tickets versus show only tickets, the meal breaks down to approximately $19-$34 a person, depending on when you see the show. As I see it, the show itself is worth the ticket price and the meal is a bonus! For those not wanting to have the dinner portion of the "dinner theatre" experience, you can purchase tickets the day of–for just the show.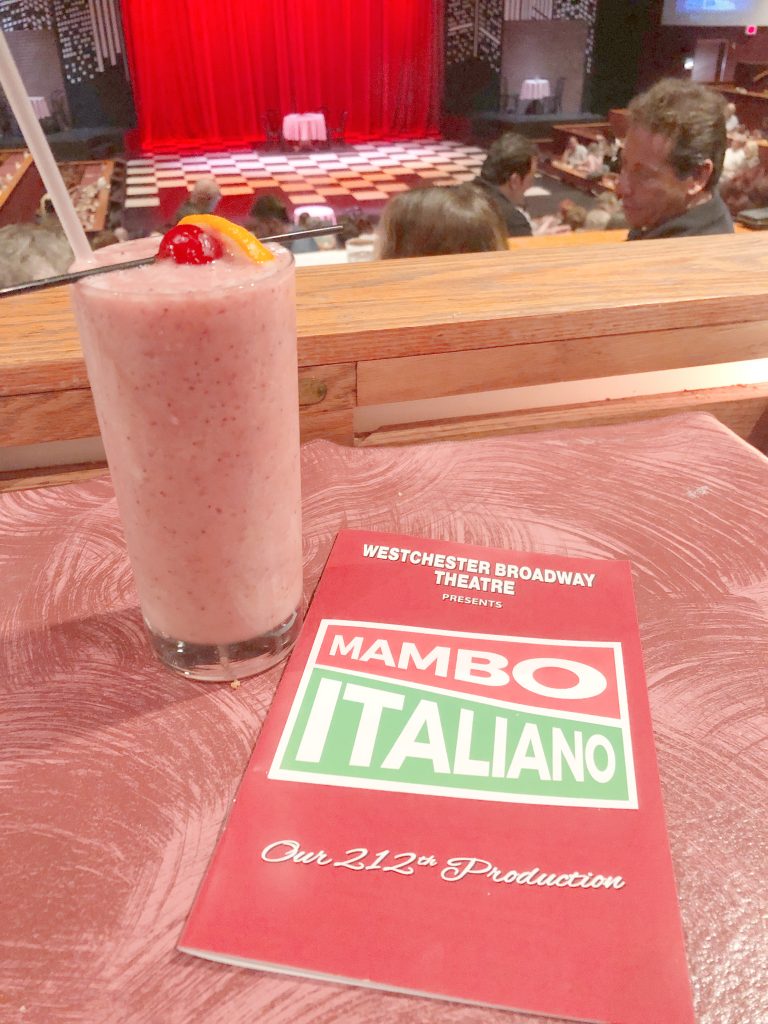 It is also important to note that beverages, including soda, and gratuities are not included in the price of your ticket. I ordered a non-alcoholic strawberry colada ($8) but they do serve wine, spirits including scotch, vodka, gin and rum and martinis. The current specialty drink is Il Cappello – citrus vodka, orange juice and pineapple juice topped with ginger ale.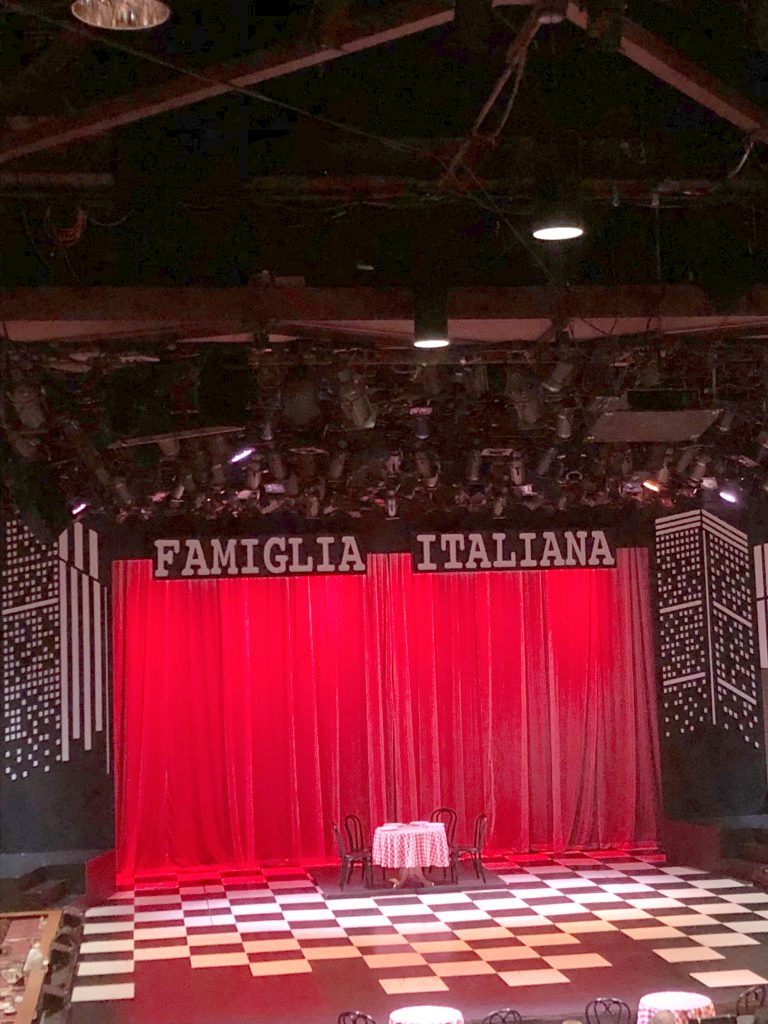 One thing I love about the Westchester Broadway Theatre is that there's not a bad seat in the house. At this production, we sat at table 282, the second to last row in the middle section, directly facing center stage. Even from in the back, I thought our seats gave us a good view.

Many guests visit the Westchester Broadway Theatre for a special occasion. If you are celebrating an event, make sure to let them know, as they announce it prior to the start of the show. My husband and I really enjoyed Mambo Italiano! If you are looking for a fun date night or evening out with friends or family, we highly recommend seeing Mambo Italiano before it ends on September 29. The show will literally have you clapping along!

The Details:
Mambo Italiano
Westchester Broadway Theatre
1 Broadway Plaza
Elmsford, NY 10523
(914) 592-2222

Tickets: (price includes dinner and the show) $61-$91 plus tax, beverages and gratuities, discounts available for children, students and senior citizens at select performances

Performances: August 8 – September 29, 2019

Show Times:
(The show runs approximately 2 1/2 hours, with a 30-minute intermission between acts)
Wednesday, Thursday and some Friday Matinees: 11:30 AM lunch, 1 PM show
Thursday, Friday and Saturday Evenings: 6:30 PM dinner, 8 PM show
Sunday Matinee: 12 PM lunch, 1:30 PM show
Sunday Evening: 5:30 PM dinner, 7 PM show

Tips:
*Photos are not allowed during the show
*Check out the website for special offers
*The show is recommended for ages 12+ – parental advisory for language and sexual references.
*There is a convenience fee for purchasing tickets online. There is no fee for purchasing tickets in-person or via phone.
*Up to 4 tickets can be purchased online.
* AAA members, AARP members, and military discounts are only given for phone or in-person ticket purchases.
*All seat locations are the same price.