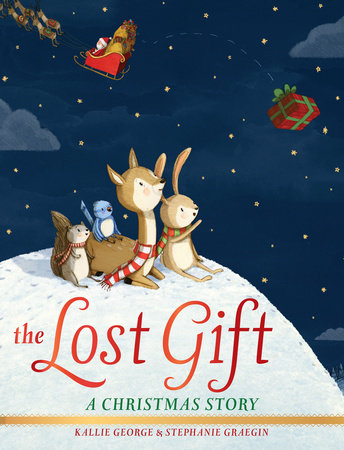 The Lost Gift:  A Christmas Story by Kallie George
Illustrated by:  Stephanie Graegin
Published by: Schwartz & Wade (an imprint of Penguin RandomHouse), October 18, 2016
Genre:  Children's Picture Books, Christmas
Pages: 40
Price: $17.99
Source:  borrowed from the library
From Penguin RandomHouse:
In this charming Christmas-themed picture book that feels like a classic, four animals deliver a lost package for Santa.
 
It's Christmas Eve, and Bird, Rabbit, Deer, and Squirrel are eagerly waiting for Santa to fly overhead. When he does, a gift tumbles out of his sleigh, landing in the woods. The friends find the gift and read the tag: "For the new baby at the farm. Love, Santa." And so, in spite of Squirrel's grumbling—"It's not our baby"—they set off on a long journey to deliver it. Sweet, poignant, and starring a cast of truly adorable characters, this is a story sure to be shared year after year at Christmastime.
Review: Four animal friends stand on a hill, looking up at the sky waiting to see Santa.  As they watch him fly by the see a present fall out of his sleigh.  They sit and wait for Santa to come back and get it, but after waiting for awhile, they realize that he won't be back.  Rabbit convinces the other animals to help find the present and then deliver it to its intended recipient, "the New Baby at the Farm."  The four friends work together to build a sleigh to help transport the present.  After finally delivering the present and returning home they discover that Santa has left them a special gift.
This was a cute holiday read!  Young children will enjoy the animal characters and colorful pictures.  Older children will hopefully appreciate the themes of friendship, cooperation and perseverance.
Overall Rating: Recommended Read