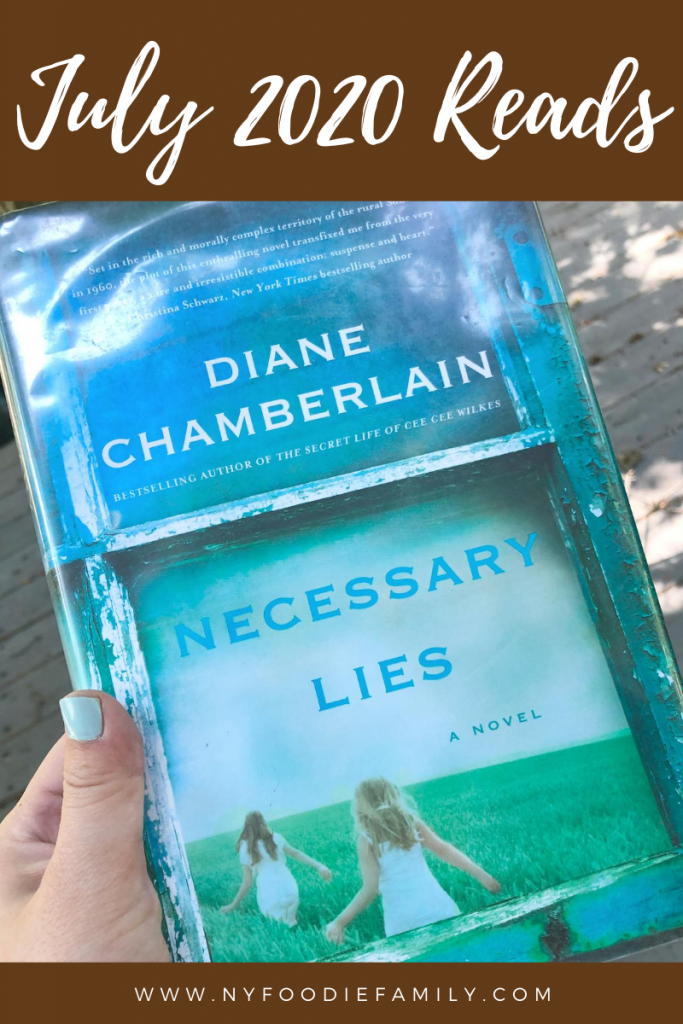 And just like that July is over. It was a great reading month for me with a lot of 4 and 5 star reads! As always, I'm sharing my July reads with Steph and Jana's monthly Show Us Your Books linkup. Here's to continued great reading in August!
3 stars

The Family Upstairs by Lisa Jewell – (Mystery/Thriller) On her 25th birthday, an adopted girl inherits her birth family's home. We learn about the house's past and the family that used to live there. This was my fourth Jewell read and my least favorite so far. Definitely a creepier and more bizarre read than I was expecting.
Fix Her Up by Tessa Bailey – (romance) Girl: isn't taken seriously by her family and works as a clown for kid's parties. Boy: Best friends with girl's brother, known as a "player" and is back home nursing an athletic injury and his ego. Both want to be taken more seriously and come up with an agreement that will hopefully benefit them both. This book has some steamy sex scenes but some of the sexual references were eye roll inducing.


I Was Told It Would Get Easier by Abbi Waxman – (Contemporary Fiction/Chick Lit) A workaholic mom and her teen daughter embark on an organized East Coast college bus tour. The two get to know each other and test their relationship amidst some drama. As a mother of a teen daughter, I could relate well to their relationship. A light, entertaining read. I didn't enjoy this as much as The Garden of Small Beginnings.
4 stars

The Bright Side of Going Dark by Kelly Harms – (contemporary fiction/chick-lit) A social media influencer gets dumped by her fiance right before their wedding. She eventually realizes that she needs to try living life offline. However, while she thinks she has "gone dark" on social media, her account is hacked and impersonated by a very tech savvy individual. This book was more deep than I expected. Harms also wrote The Overdue Life of Amy Byler which I had enjoyed.

In Five Years by Rebecca Serle – (contemporary fiction/romance) The night of her proposal, a young woman gets a short glimpse five years into her future. She then tries to change the future that she saw. This emotional read was a love story that also touched on the power of friendship. It was a little heavier than what I was expecting, but I really enjoyed it.

The Lager Queen of Minnesota by J. Ryan Stradal – (fiction) A family saga that follows two estranged sisters who take different life paths but both end up in the beer-making world. This was a fun, heart-warming read that gave me a lot more insight into the craft brewery world.
The Vanishing Half by Britt Bennett – (historical fiction/literary fiction) Twin African American sisters run away from home at 16 years of age. One twin passes for white and ends up keeping her past a secret. The other moves back home with her black daughter. This story follows their life paths and how the choices they've made affect those around them. The book is being made into a limited HBO series. It took me a little bit to get into this book but once I got invested in the characters it had me hooked. Unfortunately, I felt the ending was a bit abrupt and wanted more.

5 stars


A Court of Thorns and Roses by Sarah Maas – (YA Fantasy) Girl hunting to keep her poor family alive mistakenly kills a Fae. As a consequence she must live her life with her captor in a magical kingdom. She is then tasked with having to break an ancient curse if she wishes to save him. This book is a loose retelling of Beauty and the Beast. I don't know why I waited so long to read this book, but I'm glad I finally did. This is not my usual reading genre, but it was a very engaging story.


A Good Neighborhood by Therese Ann Fowler – (contemporary fiction) Oak Knoll is a "good neighborhood" filled with close knit neighbors. The book focuses on two neighboring families that differ in race and wealth and how their lives intertwine. This is a tragic story but very relevant.


Necessary Lies by Diane Chamberlain – (historical fiction) Set in a rural North Carolina town, this book tells the story of the Eugenics program and its impact on one particular family and the young social worker assigned to help them. I didn't realize before reading this book that the Eugenics Program was a real thing. This was an enlightening read.