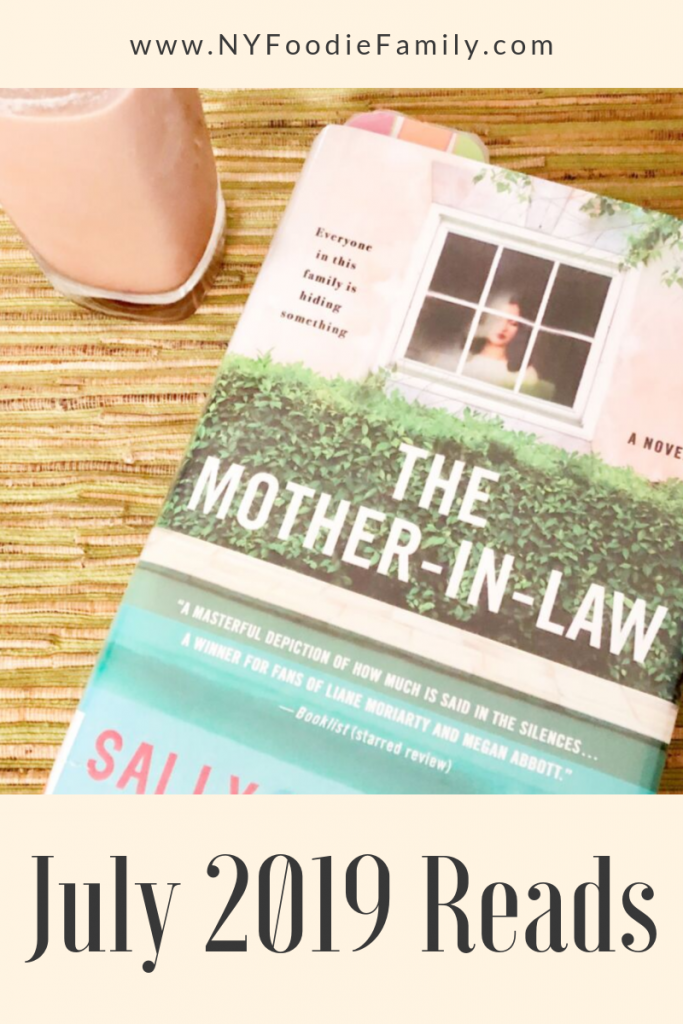 (This post contains affiliate links. Please read our Disclosure policy for more information.)
It's hard to believe that summer is almost over. I haven't read half of what I wanted to read! The good news is that I read eight books last month and almost all of them were four star reads! My library is hosting an adult summer reading BINGO game, so I enjoyed reading books to get a BINGO. Maybe I'll even win a prize! I'm sharing my books with Steph and Jana's monthly Show Us Your Books linkup. Here are my July reads:

3 stars:

The Favorite Daughter by Kaira Rouda – Jane Harris lives in a beautiful home in a gated community and seems to have the perfect life. Overcome with grief after her older daughter Mary's death, she's barely left the house over the past year. With her younger daughter Betsy graduating high school, Jane is ready to get her life back. However, things aren't as perfect as they appear and it is harder for her than expected. I like a good suspense/psychological thriller, but I wasn't a fan of this book. Unlikable characters, unreliable narrator….I just wasn't impressed.
Startup by Doree Shafrir – Mack McAllister is trying to launch an improved version of his Mindfulness app and needs money from investors to do so. Katya is a writer for a tech blog, where Dan Blum is her boss. With two young children at home, Dan's wife Sabrina decides to reenter the work force and ends up being one of the oldest employees working at Mack's company, helping them with their social media. After a scandal breaks, Katya and Sabrina This was my in-person book club's July read. I didn't realize that Doree Shafrir, of the Forever35 podcast that I listen to, had written a book! While I found the look into the tech startup world interesting, the story was pretty "eh." None of the characters were very likable and the ending left me wanting more.
4 stars:

The Bone Collector by Jeffery Deaver – Lincoln Rhyme was a star criminologist until a work accident left him a paraplegic. He's been called in to assist when a serial killer on a case he finds intriguing. With the assistance of police detective Amelia Sach, the pair work together to try to stop the killer. I watched this movie starring Denzel Washington and Angelina Jolie years ago. I was trying to find a book to fit the "crime" category for my library BINGO game and decided to read this book, since I liked the movie. It was really good! I enjoyed the detailed forensics and what goes into a crime scene investigation. Now I want to watch the movie again.

A Hundred Summers by Beatriz Williams – Lily has known Budgie since they were kids spending summers together in Seaview, Rhode Island. During college, Budgie dated Graham Pendleton and Lily fell in love with his football teammate Nick Greenwald. Fast forward to Memorial Day, 1938 and Lily is back in Seaview to spend the summer with her family. When Budgie and Nick Greenwald arrive they get the small town talking, and not in a good way. Told between the past and present day (1938), we learn the story of what happened between Lily and Nick. This book has been on my to read list since 2013! Based on the title, I decided to make it a summer read. Overall, I found it to be an enjoyable read.
One Day in December by Josie Silver – Laurie doesn't believe in love at first sight…..until one day she's on a bus and she sees Jack sitting at the bus stop. After a year looking for him, her best friend and roommate, Sarah, brings home her boyfriend to introduce to Laurie…..and it turns out to be Jack. The story is told over ten years as we follow the three of them through their ups and downs. This was a cute contemporary romance and a perfect light summer read.

The Mother-In-Law by Sally Hepworth – Ever since Lucy married Ollie, she was never close to her mother-in-law, Diana. Five years later and Diana is found dead in what appears to look like a suicide, but is not. Now everyone is a suspect and who had motive to want Diana dead? The book alternates between Diana's past and present day. I thought the book gave an interesting look at family dynamics and parenting privileged kids. I've enjoyed every Hepworth book that I've read and this one didn't disappoint.

The Overdue Life of Amy Byler by Kelly Harms – When Amy's husband reappears in her life after three years and wants to spend some quality time with their children, Amy is left with a lot of time on her hands. She ends up in NYC for the summer on #momspringa living an exciting life. But when summer ends she has to figure out if she really wants to return to her old life. I know a lot of people read and posted about this book in past linkups and weren't huge fans. As a mom of an 11 and 13 year old, the overwhelm and under appreciation is real! I could relate to Amy in that respect and for the first time ever, took a short two day solo trip to a wellness spa this past June. Overall, this was a relatable, fun read for me.

Verity by Colleen Hoover – Lowen is given a job to finish writing the remaining books of bestselling author Verity Crawford. Going through Verity's notes, Lowen discovers an autobiography that she wrote with lots of revelations that she's not sure Verity's husband, Jeremy, is aware of. As Lowen starts falling for Jeremy she wrestles with sharing what she's discovered. I recommended this book for my work book club's July read and everyone loved it. This was the first Hoover book that any of them had read. I'm a huge fan of Hoover and have read almost all of her books. This book is so much darker than her normal stuff. It was a bit disturbing but also hard to put down.