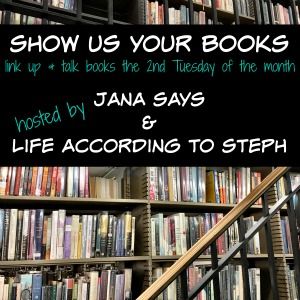 It is time once again for Steph and Jana's monthly Show Us Your Books link up.  I love seeing what everyone is reading and always end up adding way too many books to my goodreads to read list.  It was a good reading month in terms of number of books read – 13 in all!  It was also a pretty good month for quality in reading as well.  So here are my July book reviews.
2 Stars

Dad Is Fat by Jim Gaffigan – While I enjoy Gaffigan as a comedian, I'm just not a fan of his writing.  The humor just doesn't seem to carry over as well when I'm reading versus listening to his comedy.  This book focuses on parenting and I could relate to some of the book, but the 5 kids in a 2 bedroom apartment thing got a little old.  I enjoyed his other book Food:  A Love Story a little more than this one.
3 Stars
The Flip Side by Shawn Johnson – This is the first fiction book written by the Olympic gold medal gymnast.   In this book Charlie Ryland is living a double life.  She's "Charlie" famous gymnast at the gym and the rest of the time "Charlotte" normal high school student.  Of course her double identity is eventually discovered.  I found the secret identity aspect of the story unrealistic.  I had to remind myself while reading this book that it is YA.  It seems a little young even for YA and although she didn't read it, I think that it's appropriate enough for my 10 year old to read.
Meternity by Meghann Foye – Liz Buckley works at  baby/parenting magazine Paddy Cakes.  Fed up with work and missing out on a Paris trip because she has to cover for all of the moms out on maternity leave, she decides to be pregnant and take "meternity" leave.  During this time, she will get paid time off to figure out her life.  I saw controversy on Facebook regarding this book with the argument that maternity leave is a time for a woman's body to heal from giving birth and bond with their baby.  A woman is not having "me time" during this time.  Regardless, this book was just okay for me, as I found Liz not very likable and thought the ending was disappointing.
The Museum of Heartbreak by Meg Leder – Penelope Marx tells the story of her heartbreak through 23 pieces in her Museum of Heartbreak.  This YA book includes friendship drama, boy drama and family drama.  Overall, just an okay YA read.
Turn Up the Heat by Kimberly Kincaid – Bellamy Blake takes a vacation to Pine Mountain for a weekend getaway with two girl friends.  When her car transmission dies on the way to the resort, she ends up meeting mechanic Shane Griffin.  Of  course there is instant attraction and they end up falling in love.  This book was a bit cheesy for me, with the romance being too convenient and set up for my liking.  I haven't read a romance genre book in awhile and only read this one for a goodreads book reading challenge.  This was probably closer to a 2.5 rating on goodreads for me, but I gave it a 3 since they don't let you give 1/2 stars.
When the Morning Glory Blooms by Cynthia Ruchti – This book tells the story of three women in three different time periods:  Anna (1890), Ivy (1950's) and Becky/Lauren (present) who experience pregnancy out of wedlock.  I didn't realize that this book was Christian fiction before putting it on hold and reading it, I found it a little to religious.
4 Stars
32 Yolks by Eric Ripert – This is the memoir of Chef Eric Ripert, of Le Bernardin.  After reading about his childhood in France and his culinary training, I have so much more respect for this man……and I need to eat at his restaurant!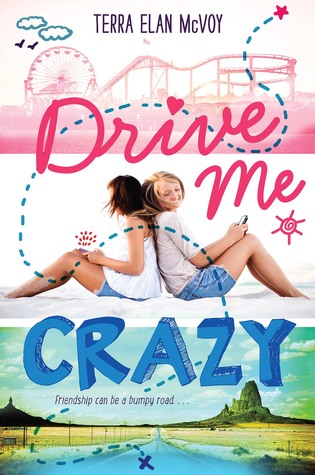 Drive Me Crazy by Terra Elan McVoy – This is a middle grade fiction book that my daughter read.  It looked fun so I gave it a read.  It's a cute story of two step-cousins on a road trip with their grandparents.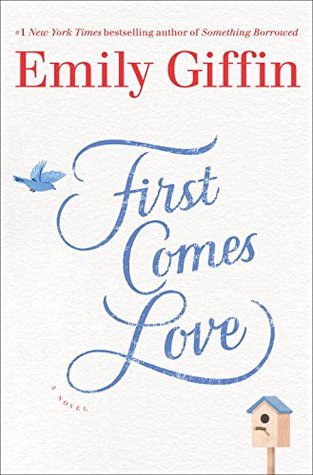 First Comes Love by Emily Giffin – I am a fan of Giffin's and hadn't read one of her books in awhile.  This book deals with how a death in the family has various affects on the other members.  There is also sister drama, friendship, dating and motherhood.  I found Meredith to be a pretty unlikable character and Josie and Gabe's friendship a little intense, but overall enjoyed the book.
The Games:  A Private Novel by James Patterson & Mark Sullivan – This is book #11 in the Private series by James Patterson.  This book is set in Rio during the Olympic games.   This was as usual, a suspenseful, quick read.  I read this book at the end of July and found it weird to be reading a book that takes place in the immediate future (Rio Olympic Games).
Ice Cold by Tess Gerritsen – I have read several of Tess Gerritsen's mystery/suspense books.  My husband and I used to enjoy watching the TNT series Rizzoli & Isles, which is based on this book series.  This is book #8 in the Rizzoli & Isles series.  The story focuses mainly on Dr. Maura Isles, which is nice since she tends to take a more minor role in the other books.  This was a suspenseful page-turner which I enjoyed.  Plus, it was a book that I finally read from my own bookshelf!
Summer House by Nancy Thayer – This is the story of a wealthy family and their drama spending the summer at the family house in Nantucket.   Thayer's books tend to be summer reads for me, as they often take place in the summer on various island and beach locations.  This book kept my interest, however I didn't like how some things were unresolved.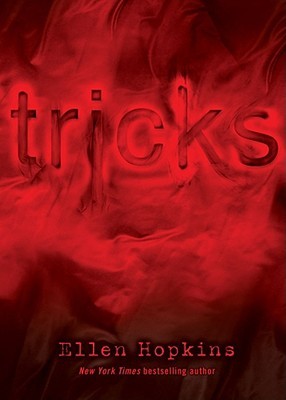 Tricks by Ellen Hopkins – I have read most of Hopkins books and am a fan of her YA books written in poetry form.  While I enjoy her writing style, I have to admit that this book's topic was almost too much for me.  The books focuses on five teenagers with dysfunctional lives who end up turning "tricks" to survive.  It's disturbing and heartbreaking to read but even scarier to realize that this kind of stuff is happening in real life.