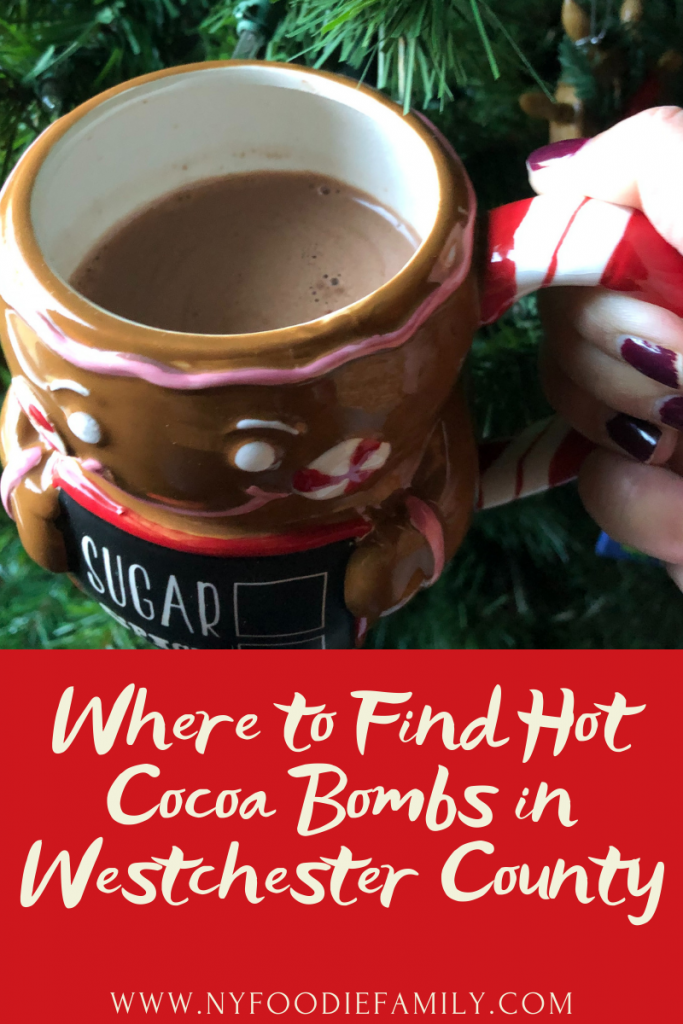 Hot cocoa bombs are the current internet sensation. A hollow ball of chocolate is filled with cocoa mix and marshmallows. When you pour hot milk or water over the ball, it opens up, you stir everything and then enjoy all the chocolatey goodness. It's fun to watch and a tasty treat!

I've researched where in Westchester you can find hot cocoa bombs. But, if you want to enjoy one of these homemade treats, you need to place an order now! I've discovered that almost every business requires preordering. The few locations that sell hot cocoa bombs onsite end up selling out very quickly! Due to lack of time, in trying to get this post out, I opted to visit Beascake's Bakery this weekend. Sadly, when I arrived they were all sold out.
So, get your orders in now, especially if you would like the hot cocoa bombs as gifts for the holidays. As I mentioned, these treats have been VERY popular and are selling like crazy! They make a great stocking stuffer but are also great to enjoy all winter long (the snow hasn't hit Westchester County YET, but I have a feeling we are in for a loooong winter!).
If you know of a business that should be included on this list, please send me an email!
Auntie Liana's Baked With Love (Popup Shop at the Jefferson Valley Mall)
650 Lee Boulevard
Yorktown Heights, NY 10598

Auntie Liana's has a popup shop in the Jefferson Valley Mall. Her hot cocoa bombs flavors include Cocoa, White Cocoa, Peanut Butter, Unicorn, Salted Caramel, Chocolate Mint, White Chocolate Mint, Bailey's and Red Velvet. You can buy them at the popup shop at the mall or you can contact the business via DM on Instagram or email auntielianas@yahoo.com.

Beascakes Bakery (Armonk)
575 Main Street
Armonk, NY 10504
(914) 273-3612

Beascakes Bakery is selling hot cocoa bombs and their individual sugar cookies on a first come, first served basis. They are not accepting pre-orders on these items.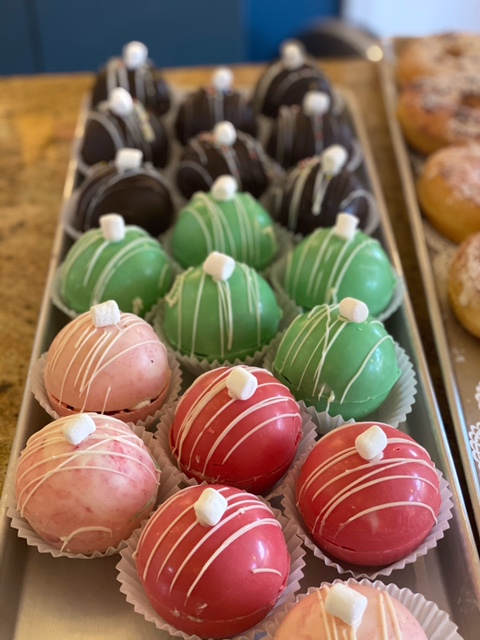 Bradley's Cafe (Larchmont)
2 Chatsworth Ave.
Larchmont, NY 10538
(914) 833-1095

Bradley's Cafe sells a variety of hot cocoa bombs. Each hot cocoa bomb is $4.75 and comes in flavors like Peppermint Caramel, Milk Chocolate w/Marshmallow, Sea Salt Caramel and Mocha.
Chocolations (Mamaroneck)
607 E. Boston Post Road
Mamaroneck, NY
(914) 777-3600
You can buy cocoa bombs here in singles ($7) or 4 packs ($28). They can be made with milk, dark or white chocolate. You can purchase in-store.
Custom Creations (Rye Brook)

Custom Creations only sells chocolate hot cocoa bombs. Each cocoa bomb is $6. You can order hot cocoa bombs via DM on Instagram.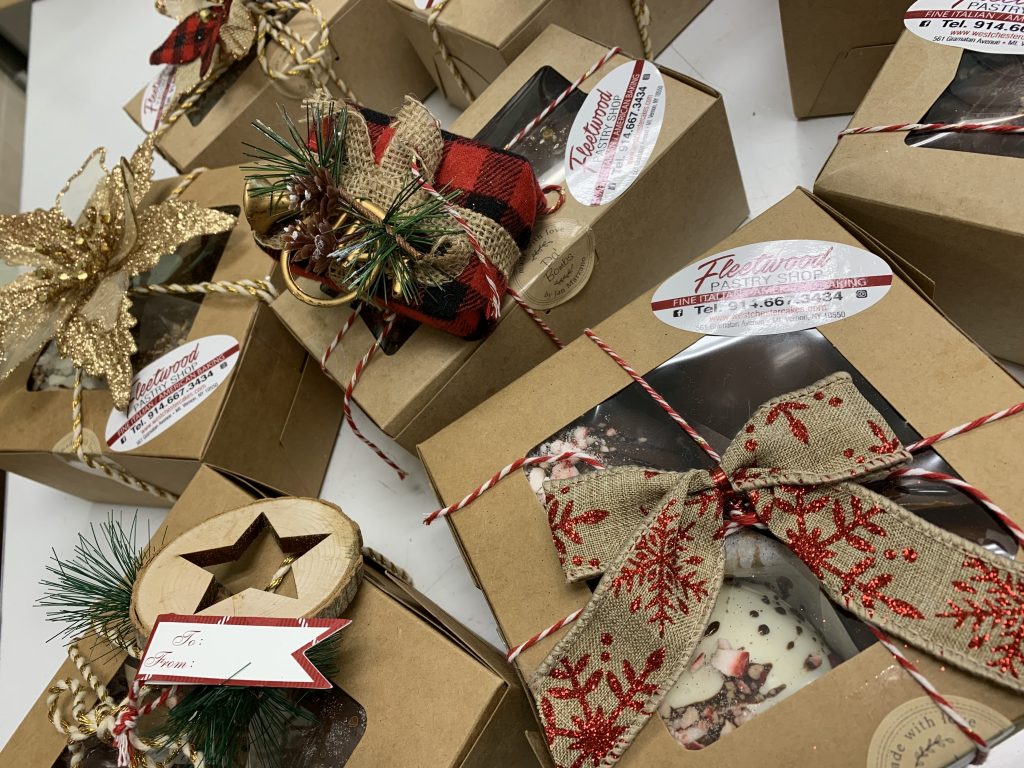 Fleetwood Bakery Shop (Mount Vernon)
561 Gramatan Avenue
Mount Vernon, NY 10552
(914) 667-3434

The Fleetwood Bakery sells hot cocoa bombs in Chocolate, Salted Caramel, Peppermint and Maple Pecan. Each cocoa bomb is $6. Individually wrapped cocoa bombs are $7 each. They sell 2 cocoa bombs packed in a box for $15.00 or 4 cocoa bombs in a box for $28.00.

Flour and Sun Bakery (Pleasantville)
19 Washington Avenue
Pleasantville, NY 10570
(914) 495-3232

Hot cocoa bombs need to be ordered at least two days in advance from Flour and Sun Bakery. They sell Classic Hot Cocoa, Peppermint (with pieces of candy cane inside), Salted Caramel and sometimes Strawberry Unicorn. Each cocoa bomb comes individually wrapped and are $5 each.
Flowerbake by Angela (Pelham)
136 Fifth Avenue
Pelham, NY 10803
(914) 632-2253
info@flowerbake.com

Flowerbake by Angela is selling a set of 3 holiday hot chocolate bombs for $18.00. For an additional $5 you can get the hot cocoa bomb packaged in a special ornament case. You can mix and match with a decorated snowflake, Christmas tree or Grinch. Each bomb has "a little special something inside…" Order online and pickup in store. Items can also be shipped at an additional cost.

Heavenly Treats by Rosemarie (Eastchester)

Hot cocoa bombs are sold in singles ($5) and in boxes of four ($20) or six that can be customizable. Choices include milk chocolate, white chocolate, dark chocolate, mint chocolate and white candy mint. Order via Facebook.

Jane Street Sweets (Croton-on-Hudson)

Jane Street Sweets is currently selling a 4 pack hot cocoa bomb box ($20). You can choose from classic hot cocoa, candy cane, gingerbread or cookies-n-cream. Ordering is via email, DM on Facebook or DM on Instagram. There is no pickup – local deliveries are made on Thursdays only (December 10, 17, 24 and 31).
JNA Sweetz (White Plains)

Hot cocoa bombs are $5 each, or $6 with a chocolate spoon. Choices include Swiss Miss and Abuelita hot chocolate. At this time orders are via Instagram DM only.
The Poppery (Mt. Kisco)
255 N. Broadway
Mt. Kisco, NY 10549
(914) 218-8447

The Poppery is selling Grinch, Peppermint, Salted Caramel and Nutella hot cocoa bombs. These sell for $7 each. There is also a 6 pack Chocolate Lovers Hot Cocoa Bomb box that includes 3 Nutella, Marshmallow filled hot cocoa bombs and 3 Salted Caramel, toffee bits and marshmallow filled hot cocoa bombs ($39). For those celebrating Hanukkah this week, you can get a festive blue and white decorated hot cocoa bomb. All hot cocoa bombs need to be preordered on the website.
Queerios Bakery (White Plains)
Christmas hot cocoa bombs are $6. They can be personalized in cursive for an additional $1. Flavors include Swiss Chocolate, Abuelita, Peppermint, Pumpkin Spice and Mocha. They also have a Vegan Peppermint, using vegan chocolate. At this time orders are via Instagram DM only.
Steph's Sweet Creations (Port Chester)
(914) 565-1101

Steph's Sweet Creations makes a 6 pack Hot Cocoa Bomb Box ($30). The box includes 3 milk chocolate and 3 white chocolate cocoa bombs.
Sugar Hi (Armonk)
380 Main Street #1821
Armonk, NY 10504
(914) 273-4777

They are currently taking Christmas preorders for a holiday 6 pack ($36) that will be ready for pick up starting December, 19th. The 6 pack contains 2 peppermint white chocolate bombs and 4 milk chocolate bombs.
Sweet Delites Pastry Shop (Somers)
119 Market Plaza
Somers, NY 10589
(914) 276-6444

Sweet Delites Pastry Shop sells their hot cocoa bombs for $7.99 each. Each hot cocoa bomb is individually wrapped and decorated for Hanukkah or Christmas. They have milk chocolate hot cocoa bombs in store but white chocolate cocoa bombs can be ordered. Hot cocoa bombs are available at the shop or can be preordered.
Sweets by Cari (Ossining)

Hot cocoa bombs are available by pre-order only. Currently, the holiday pre-sale is currently closed. I have included a link to her site, as Cari is planning to open up ordering again closer to the holidays! Flavors include classic milk chocolate, white chocolate, dark chocolate, white peppermint mocha, salted caramel and Grinch. Prices range between $5 – $6 each. She also sells a variety pack of all 6 flavors for $30. Packaging costs $1 extra for each bomb, unless they are purchased in sets of 6 or 12. All orders need to be picked up in Ossining.
Sweets by Smooches (Yonkers)

Hot Cocoa bombs cost 3 for $15, 6 for $25 or 12 for $45. Flavors include white or milk chocolate with options for Nutella or caramel filling. Orders should be placed a few days in advance. The preferred ordering method is to text Lauren (contact info in the Sweets by Smooches FB page).
You may also enjoy reading: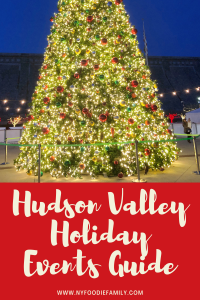 Hudson Valley Holiday Events Guide