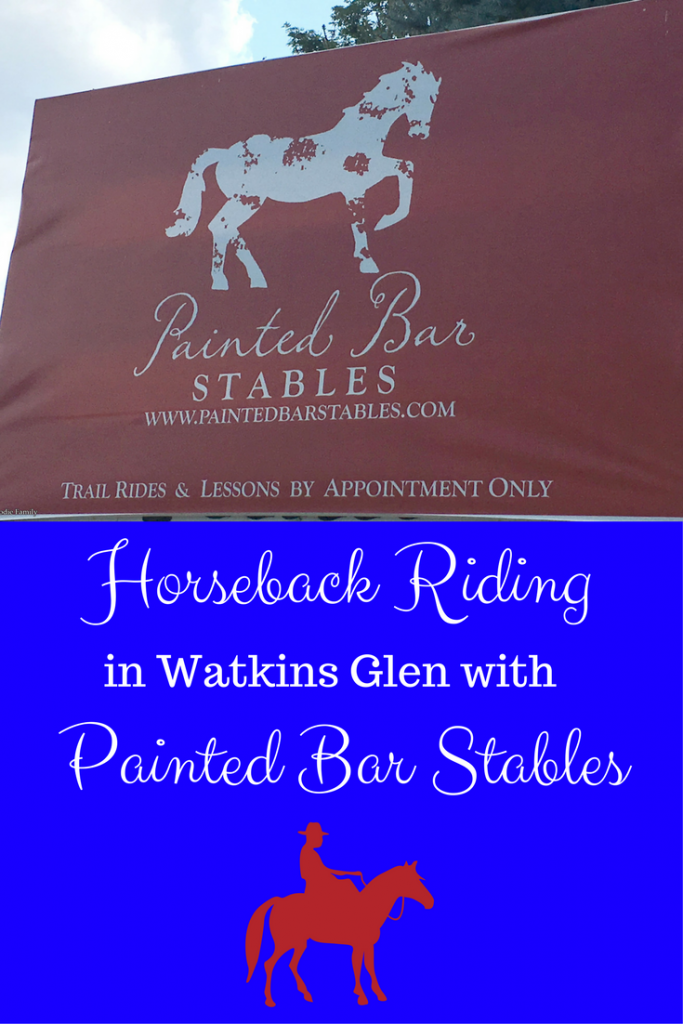 (Thank you Painted Bar Stables, Watkins Glen Area Chamber of Commerce and Corning and the Southern Finger Lakes for hosting us.  As always, all opinions are my own.)
My kids are super adventurous and really wanted to try horseback riding this summer.  They were very excited to discover that they were going to go riding for the first time on our trip to the Southern Finger Lakes region of New York.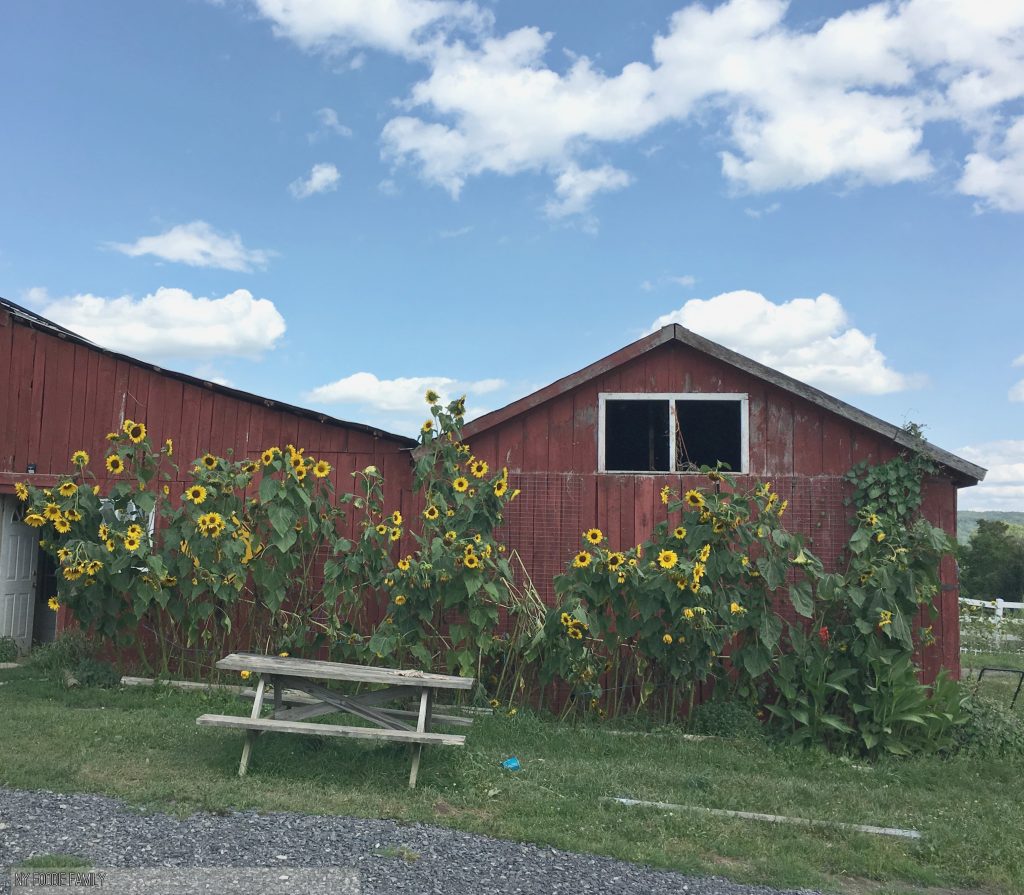 Painted Bar Stables was established in 2003, with Erika Eckstrom taking ownership in 2008. Located in Burdett, NY, minutes away from Watkins Glen, Painted Bar is a community-oriented riding facility.  There are approximately 37 horses at the stable, including three foals not yet ready for riding. The stable has a horse suitable for just about any rider and can accommodate groups as large as 15.
When we arrived at Painted Bar Stables, Erika was there to greet us.  As with any outdoor recreation activity with a physical risk, waivers have to be signed before riding and helmets must be worn.  Once we entered the barn, Erika gave us a short, but informative, overview on horseback riding.  She told us how to hold the reins and steer the horses. She noted that the rider is in control of the horse, but if we are not diligent, the horses will take advantage. For example, they prefer that the horses not eat during the trail ride.  However, the forest is a buffet for them and they will try to sneak in snacks if they can.  She used great analogies and explanations that the kids were able to understand, which helped give them a better understanding of horses and their behavior.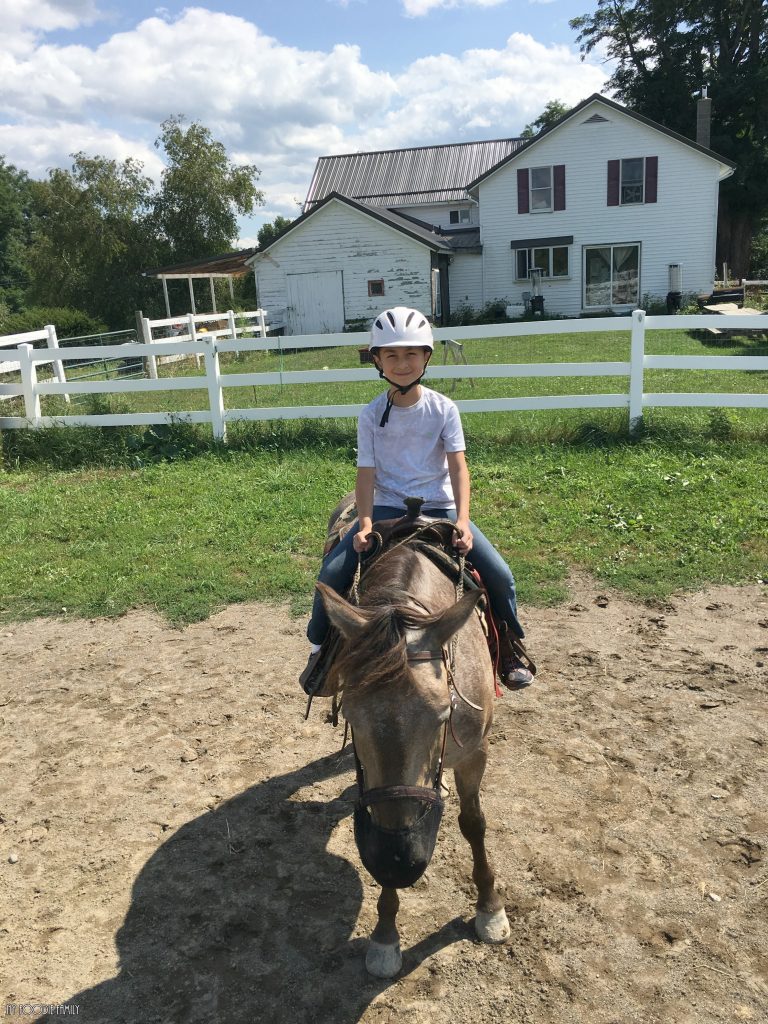 Prior to our arrival, Erika had chosen horses to match our sizes and riding ability.  My 9 year-old son rode Smudge, a small tan pony, perfectly sized for him.  My 11 year-old daughter rode Captain and I rode Panda (a.k.a. "Panda Paws"), a black and white horse named after a flavor of ice cream.  Once we met our horses Erika had her assistants help us untie them and we walked them out to the paddock. Once we mounted our horses our stirrups were adjusted and we were ready to ride!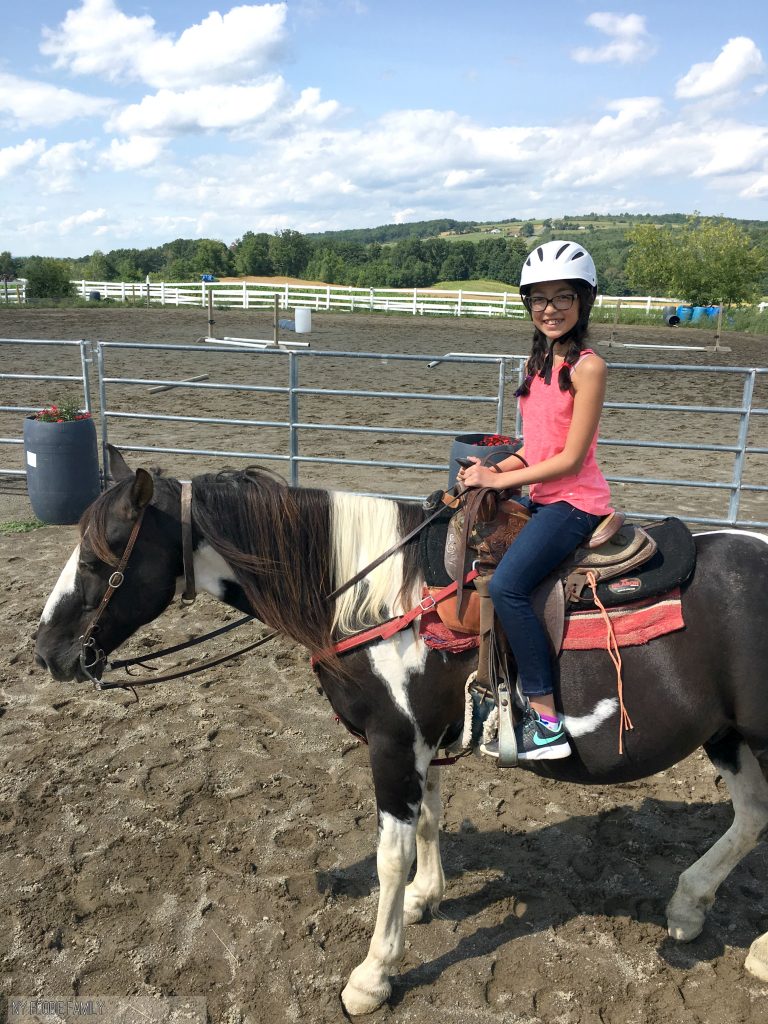 Although I have some previous riding experience, it had been years since I was last on a horse. I have to admit that I wasn't scared for myself riding, but I was concerned about how the kids would do being on a horse for the first time. Cody, one of Erika's assistants, accompanied us on our ride, bringing up the rear. I was riding in the middle with my son in front of me and my daughter behind.  Since I couldn't see my daughter, knowing Cody was there to help her made me a lot more comfortable.
Our trail ride was an hour long and approximately three miles. We rode from the paddock along a pasture where we saw some of the other horses, including the foals, grazing. We then rode past a field and eventually entered the woods.  The ride was a great length for us beginners and was super enjoyable.  It was a very scenic and peaceful trail ride. During the ride, the horses navigated fallen logs and rocks.  There were a couple of shallow streams we crossed where we stopped for a moment to give the horses a water break.  As we came to different parts of the trail Erika gave us reminders on how to sit (lean back  going down a hill or slightly forward riding up).  There is one part of the trail where the horses need to trot up a hill.  While my daughter loved it, my son was a bit unsure.
Erika really adapts the ride to the riders. At the end of the trail, there's a straight path back up to the paddock, perfect for riding with a little more speed.  She asked if we wanted to ride a little faster up the hill.  Since my son was a bit hesitant, she rode with him up the path at a comfortable speed.  Then Cody led me and my daughter up at a faster trot. It was a win for everyone!
My kids loved horseback riding!  It's all my daughter could talk about for days.  I had to hear how much she loved Captain and how she wants a horse of her own.  Getting a horse is never going to happen, however the kids are anxiously awaiting their next opportunity to go horseback riding.
Unfortunately, I didn't take any pictures during the trail ride.  I kept my phone in a waist bag under my shirt, afraid that I'd drop it during the ride.  Plus, this was one of those experiences that should be fully taken in and enjoyed.
The Finger Lakes region of New York is such a picturesque area with lots to see and do.  On your visit, I recommend you make some time for a horseback ride at Painted Bar Stables.  Erika and her crew will ensure you have a great ride!
The Details:
Painted Bar Stables
4093 Lake Street
Burdett, NY 14818
(607) 216-8141
Hours:  Trail rides are by appointment only, available through the online rider request form.  Please give 24-48 hours advance notice.
Price:  Painted Bar Stables offers a variety of trail rides, specialty rides and even overnight and multi-day pack trips. The basic beginner rides are listed below.  Please check the site for other rides and prices.
Scenic Trail Ride (1 hour – 3 miles) $55/person
Beginner Adventure (1 1/2 hours – 4.5 miles) $$80/person
If paying by credit card, there is a 3.5% surcharge.
Additional Info:
*Children must be at least 8 years old to ride.
*There is a maximum weight limit of 250 pounds.
*Long pants and closed toe shoes or boots must be worn.
*Arrive 5-10 minutes before your scheduled ride.  If you are late it will cut into your ride time.
Tips:
Remember to wear sunscreen and bug spray.
Don't bring along anything that you don't mind losing!
If you enjoyed your ride, tip your guide.  Although it's not required, tips are always appreciated.