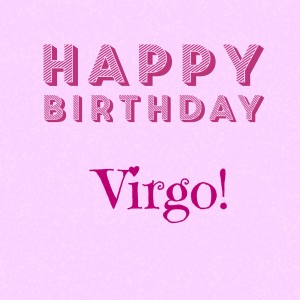 Happy belated birthday to me!  Yesterday was my birthday.  Since I've gotten older and had kids, birthdays seem to be less significant, minus the fact that I'm getting older!  And a birthday on a weekday?!!  I spent the evening at my son's back-to-school night!  We had an early birthday celebration this past weekend with a family dinner out and a night of bowling.  Good times were had by all!  Instead of posting a 40 by 40 list or things you don't know about me, I am posting about my astrological sign.  I am a Virgo, the sixth sign of the zodiac, represented by the Virgin (August 23 – September 22).   I believe I have many of the traits of a Virgo, some of which are listed below.   Read on to find out more about Virgos!
Traits of Virgos, according to Astrology.com:
*can be picky and critical
*have a strong attention to details
* "born to serve"
*industrious, methodical, efficient
*practical and logical
*good at fact finding
*balanced and fair
*brain in overdrive
*prone to skepticism
*can over-think things
*interested in understanding things
*perfectionist
*most Virgos are neat and clean
*reliable and sensible
*humble and easy-going
*most Virgos are grounded
*can be worrywarts
*extremely health conscious
According to a recent PopSugar article, the best astrological matches for a Virgo are Taurus, Capricorn, Cancer or Scorpio.
Link Love:
12 Things to Know Before Dating a Virgo 
Find out  what your zodiac sign smells like as a fragrance.
12 Things Only Virgos Understand
Some Famous Virgos (this is NOT an exhaustive list!):
Lance Armstrong, Jack Black, Alexis Bledel, Ruby Bridges, Warren Buffet, Louis C.K., Agatha Christie, Cameron Diaz, Gloria Estefan, Richard Gere, Salma Hayek, Michael Jackson, Stephen King,  Beyoncé Knowles, D.H. Lawrence, Blake Lively, Cesar Milan, Maria Montessori, Mother, Teresa, Bill Murray, Regis Philbin, Amy Poehler, Pink, Keanu Reeves, LeAnn Rimes, Cal Ripken Jr., Molly Shannon, Charlie Sheen, Shania Twain, Amy Winehouse

{via}
{via}

{via}