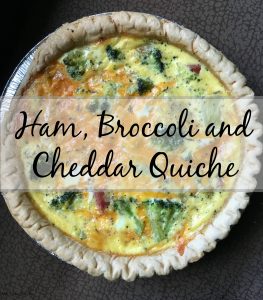 Meal planning is a necessity in our house.  With everyone's busy schedules, it ensures that we have dinner on the table each night.  In an effort to make dinners that my kids will enjoy, I've been enlisting their help in my meal planning.  Each week I ask them for one dinner that they would like to see on the next week's menu.  Recently, my daughter requested quiche.  Quiche is pretty easy to put together.  So, using ingredients that I know the kids like, I put together this Ham, Broccoli and Cheddar Quiche.  I adapted the recipe to make enough for two quiches, which left a whole quiche leftover for my husband and I to enjoy for breakfast during the week.  This was a kid approved dinner that I served with a Caesar salad.
Ham, Broccoli and Cheddar Quiche
Recipe adapted from allrecipes.com via JenCanCook
Ingredients:
2 frozen (9-inch) frozen pie crusts, thawed
2 Tbsp. butter
1/2 cup chopped onion
1 large garlic clove, minced
1 (8 ounce) ham steak
1 (12 ounce) bag frozen broccoli
8 eggs
1 1/2 cups milk
1 1/2 cups cheddar cheese, shredded
1/2 tsp. salt
1/2 tsp. pepper
1/4 tsp. dried thyme
1/4 tsp. ground mustard
Directions:
1.  Preheat oven to 350 degrees F.  Place thawed pie crusts on baking sheet.
2.  Cook broccoli as directed on bag, decreasing cook time by 2-3 minutes.
3.  Melt butter in large skillet over medium heat.  Add onion and garlic, sauteing about 5 minutes, or onions are translucent.  Add the ham and broccoli to the skillet, mixing to combine.  Evenly divide the onion mixture into the two pie crusts.
4.  In a large bowl beat eggs, milk, shredded cheddar cheese, salt, pepper, thyme and ground mustard.  Pour the egg mixture into the pie crusts, dividing evenly.
5.   Baked in the preheated oven until a knife inserted into the center of the quiche comes out clean, approximately, 30-45 minutes.  Let stand for 10 minutes before serving.