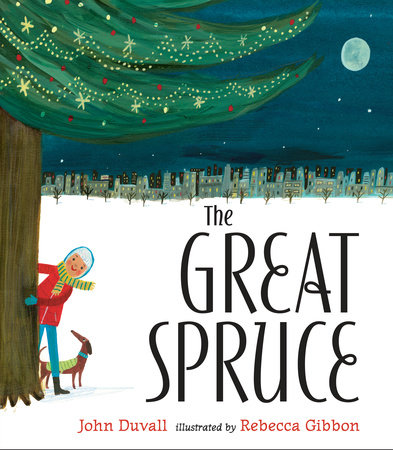 The Great Spruce by John Duvall
Illustrated by:  Rebecca Gibbon
Published by: G.P. Putnam's Sons (imprint of Penguin Random House), October 18, 2016
Genre:  Children's Picture Book, Christmas
Pages: 40
Price:  $17.99
Source:  borrowed from the library
From Penguin Random House:
Together with his grandpa, a young boy finds a way to save his favorite tree in this heartwarming Christmas tale
 
Alec loves to climb trees—the little apple trees, the wide willow trees, even the tall locust trees. But his favorite is the great spruce, with its sturdy trunk and branches that stretch up to the sky. Alec's grandpa planted it as a sapling years and years before Alec was born, and every Christmas, Alec and his grandpa decorate the tree together, weaving tinsel and lights through its branches, making it shine bright.
 
But one day, a few curious men from the nearby city take notice of Alec's glistening great spruce, and ask to take it away for their Christmas celebration. Though it's a huge honor, Alec's heartbroken at the idea of losing his friend. With great courage and creativity, Alec comes up with a plan to save his favorite tree in this joyful holiday tale.
Review:  Alec loves to climb trees, but his favorite to climb is the Great Spruce that his grandpa transplanted years ago.  Alec and his grandpa love to decorate the tree every Christmas, but this year is different.  Alec's family is asked if the tree can be taken and used in a Christmas celebration in the city.   His parents are honored and agree.  But Alec cannot imagine life without his tree!  When the men come with saws to cut down the tree Alec comes up with a creative solution that's a win for everyone.
We live in the suburbs of New York City and every year take a visit down to Rockefeller Center to see the Christmas tree there.  This story is relevant to us, since the tree we see has to be cut down and transported to the city.   There's an environmental-friendly message in this book about tree preservation.  The author includes a note at the end of the book about the tradition of Christmas trees and information and photos about how a tree is transplanted.  This book isn't really Christmas focused but is a nice non-religious holiday read.
Overall Rating:  Recommended Read