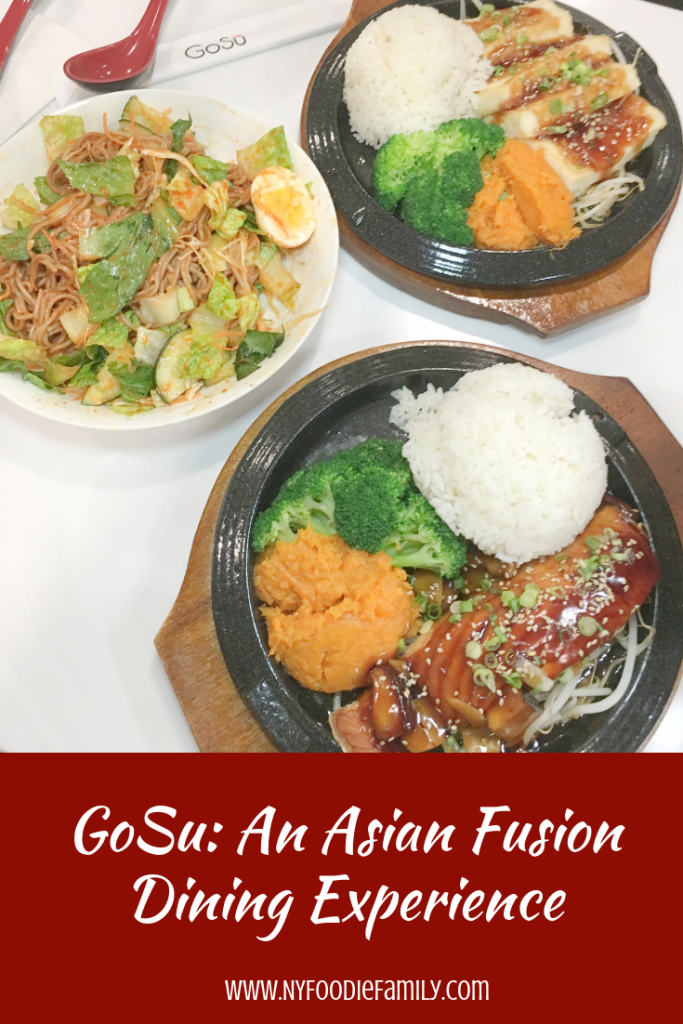 (Thank you to GoSu and Lifestyle Westchester for hosting NY Foodie Family.  As always, all opinions are our own.)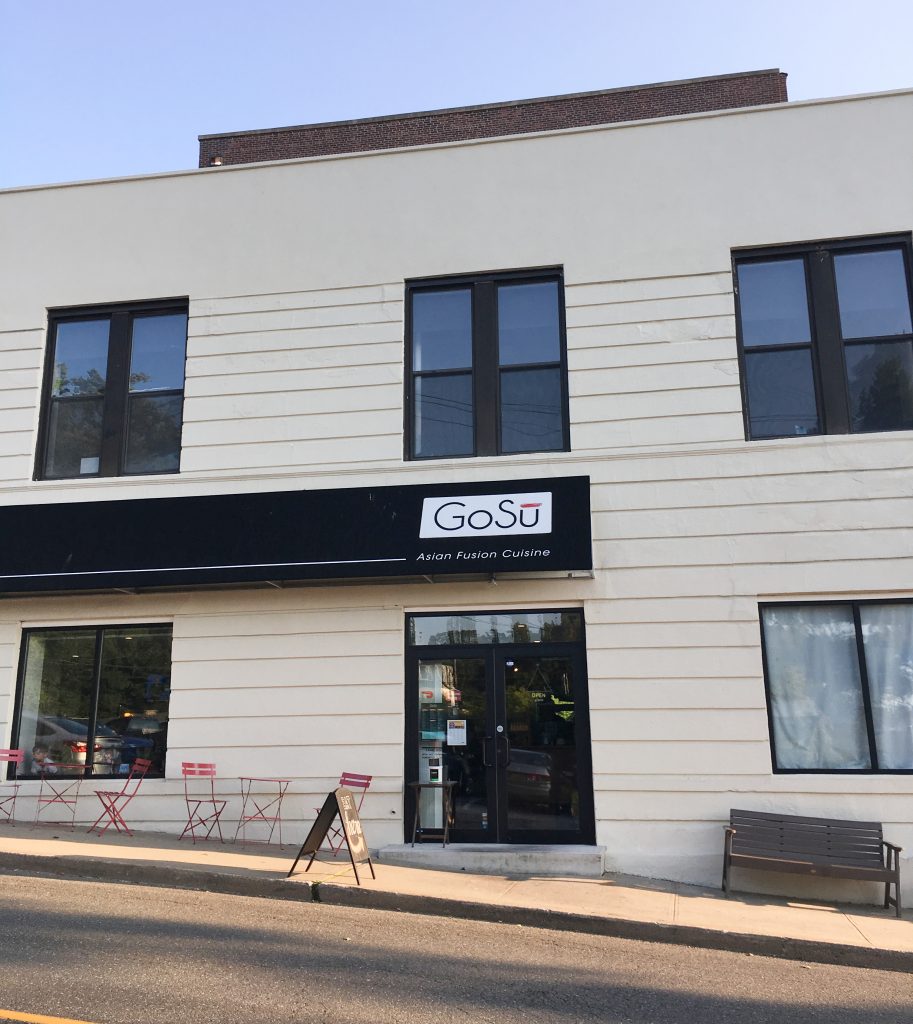 I was recently invited to a menu tasting at Asian fusion restaurant, GoSu.  This Irvington eatery opened in February 2017 and is located a short distance from the Irvington train station.  It's a perfect place to dine with friends visiting from NYC, or for a quick dinner on the way home from work.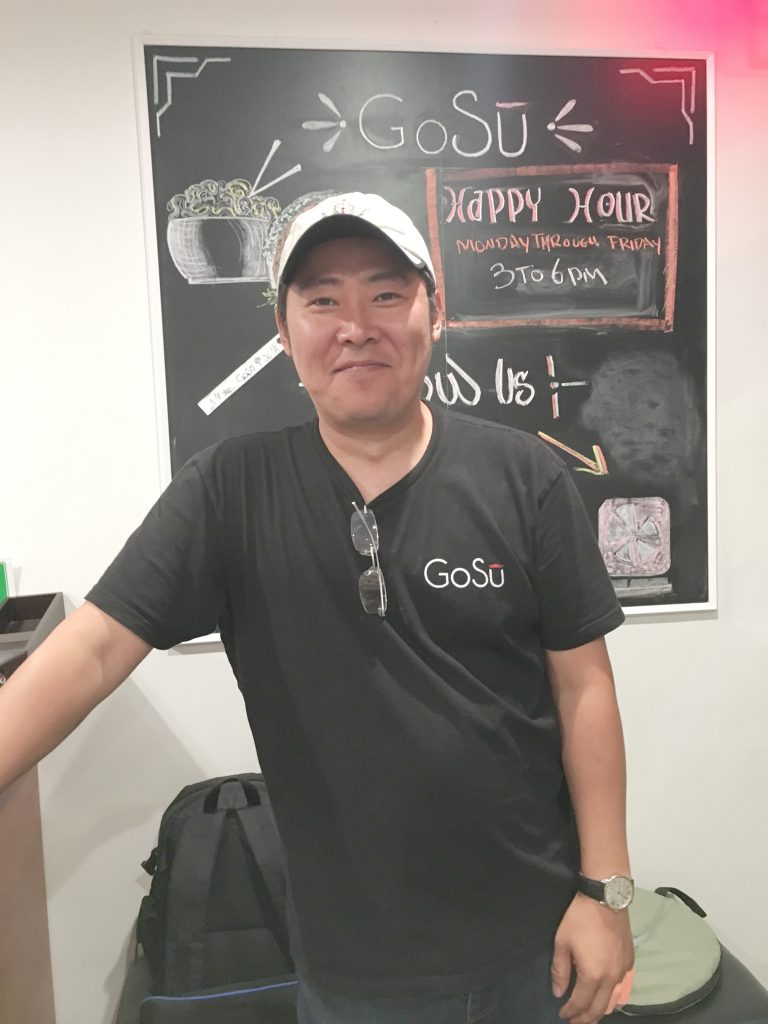 While the owner, Tony Kim, is Korean his menu is a mixture of both Korean and Japanese cuisines.  His Korean cooking skills were learned from his mom and grandmother but his first restaurant job was in a sushi restaurant.  He combined his two experiences and created GoSu.
Taken literally, the name of the restaurant translates to: card shark or cocky person.  Tony chose GoSu, from the Korean words GoGi (meats) and GookSu (noodles) to mean Meats and Noodles. When envisioning a traditional Korean restaurant, BBQ that is cooked right at the table often comes to mind.  However, GoSu was created with an emphasis on family-friendly dining.  No table-top grills are found here.  Likewise, you won't be served banchan (the collection of small side dishes served with traditional Koran cuisine).  Instead, GoSu serves lots of delicious comfort food with plenty of kid-friendly options.

GoSu features so many tasty appetizers on their menu.  From left to right, I tasted the Agedashi Tofu (fried soft tofu in tempura sauce), Bulgogi Tacos (marinated sliced ribeye with house pico and cheese), Chicken Katsu (panko breaded chicken breast with Japanese BBQ sauce & chipotle mayo), Shrimp Shumai (with ginger soy vinaigrette) and Ika Yaki (broiled whole marinated squid with teriyaki glaze).  The chicken katsu and shrimp shumai are two of the most popular appetizers and will likely be enjoyed by most children.  I usually prefer firm tofu, but enjoyed the soft tofu in the tempura sauce.  Other appetizers on the menu that sound delicious include: Tatsutage (bite-sized Japanese fried chicken), Spicy Pork Buns and Loaded Fries (bulgogi, cheese and jalapeno on a bed of waffle fries).  These will definitely have to be tried on my next visit!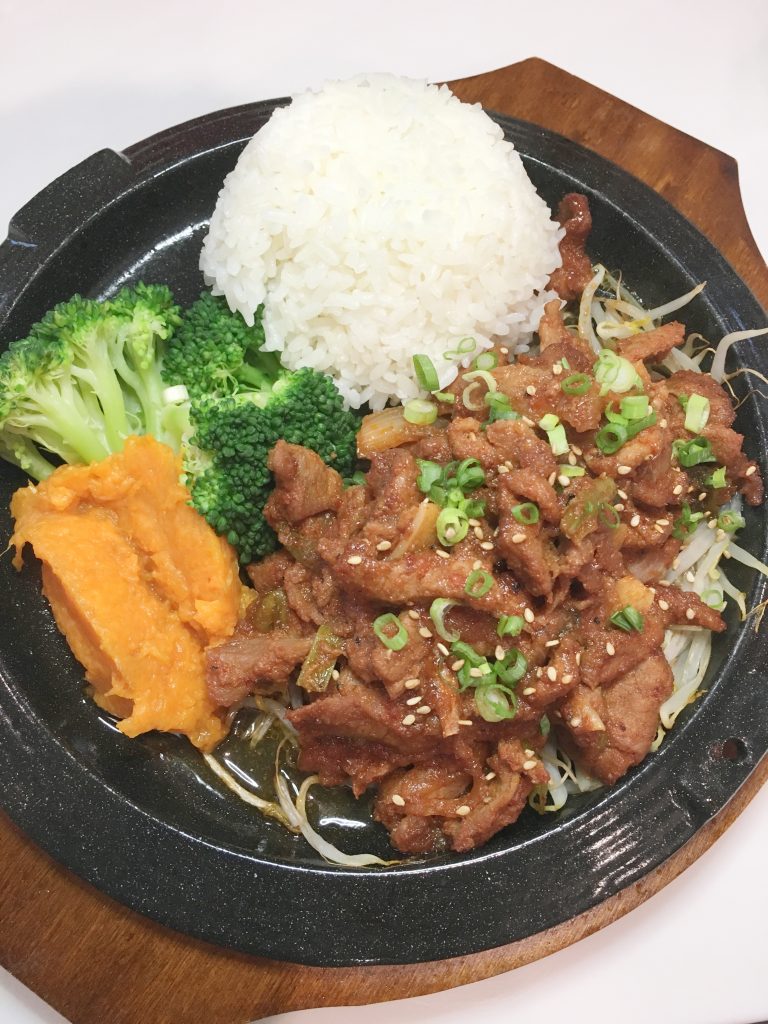 While you can make a meal out of appetizers, I strongly recommend you leave room for the "Meats & Noodles."  My favorite meat dish was the Spicy Pork Sizzle Bop.  This Korean style marinated sliced pork was slightly sweet but had a nice spicy kick.  While some of my table mates found this dish to be a bit too spicy, if you like a little heat, I highly recommend this!  There are several other Sizzle Bop entrees including Galbi (marinated short rib), Bulgogi (soy marinated sliced rib eye), Beef Teriyaki, Beef Negimaki (asparagus & scallion wrapped with thinly sliced rib eye in teriyaki sauce), Chicken Teriyaki and Salmon Teriyaki.  I sampled the Salmon Teriyaki Sizzle Bop, which was a crowd favorite the night that I dined.  All Sizzle Bops are served with white or brown rice and vegetables, as well as a choice of miso soup or a side salad.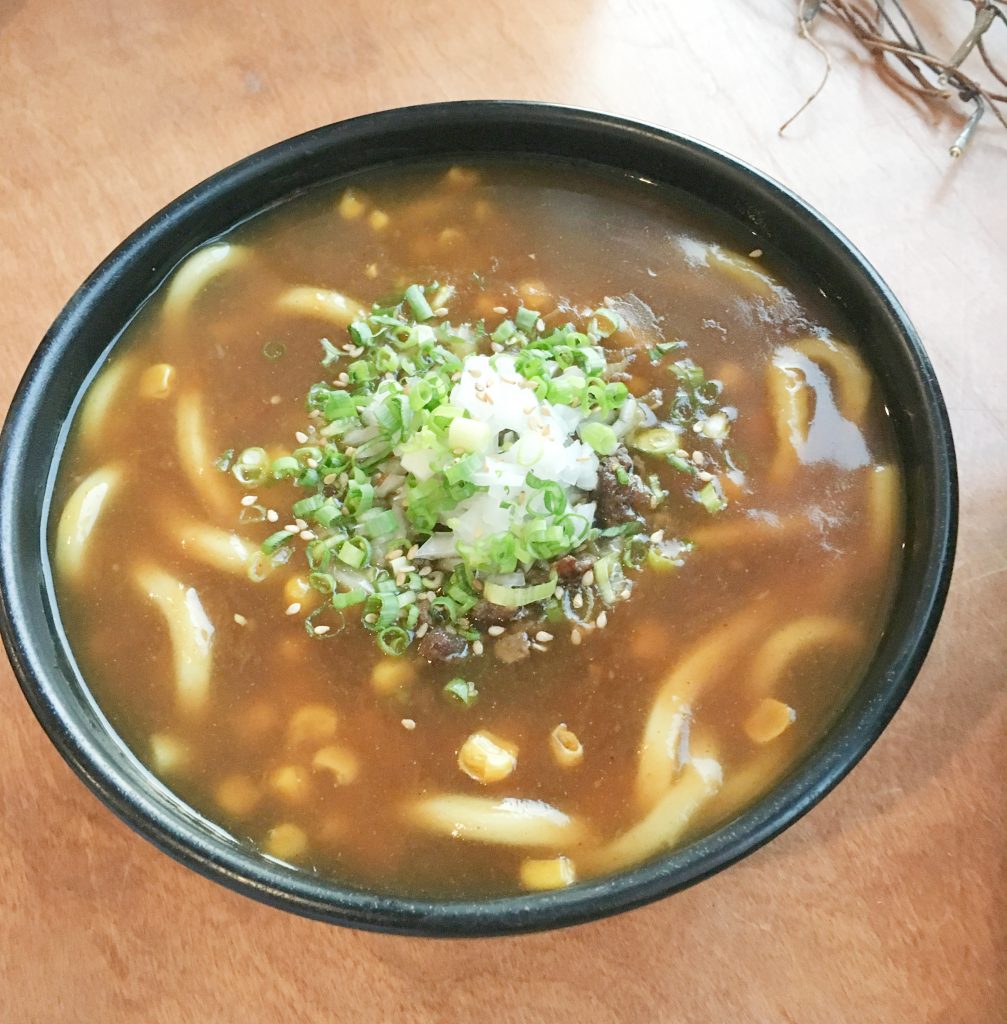 My favorite noodle dish of the evening was the Curry Udon.  This dish has bulgogi in a mild, Japanese curry broth.  This curry isn't spicy like many Indian or Thai curries.  It has barely any heat but is packed with flavor.  It's literally a bowl of pure comfort food.  When the cold weather comes, you will want to eat bowlfuls of this udon!  This dish was also a favorite of my fellow foodies.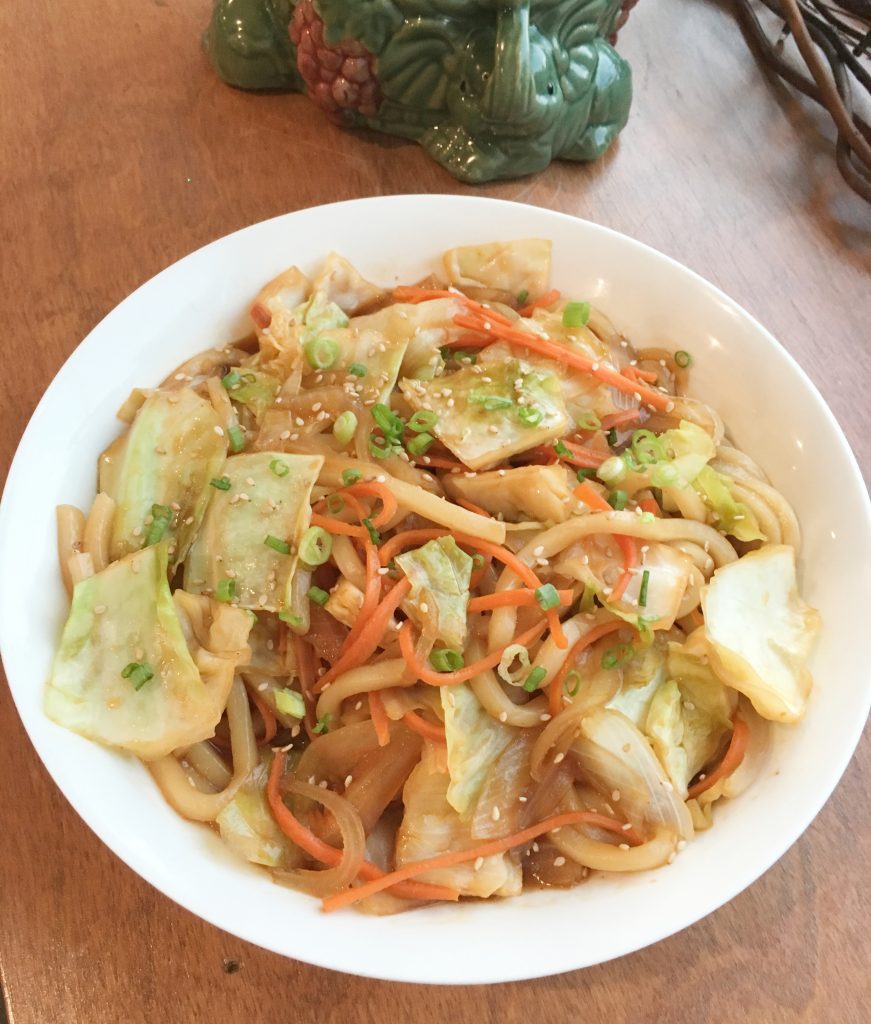 Although GoSu prides itself on its "Meats & Noodles," it accommodates those with dietary restrictions.  Several dishes on the menu can be made gluten-free and there are plenty of vegetarian options. The restaurant has several vegetarian main dishes including Tofu Steak (seared, sliced organic soft tofu w/a ginger teriyaki sauce), pictured above, Yaki Udon (sauteed udon noodles with cabbage and onion in a house special sauce) and pictured below, Spicy Soba (cold soba noodles on a bed of mixed veggies with House gochujang sauce).  Gochujang is a red pepper paste, and yes, is a bit on the spicy side.  Again, I like a bit of spice and think this dish is perfect for summer.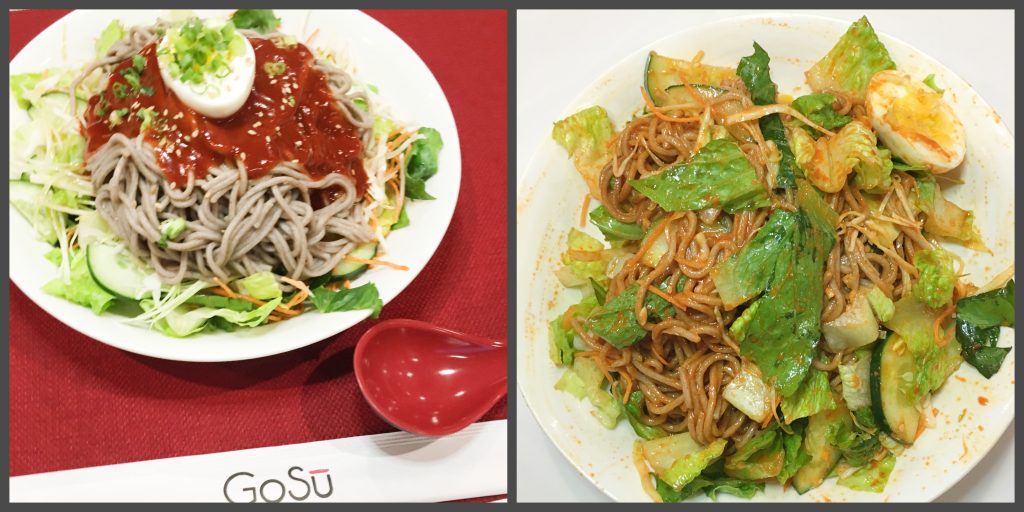 There is a children's menu for kids 8 and under with favorites like Chicken Teriyaki, Bulgogi and Tatsutage.  Kids will likely enjoy ramune, a Japanese "marble soda."  Nicknamed so, because of the Codd-neck bottle, GoSu sells several varieties of this fun drink.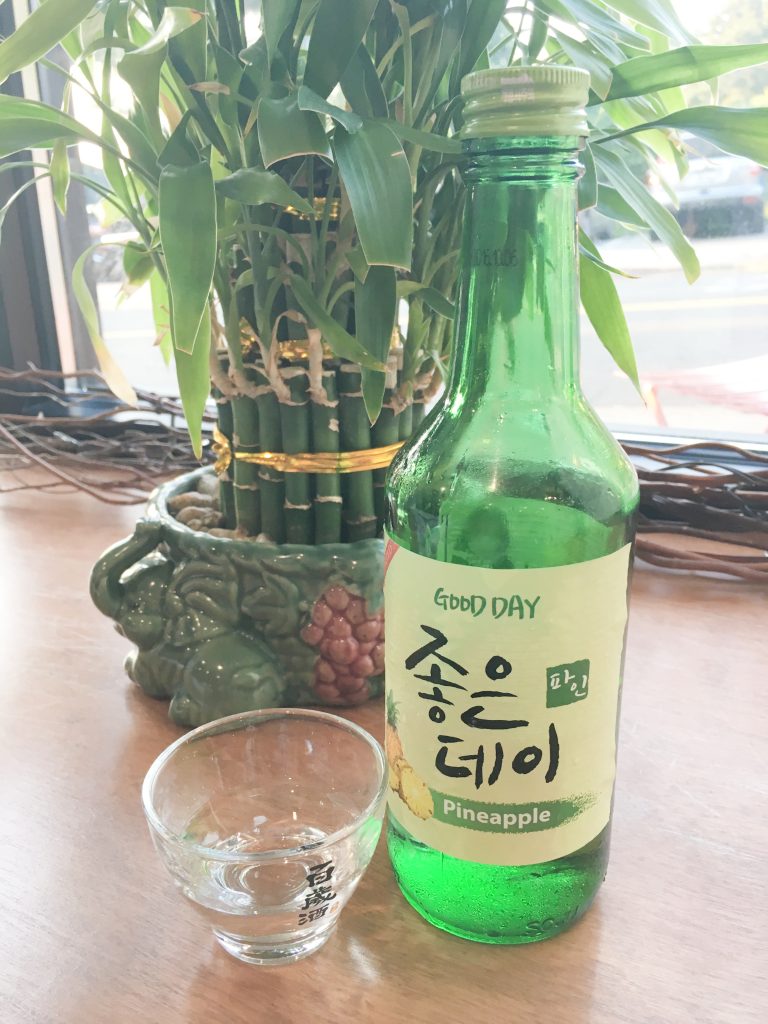 The adults may prefer to enjoy some soju.  Soju is a very popular Korean spirit.  Similar to vodka, it's a mild tasting alcohol.  But don't be deceived, a little goes a long way.  Many bottles of soju have 20-40% alcohol!  This was my first time trying soju and even better, it was pineapple flavored!  Since I was driving, I only had a couple of sips, but I found it to be smooth with a slightly sweet taste.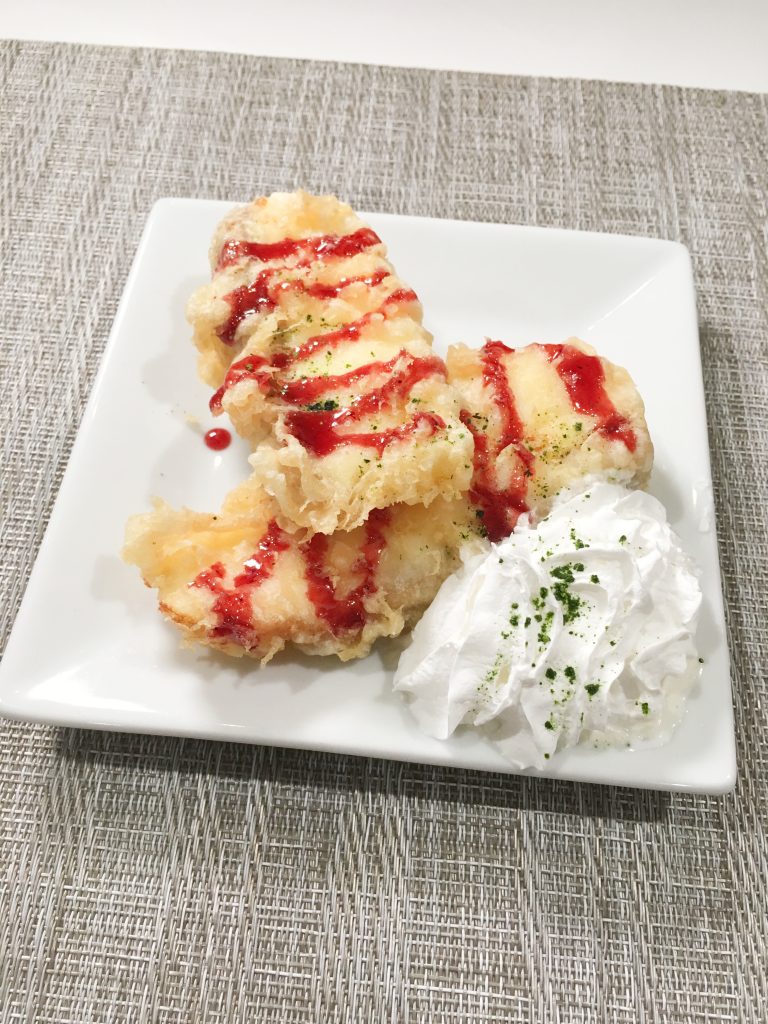 For dessert we had NY-Style Cheesecake Tempura with green tea powder. This was a pleasant surprise, since most Asian restaurants I've been to don't offer much more than ice cream for dessert. The tempura gave this treat a nice crunch while inside the cheesecake was nice and creamy.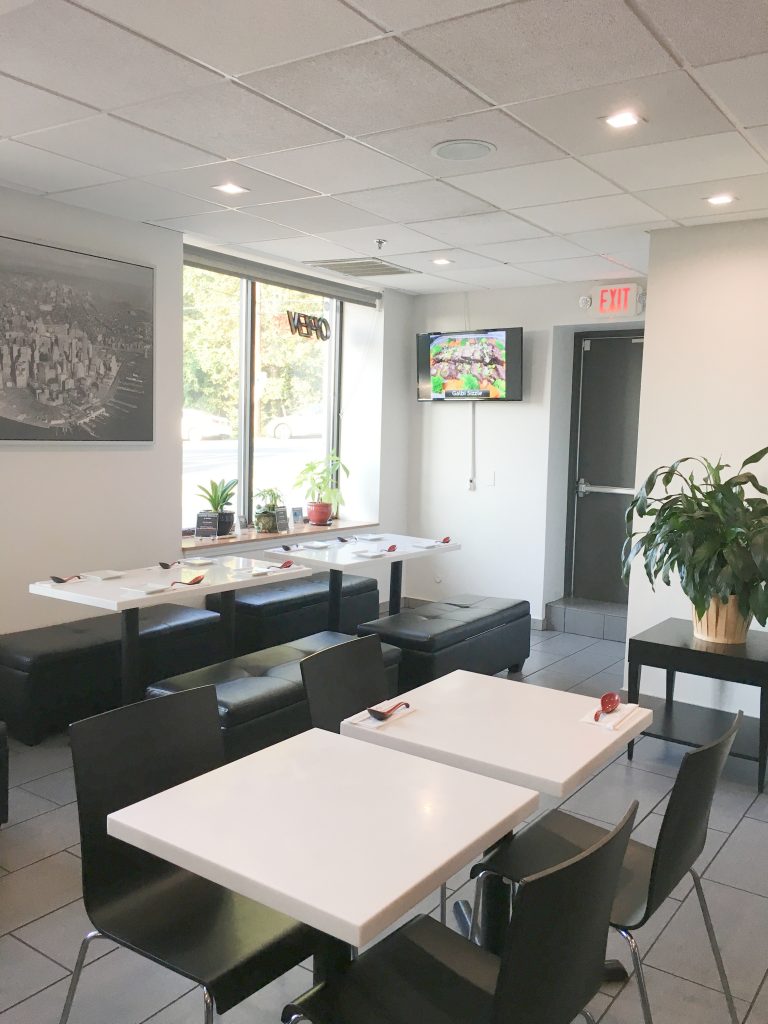 As seen, the restaurant is furnished in mostly black and white.  A variety of live plants decorate the space and red spoons add a little pop of color.  Tony put a lot of thought into his restaurant decor, including benches that lift up so you can store your jacket and purse.  Plus, the bathroom has one of the coolest sinks I've seen as well as jars of toothpicks and mints.
Tony does a great job of combining Korean and Japanese flavors in his dishes and he is currently revising the menu for the fall/winter.  GoSu is definitely a restaurant in Westchester County worth checking out!
The Details:
GoSu (Asian Fusion Restaurant)
5o South Buckhout Street (entrance is on Astor Street)
Irvington, NY 10533
(914) 479-5898
Hours: Monday – Saturday 12 PM – 9:30 PM, closed Sundays
Parking:  Across the street and along Buckhout Street
Price:  $$ (most main dishes priced between $12 – $19)