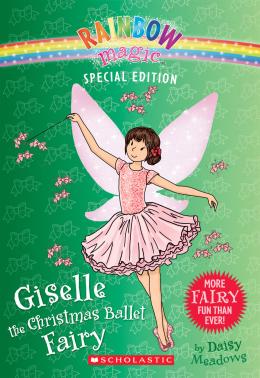 Giselle the Christmas Ballet Fairy by Daisy Meadows
Illustrated by: Daisy Meadows
Published by:  Scholastic, 2016
Genre:  Chapter Book, Christmas, Series
Pages:  176
Price: $6.99
Source:  borrowed from the library
From Scholastic:
The Rainbow Magic Fairies have visions of sugar plums dancing in their heads—it's Christmastime in Fairyland!
Jack Frost is on the naughty list!
Each year, Giselle the Christmas Ballet Fairy's special magic helps every holiday ballet show run perfectly. But when Jack Frost crashes a performance and steals her magic objects, it looks like everything will be ruined!
Rachel and Kirsty need to get the magic objects back in time for the Fairyland Christmas Eve ballet performance. They'll have to harness all the magic of the season to help Giselle. If they don't succeed, holiday shows everywhere will be ruined by Fairyland's biggest grinch!
Find the magic objects in all three stories inside this Rainbow Magic Special Edition and help save the Christmas magic!
Review:  Rachel and Kirsty won a Best Friends Forever competition and get to spend the day at the Crystal Springs Ballet School as their prize.  Jack Frost is angry at Giselle, the Christmas Ballet Fairy and is trying to ruin her Fairyland Christmas Eve ballet.  He  steals Giselle's magic objects, which in turn also have negative effects on the dancers at the Crystal Springs Ballet School, who are preparing for their performance of Swan Lake.  Giselle visits Rachel and Kirsty at the ballet school to enlist their help in getting her magic water bottle, dance bag and ballet shoes back.  Will they be able to help Giselle and ensure that both performances go smoothly?
Daisy Meadows is actually a pseudonym for the four English writers of this series.  The books are targeted towards readers ages 7 to 10.  There are over 200 books in the Rainbow Magic series including subseries of Weather Fairies, Party Fairies, Jewel Fairies and more!  Giselle the Christmas Ballet Fairy is a special edition book in the series.  The book consists of  three stories, each five chapters long.  I found the format of the stories to be a bit repetitive.  This is also not very Christmas-focused, except for the Christmas Eve ballet performance.  My daughter never really got into these books.  However, fans of the series will most likely enjoy this book as well.
Overall Rating:  Optional Read