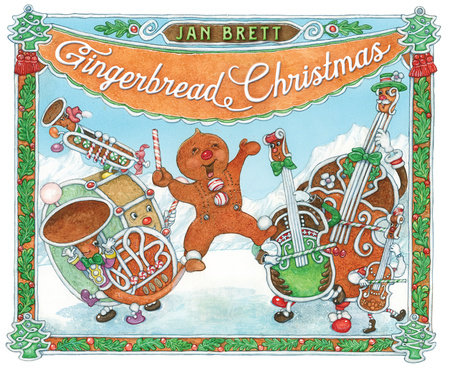 Gingerbread Christmas by Jan Brett
Pictures By: Jan Brett
Published by: G.P. Putnam's Sons (an imprint of Penguin Random House) on October 18, 2016
Genre:  Children's Picture Book, Christmas
Pages: 32
Price:  $18.99
Source: borrowed from the library
From Penguin Random House:
Jan Brett's beloved character the Gingerbread Baby returns in a fun-filled Christmas caper!
 
Gingerbread Baby and his friend, Matti, take his gingerbread band to the Christmas Festival where they are a hit until the aroma of gingerbread reaches the children, signaling that it is time to run away. Clever Matti uses snow to disguise the gingerbread instruments while Gingerbread Baby leads the audience on a merry chase to the smartest hiding place ever–a giant Christmas tree.
Review:  Gingerbread Baby wants to sing with his band at the Christmas Festival, but he doesn't have a band!  So Matti bakes him a gingerbread one, including a violin, cello, double bass, French horn, clarinet, trumpet and drum.  After being frosted, the band marches into town where they dazzle the village people.  Everyone, including the forest animals dance to the band's music, until a little girl points out that the the instruments are gingerbread cookies.  Gingerbread Baby distracts the villagers on a wile chase, while Matti rescues the instruments.
This is the third book in the Gingerbread Baby series by Jan Brett.  Jan Brett is one of our family's favorite picture book authors/illustrators.  The research and detail that she puts into each book is unbelievable.  This is a fun, holiday-themed read that will make you want to make (or just eat!) some gingerbread cookies!
Overall Verdict:  Recommended Read