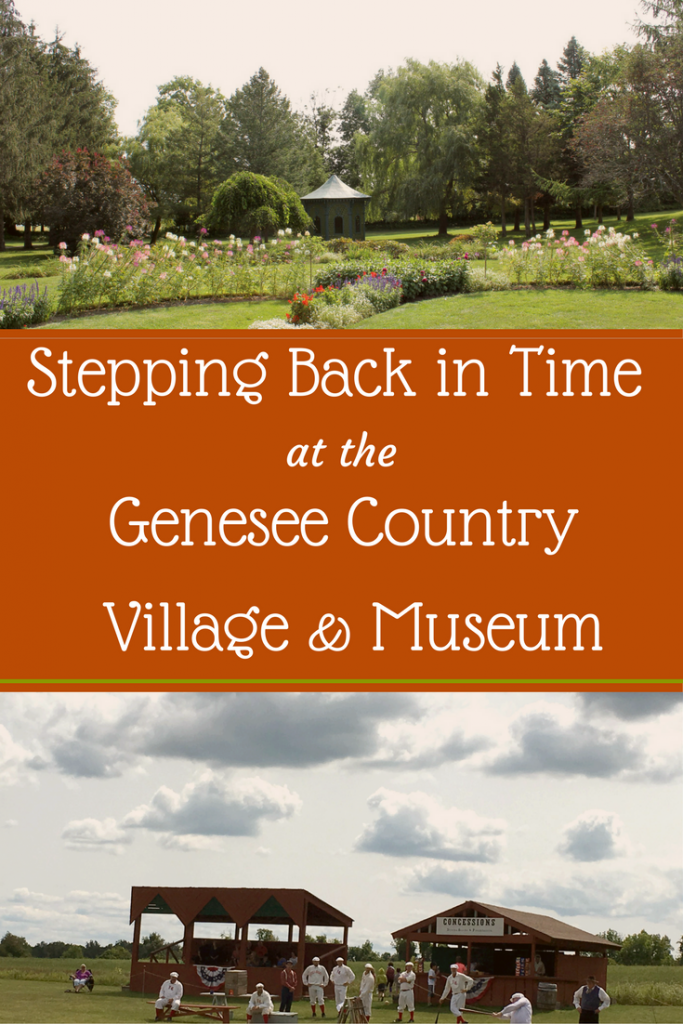 (Thank you to the Genesee Country Village & Museum and Visit Rochester for hosting us.)
Imagine living in a time when you had to grow all of your own food and go to school in a one room schoolhouse.  It's very difficult for children today to believe such times existed! When I learned that the Genesee Country Village & Museum is the largest living history museum in New York State, I knew that it had to be a stop on our #NYSummer2017.  History is so important in understanding the present and I know my kids learn best from hands-on experiences.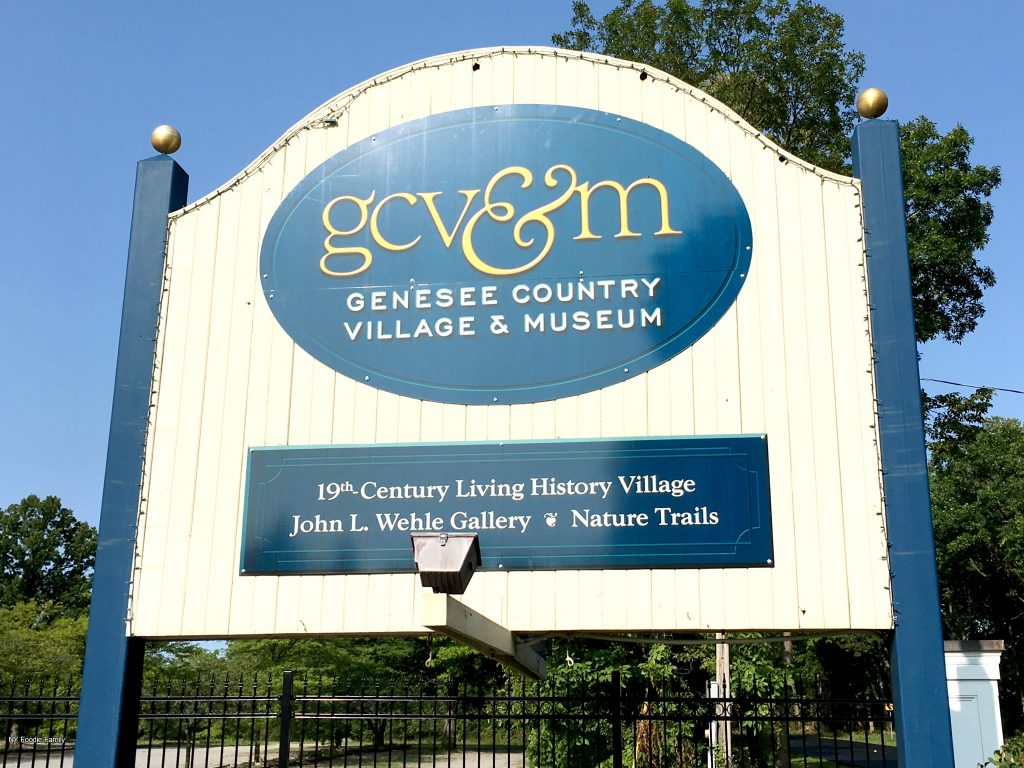 The Genesee Country Village is located approximately 25 minutes away from where we were staying in Rochester.  We arrived at the 10 AM opening ready for a day of fun.  Even though we were there from opening to close, we still weren't able to see and do everything! When we arrived we received a map and a daily visitor's guide of all the activities.
We started our visit at the John L Wehle Gallery.  A large collection of hunting and wildlife art is housed here, including paintings and sculptures.  There is also a historic costume collection display featuring 3,500 articles of historic clothing.  They have a room especially for children that has Lincoln Logs, a play kitchen, books and more. I let the kids play while I walked around the gallery.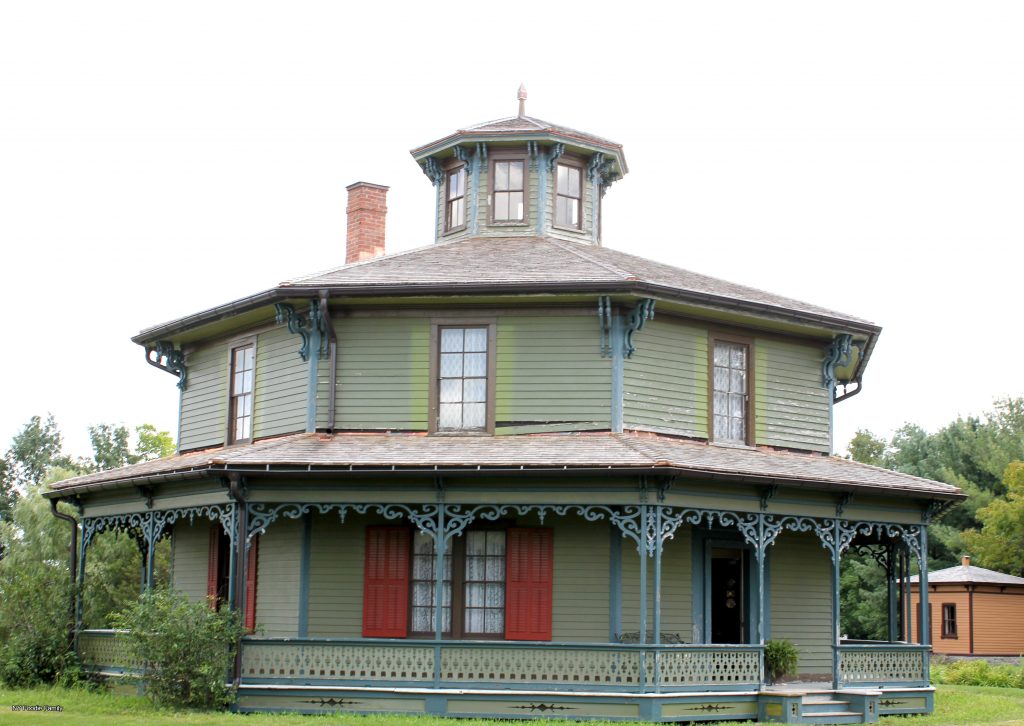 After leaving the gallery, we headed towards the Historic Village.  The Village is comprised of 68 buildings and encompasses three different time periods: the Pioneer Settlement (1780's -1830's), Antebellum Village (1830's – 1860's) and Turn of the Century (1870's – 1920's).  To visit in time period order, you must start at the left after passing through the village entrance.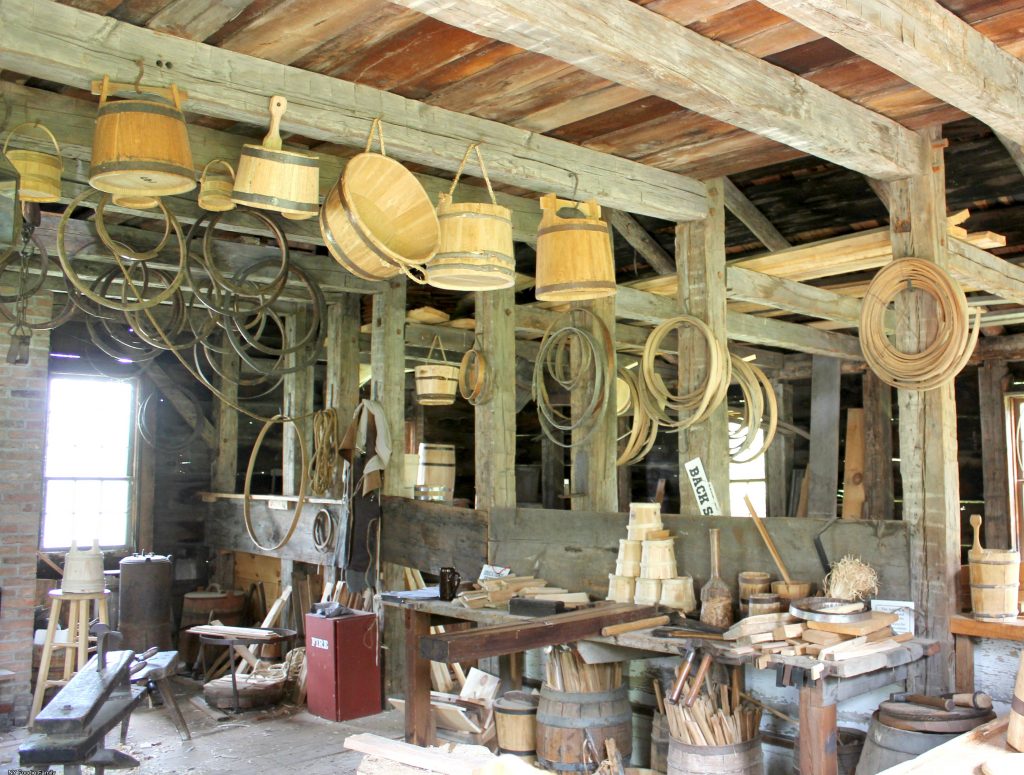 Costumed interpreters are in almost every building acting the part of a 19th century villager.  We met many villagers during our visit including a blacksmith, a printer, a tailor, a tinsmith and a dressmaker.  They are both knowledgeable and informative and able to answer any questions you may have.  They actually practice their craft while you visit, building baskets, spinning yarn, making prints and more.
We enjoyed sitting at a desk in the one room schoolhouse and learned that approximately 20 students of different ages would attend each day.  The exception was during planting season, when they would be needed to help in the fields.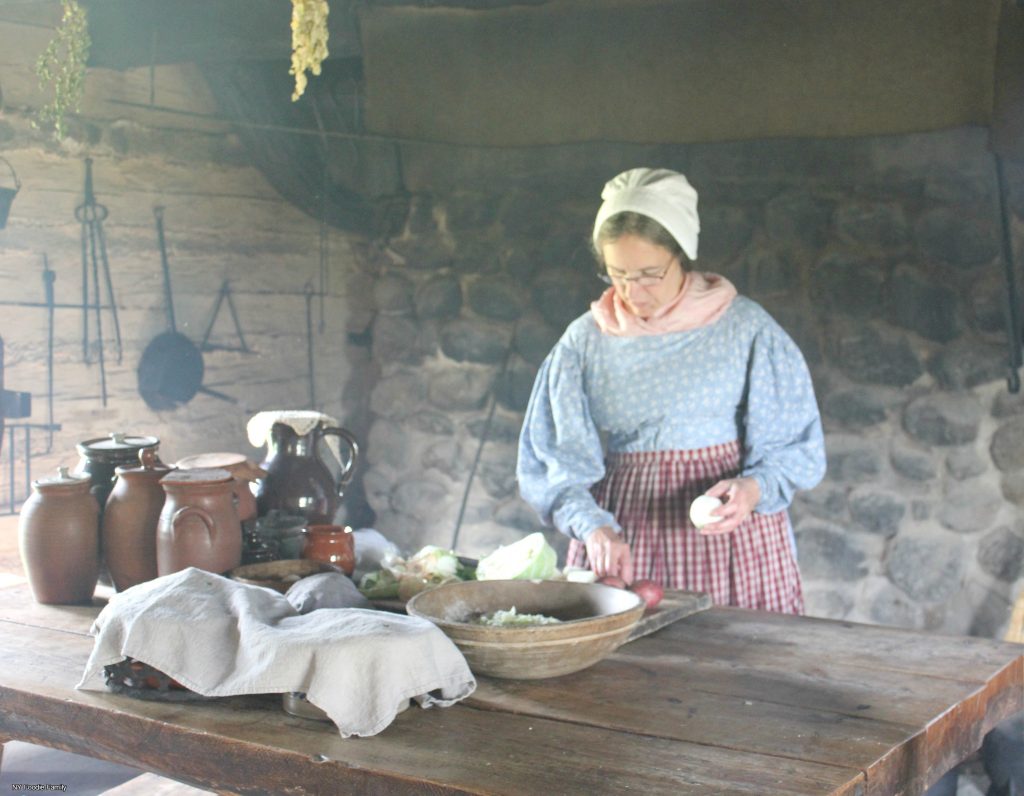 Another favorite building was the Pioneer Farmstead.  There we watched a woman preparing Bubble & Squeak (cabbage, onion and potato) for the lunchtime meal.  There are animals on the farmstead  including a pig, sheep and chickens that the kids especially enjoyed visiting.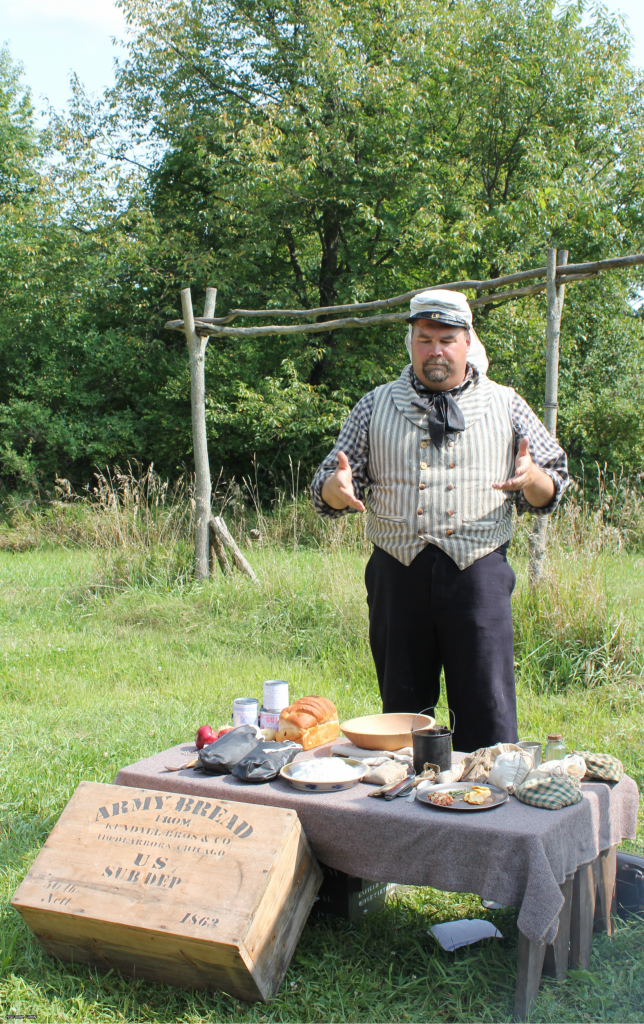 At 11:30 AM we headed to the Civil War Camp for the Civil War Cooking demonstration.  There we learned about the different types and small amounts of rations the soldiers received. Since there was no mess hall, soldiers had to prepare their own food.  With limited supplies, they had to cook their meager rations to make them edible and to prolong their shelf life. Besides the cooking demonstration we were also able to peek into a camp tent.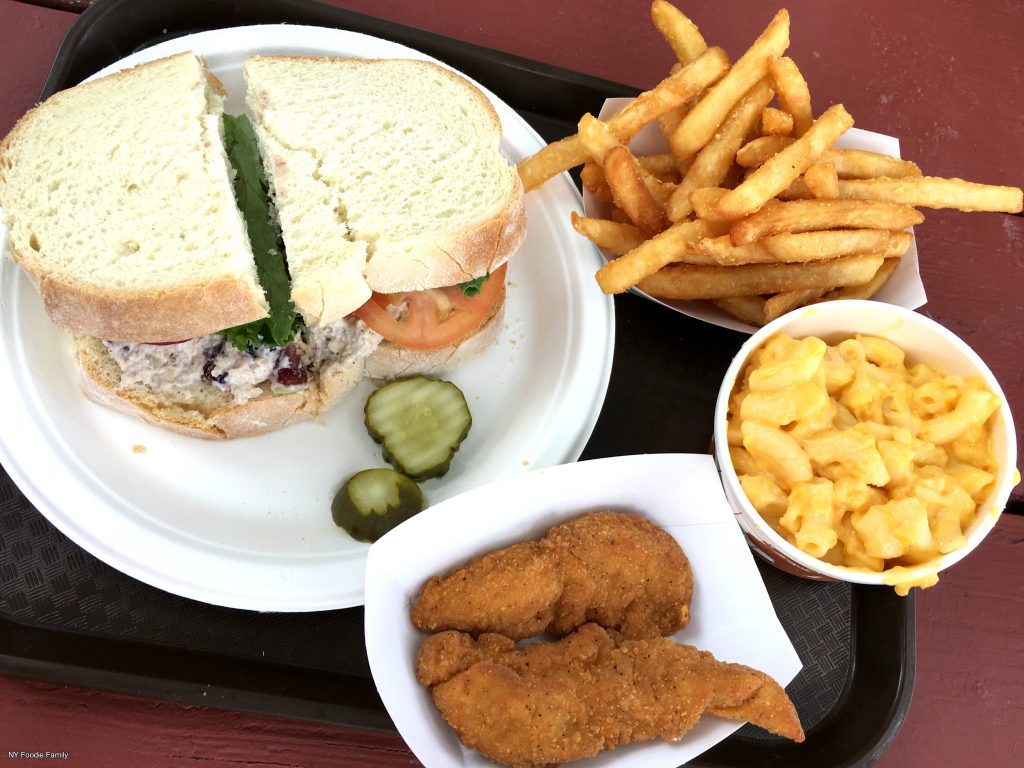 Watching the cooking demonstration made us hungry.  After the demo we headed to lunch at the Depot Restaurant.  The restaurant serves sandwiches, burgers, salads, chicken fingers, soup, mac and cheese and more.  The chicken salad sandwich was very good and the kids liked the mac and cheese and chicken fingers.  The restaurant sells ales for those interested in an adult beverage.  Everything is reasonably priced as well.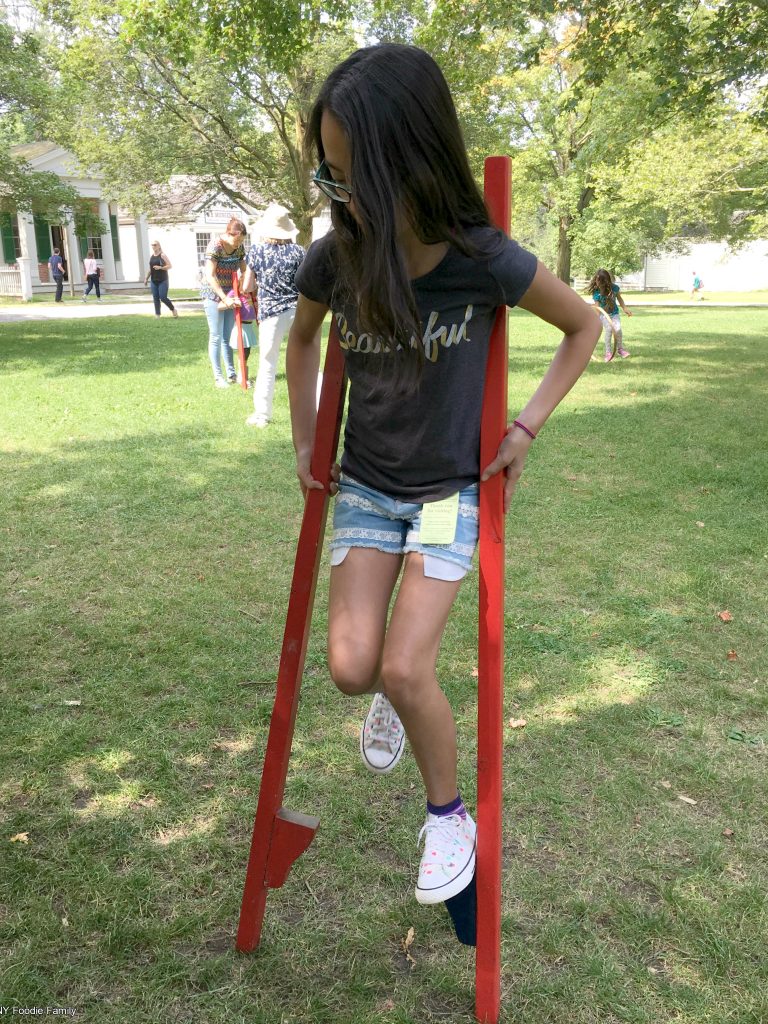 When the kids needed a break, we headed to the village square where they played 19th century games and attempted to walk on stilts.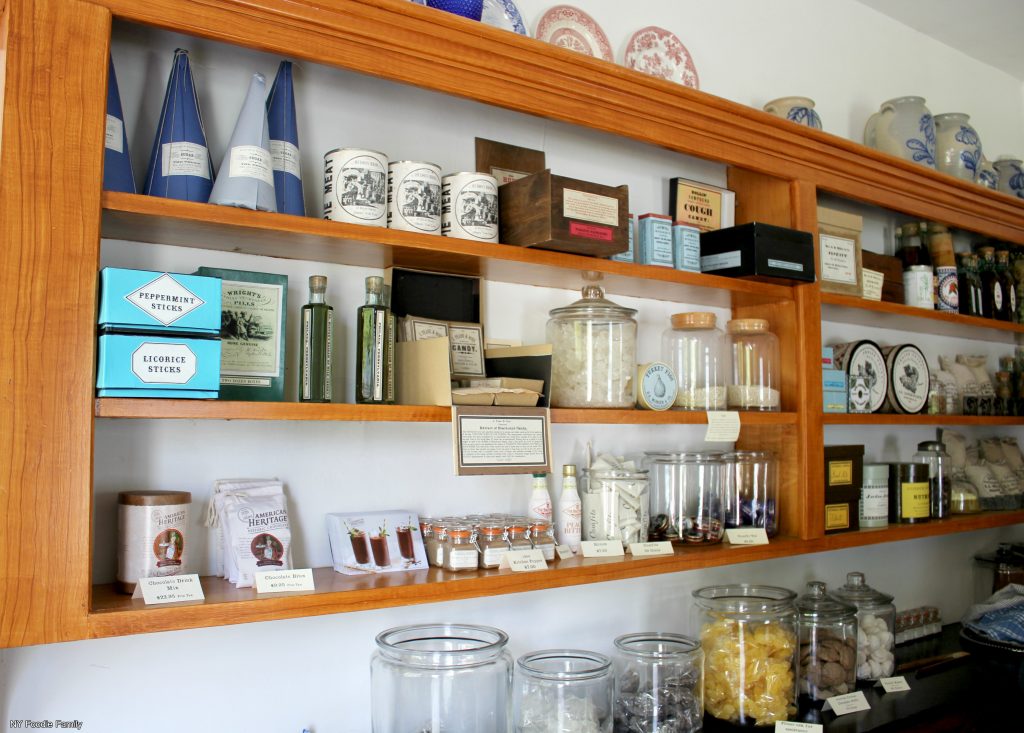 D.B. Munger Confectionery is located in the village square and sells sweets and homemade baked goods.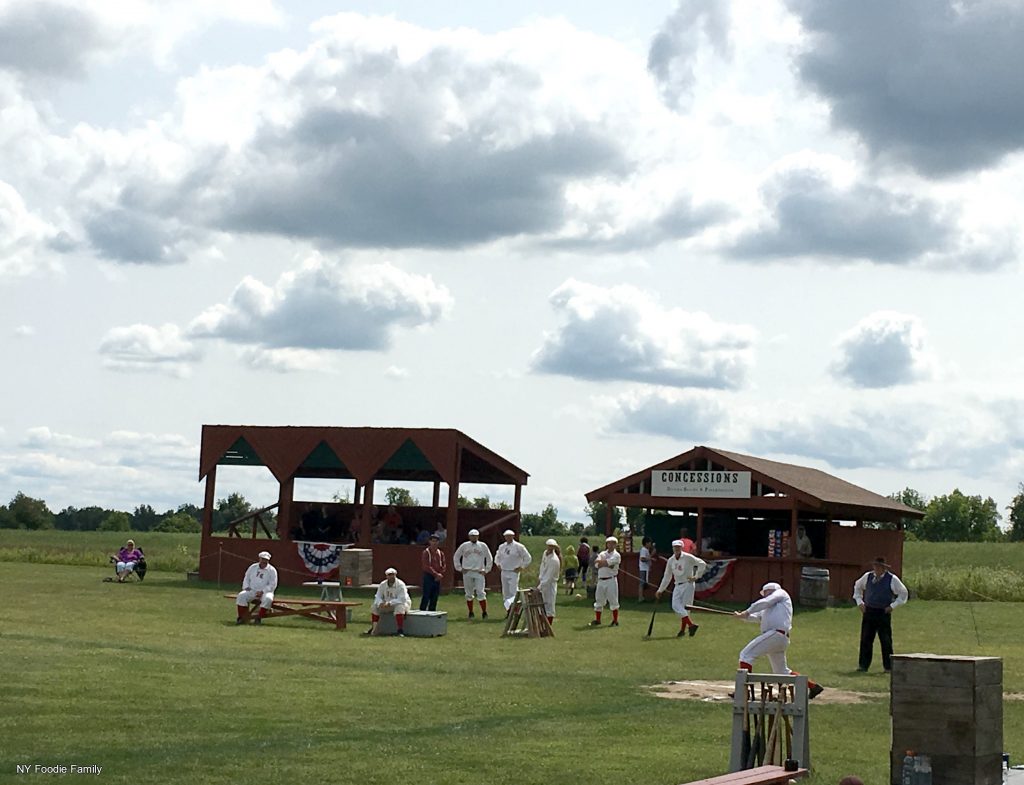 We stopped by Silver Base Ball Park to some of the match between Spring Creek and Flower City.  It was fun to sit in the stands and see them playing ball, with no baseball gloves!
At 2:30 we returned to the Gallery for the free adult-and-child art activity.  On our visit we first took a look at a Bruno Liljefors fox painting out in the gallery. Then we went into the art studio and under the instruction of a gallery staff member painted our own copy. (If you have children 10 or older who enjoy art, like my children, try to take advantage of this fun activity!)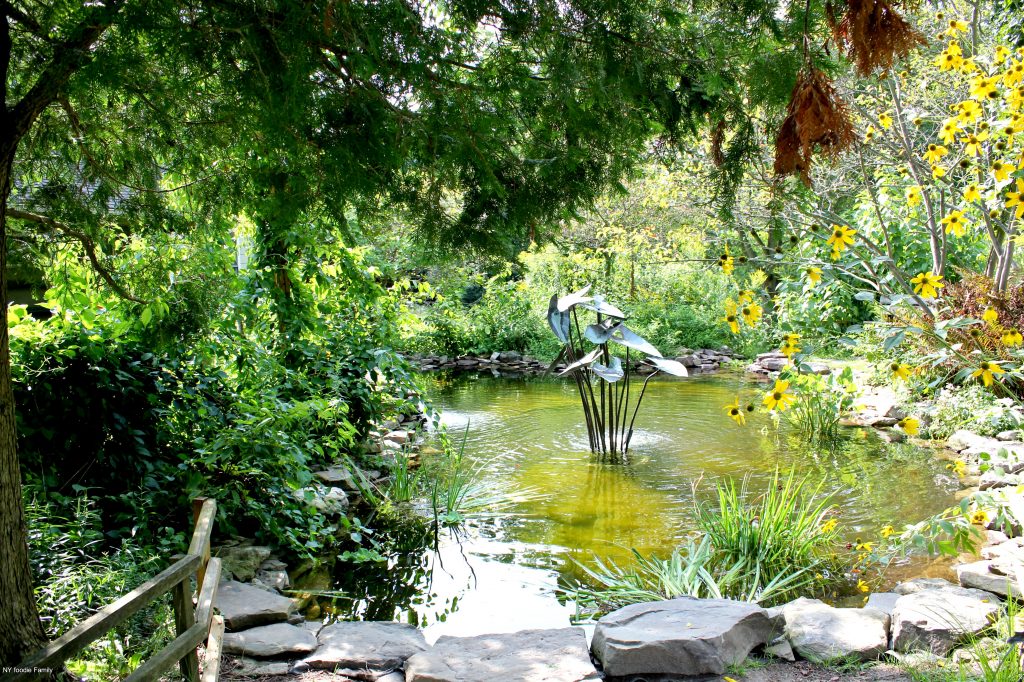 We left the Historic Village right around the 4 PM closing time.  Unfortunately, by the time we visited the Nature Center adjacent to the parking lot, it was closed.  There is access to several hiking trails from the Center but our feet were so tired from walking all day that we opted not to.  We did stop to take some pictures of the  beautiful water gardens before heading out.
We enjoyed our visit to the Genesee Country Village & Museum.  As you can see, there is a lot to see and do here!  When you're in the Rochester area, make time to visit this fun and educational living history museum.
The Details:
Genesee Country Village & Museum
1410 Flint Hill Road
Mumford, NY 14511
(585) 538-6822
Parking:  Free, large parking lot
Hours: 10 AM – 4 PM, Tuesday through Sunday (May through September)  Wednesday- Sunday (September & October) The Historic Village and John L. Wehle Gallery are closed for the winter months except for special holiday events.  Please check the website for more details  as well as for the nature trail hours.
Admission:  $18/adult, $15/senior citizens (62+) and college students (w/ID), $10/youth (4-18)
-includes access to the Historic Village, John L. Wehle Gallery and nature trails (please check the website for admission prices for only the gallery or nature trails)
Food:  Food and snacks are available on premise at the Depot Restaurant, Freight House Pub and Pavilion Garden Restaurant (summer only).
Tips:
*The Historic Village is very large and you will most likely not be able to do or see everything.  Make sure to check out the daily visitor's guide to plan which timed activities you'd like to visit.  They only occur once throughout the day.
*Certain village buildings close between 11 AM and 2 PM for staff lunch breaks.  You may want to visit the village before or after those times if you wish to see all the buildings.
*There is a free trolley on weekends (or by advanced registration if needed).
*This attraction requires a lot of walking. Wear sneakers or comfortable shoes.
*These are historic buildings.  Most of them are not stroller friendly.  You may need to park your stroller outside the building and walk with or hold younger children.
*For an additional fee you can make your own punched-tin ornament or purchase prints at the Printing Office.
*Go to the gift shop at the end of your visit.  During the summer it stays open until 4:30 PM, 3o minutes after the museum closes.
Sharing with: