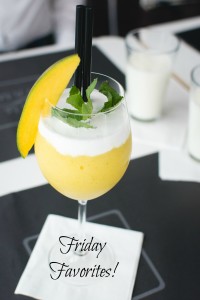 Happy Friday!  This was a nice short week that was filled with lots of fun.  The weather is getting warmer and the kids have three more weeks of school that are jam-packed with lots of year-end fun.   We ended up spending Memorial Day Weekend up in Rhode Island.  Here are some of our favorites (if you follow me on Instagram, you've probably seen most of these pics):
1.  Letting our butterflies go – Our butterflies broke out of their chrysalises last Wednesday and Thursday.  Our cats were going crazy trying to catch the poor things.  Since we left Thursday night to head up to Rhode Island we ended up letting the butterflies go.  There was no way they'd survive the cats' wrath while we were gone.
2.  An empty beach – While it was 90 degrees in New York, it wasn't as hot in Rhode Island by the ocean.  Saturday evening we took the kids to the beach for a walk.  It was chilly enough that we needed sweatshirts and the water was freezing!  It was nice to have the beach pretty much to ourselves though.  We even went geocaching near the beach and found two caches!  The next time we are at the beach in July it will be much more crowded, so it was nice to enjoy the emptiness while we could.
3.  Miniature golf – The kids love playing miniature golf and they are at great ages to play.  They are a bit competitive but don't cry when they lose!  One of my son's top things he wanted to do this past weekend was go and play.  So, Sunday before we headed home we went to a local place and played a round.  My husband ended up winning.
4. Memorial Day – For the past five years my daughter has participated in our local Memorial Day parade and ceremony with her Girl Scout troop.  Since joining Cub Scouts, my son has also participated.  This year was no different as we honored all of those who died protecting our country.  My son even got up early, like he did back in November for Veteran's Day, to go place flags on the veterans' graves at our local cemetery.
5. My knock-out roses – I bought three mini knock-out rose bushes on super sale several years ago.  This is one time where I have not killed my plants (knock on wood!).  I planted the bushes outside and they have started blooming this past week.  I love walking into the house and seeing these!
ICYMI this week on the blog:
Tuesday I shared 5 Packaged Foods to Make Dinner a Breeze.
Wednesday I joined the Currently link up.
I'm linking up with Tif, Amanda and Andrea.  Have a great weekend!