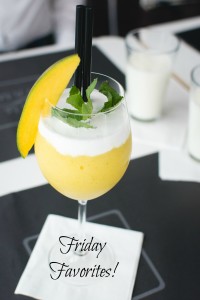 Happy Friday!  It's been raining and chilly ALL week.  However, we've still had plenty to celebrate around here!  Tonight my daughter is tent camping (in the likely rain!) with her Girl Scout troop.  Saturday we plan on doing some house work and Sunday my family will be coming over for a barbecue to celebrate Mother's Day, my mom's birthday (which is today!) and my brother's birthday, which is tomorrow.  Happy Mother's Day to all my mom blog readers!  I hope you get to enjoy your special day!  Here's a look at some of our family's favorites this week:
First Communion – My son celebrated his First Communion on Saturday. We had a beautiful day and small family celebration after.
First 5K – It was rainy and cold Sunday morning, but my daughter and husband still braved the weather to run their first 5K.  Neither had trained prior to the race but they finished together in under 40 minutes.  It was a hilly course too.  My husband is game to run another 5K, but my daughter at this point, not so much!
Spelling Bee – On Wednesday night, my daughter competed in her school spelling bee finals for the second year in a row.  Only six students made it to the finals and my daughter was one of them!  She came in second place after a stressful (at least for me!) competition!

Cupcakes – There was a dessert reception after the spelling bee on Wednesday night.  I wanted to acknowledge my daughter's awesome job in the spelling bee, especially before she went camping for the weekend and then our Mother's Day celebration on Sunday.  So, yesterday I picked up some cupcakes that she has been wanting from a local bakery as a sweet surprise for her.
Better Place  by Rachel Platten – I heard this song for the first time on the radio a week or so ago.  I am a huge Platten fan and I am loving this one!
ICYMI this week on the blog:
Monday I shared our weekly meal plan.
Tuesday I posted about why I was not joining Screen Free Week.
Wednesday I joined the May Currently linkup.
Hope you have a great weekend!  Linking up with Tif, Amanda and Andrea!