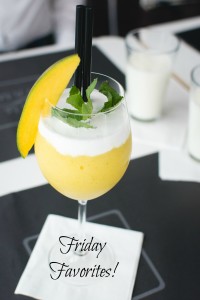 Happy Friday!  This week has been a very cold, but relaxing and fun week around here!  The kids had the week off for February week.  Saturday we drove up to Rhode Island to visit my parents for a few days.  Then on Monday, my husband and I headed back home and left the kids to spend some quality time with their grandparents.  We were able to get in two dinner dates, which of course made my favorites this week!
1. Dinner Date #1 – Over the summer, my parents gave my husband and I a gift certificate to a nearby restaurant.  This tells you how rarely my husband and I get out for date nights, since we just used it this past Tuesday night!  Yes, seven months later it was finally put to use.  We had a great dinner after getting our taxes done.
2. Dinner Date #2 in NYC – Instead of getting presents for each others birthdays, years ago, my brother-in-law suggested that we got out for a really nice dinner to celebrate.  Instead of three times a year, (his birthday, my birthday and my husband's birthday) it has slowly turned into maybe once a year if we're lucky!  Knowing the kids were with my parents this week, we planned a dinner.  He had previously eaten at Juni and remembered it being "awesome" so we made reservations.  We did the five course tasting menu and thought the meal was really good!  The Peekytoe Crab appetizer I had that had cilantro and jalapeno powder and topped with uni was one of my favorite dishes of the evening.  We are so fortunate to live so close to New York City where there is an abundance of amazing restaurants.
3. Peanut Butter Kiss Cookies – The kids did some baking with their grandparents and brought home a bunch of these Peanut butter Kiss Cookies that they made.  These will be put in the freezer so we can enjoy them for awhile!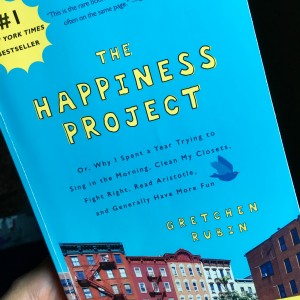 4. The Happiness Project – According to Goodreads, I first read this book in 2012.  My word for the year is "happy" and I thought it fitting that I do a reread of this book.  I am about halfway through and I am enjoying it as much as I did the first time.  I really enjoy Rubin's research and self-experimentation with this project.
5. Bookmarked Recipe of the week:  These Jamaican Jerk Fish Tacos with Plantain Fried Rice and Pineapple Salsa from Half Baked Harvest.  All I can say is…..yum!
ICYMI this week on the blog:
Monday I shared our weekly meal plan.
Tuesday I posted Tips and Try-Its.
Thursday I gave an update on our February Minimalist Challenge.
I'm linking up with Tif @ Bright on a Budget, Amanda from Meet @ the Barre and Andrea @ Momfessionals.  Have a great weekend!