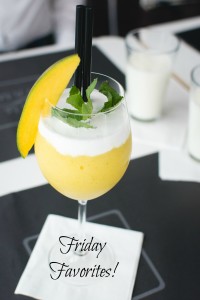 Happy Friday folks!  I can't believe that we are one week away from Christmas!  I'm not sure that my brain has realized this yet, since I'm relatively calm.  Our daughter, who was sick last week, has gotten our son and me both sick.  We both have been suffering from runny noses, sneezes, sore throats and coughs for the past two days now.  This weekend looks to be relatively calm, minus the regularly scheduled activities including volunteering at the food pantry, tae kwon do and a basketball game.  I'm sure last minute shopping and gift wrapping will also be done as well.  Here are some of our favorites from this past week:
1.  Family latke party – The Weekend Chef's mom side of the family celebrates Hanukkah.  Sunday we went up for a latke party.  For the first time we had caviar available to put on our latkes as well as applesauce and sour cream.  The latkes were also accompanied by a turkey, mashed sweet potatoes, brussels sprouts, a fall salad and challah bread.  Needless to say, we were stuffed!  And that's not including dessert.  Plus, it was nice to get to see some of his family members that we only see a couple of times a year.
2.  Belt test – Wednesday night both kids tested for their next tae kwon do belt.  They went from white belts with yellow stripes to yellow belts.  This is the second year that they have been taking this tae kwon do class at their school.  The looks of pride on their faces as they broke the boards was priceless!
3.  Gingerbread houses – My daughter got this foam gingerbread house kit last year as a present.  This week the kids finally sat down to make it.  Made out of foam pieces that required no gluing, this was a fun alternative to candy gingerbread houses.
4. The joy of giving – We have started giving out presents and it's so wonderful to see how excited the kids are not only to receive presents, but to give them as well. Our daughter especially, has been very thoughtful in her gift giving.  When picking out the latch hook craft kit that she bought for her girl scout secret Santa, she noted that the girl is quiet and likes to do art projects.  We bought a tin of hot cocoa for her piano teacher and she noted that the teacher would probably like to drink it snuggled up on the sofa with a book.
5.  Favorite bookmarked recipe of the week:  Every year on Christmas eve we go to my cousin's house.  She always has us bring a dessert.  Since there are always lots of desserts, including cookies, I try to bring smaller bite-size desserts.  Past desserts I've brought include mini-cheesecakes, cannoli cups and brownie bites.  This year, I think I'm making this Peppermint Bark Cheesecake Dip from A Pumpkin & A Princess.
ICYMI on the blog this week:
Monday we posted our weekly meal plan with photos and reviews.
Tuesday we posted a round-up and review of recently published 2015 Christmas picture books.
Wednesday we wrote about how every ornament on our tree tells a story.
Thursday we reviewed the game Bounce-Off that we played on a recent family game night.
We hope everyone has a great weekend!  Linking up with Tif @ Bright on a Budget, Andrea @ Momfessionals and Amanda from Meet @ The Barre.