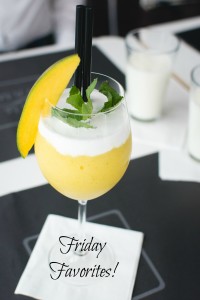 Happy Friday!  I cannot believe how quickly this week has flown by.  I am probably home today with my sick daughter.  As of yesterday, she was miserable with a cold.  She survived the day at school and made it through piano lessons.  But by yesterday evening she was miserable.  I told her we'd see how she was feeling this morning, but most likely she'd stay home with me.  This weekend we are enjoying two Hanukkah celebrations, one with friends and one with family.  Here are some favorites from this past week: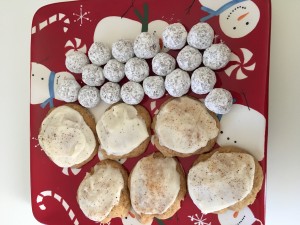 1. Supper Club Cookie Exchange – Every December, instead of cooking our Supper Club goes out to eat and exchanges cookies.  This year I made Melt-In-Your Mouth Eggnog Cookies from Cooking Classy and the Weekend Chef made Bourbon Balls for our exchange this past Saturday evening.  We also got some amazing cookies from members including homemade Oreos, Pecan Sandies, Cherry Rugelach and Peppermint filled Macarons.  The cookies were delicious and the restaurant we went to, Hopscotch, was also really good too!  It was a delicious evening!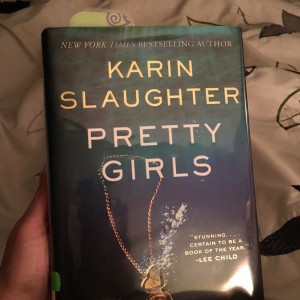 2.  Pretty Girls by Karin Slaughter – I started this book earlier this week.  I'm about half-way through and it has me hooked!  I've only read one other Slaughter book before, but I'm not sure why I haven't read more of her stuff.  I heard prior to reading that this book was pretty graphic, so I was warned before reading.
3. Instagram – I am loving Instagram and have been obsessed recently!  I love seeing everyone's pics – food, travel, sunsets, books, family events….you get to see it all and it's so inspiring! If you follow me, then you've seen most of these photos!
4.  Madam Secretary – I just finished watching all the episodes (first and second season) of this show available on Netflix.  I'm embarrassed to admit that I had no idea all that involved being Secretary of State. I love how parents (Tea Leoni and Tim Daly) balance work and parenthood.
5. Favorite bookmarked recipe:  This Winter Beet and Pomegranate Salad with Maple Candied Pecans + Balsamic Citrus Dressing from Half Baked Harvest. This sounds like a perfect winter salad that had me at beets and pomegranate!
ICYMI this week on the blog:
Monday I shared our weekly meal plan.
Tuesday I shared my November reads and participated in the Show Us Your Books monthly link-up.
Wednesday I wrote about our dinner at BONMi and our trip to see the Big Apple Circus down in NYC.
Thursday I wrote about the Instant Happy Journal I received from Blogging for Books.
Hope everyone has a great weekend!  I'm linking up with Tif @ Bright on a Budget, Andrea @ Momfessionals and Amanda from Meet @ the Barre.