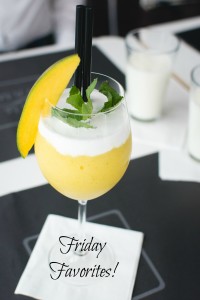 Happy Friday!  It's good to be back with another Friday Favorites after taking a Thanksgiving holiday break.  This week has been all about recovering from Thanksgiving and jumping right in to Christmas preparations!  This weekend is chock full of craziness and fun, which you'll get to hear all about next week!  Here are some of our favorites from this past week (if you follow on Instagram, then you've probably seen most of these pictures!):
1. Spending the Thanksgiving holiday with family.  My sister and her family live in Maryland, so we don't get to see them as often as we'd like.  My kids love getting to spend time with their cousins, who are finally at an age where the kids can all play together without constant adult supervision.  And of course, can't forget about Thanksgiving dinner itself.  The whole family pitched in to help cook the deliciousness pictured above!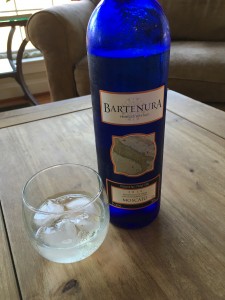 2.Bartenura Moscato – I am not a big wine drinker.  However, I do love a good moscato.  Especially a bubbly moscato.  My sister had recently tried this wine and bought a couple of bottles for Thanksgiving.  I think this is going to be my go-to wine.  It is fruity, sweet and bubbly!  If I'm going to drink wine, this is definitely the kind I want to be drinking.  Warning – you have to like sweet wine!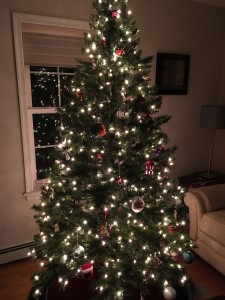 3.  Decorating for Christmas – We put up and decorated our tree last weekend and the Weekend Chef also put up the outside lights.   I also bought this Star Shower Laser Light after seeing a neighbor's house lit up with it.  Now, there are several houses on our street with this, including ours!  For $40 we thought it was worth it.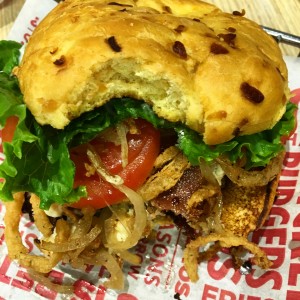 4.  Smashburger – On our way home from Maryland we stopped at a Smashburger in New Jersey.  We had never been before and opted for that versus rest stop fast food. While I was thinking this chain was similar to Five Guys, it's definitely a little different.  There are lots more options including burgers, chicken sandwiches and even salads.  Yes, I ate that burger pictured above, while the Weekend Chef ate a Cobb Salad with a burger patty added in.  (He's good about eating healthy…..I obviously, am not!) A Smashburger just opened near our house and we will definitely be visiting it soon!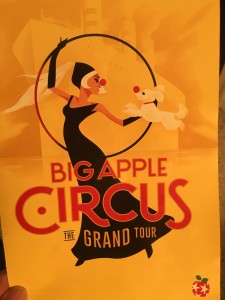 5.  The Big Apple Circus – I won tickets to see the Big Apple Circus last night down at Lincoln Center in New York City from Kerri at Raising Three Savvy Ladies.  The kids had an amazing time!  While we didn't get home until after 10 PM on a school night, it was well worth it!  I will be writing up a post about it next week!
ICYMI, on the blog this past week:
Monday I posted a November recap.
Tuesday I posted about our trip to the home of Franklin D. Roosevelt with our Every Kid In a Park pass.
Wednesday I joined in a monthly Currently link-up.
Thursday I posted a collection of Hanukkah picture books.
Linking up with Tif @ Bright on a Budget, Amana from Meet @ the Barre and Andrea @ Momfessionals!  Have a great weekend!