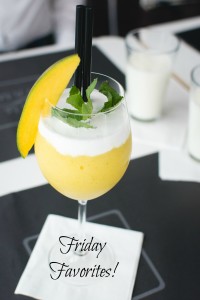 Happy Friday before Halloween! Let's get right to some of this past week's favorites!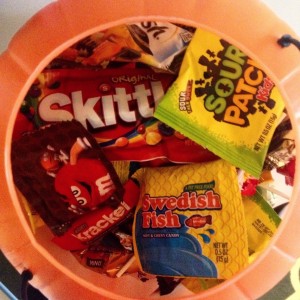 1. Trunk or Treat – This was the first year that we took the kids to our local Trunk or Treat event.  It's sponsored by our school education foundation so the money being raised is for a good cause – the students in our school district!  Some families go all out in decorating their cars.  As my daughter noted, "Mom, you would never do that."  She knows me too well!  After trunk or treating (my son is Rocket Raccoon from Guardians of the Galaxy and my daughter is a vampire princess) we now have the above pictured plastic pumpkin filled with candy and the kids haven't even gone trick-or-treating yet.  I have a bunch of recipes saved for using up leftover Halloween candy.  I may need to break some of those out in the next couple of weeks!
2.  Favorite bookmarked recipe of the week – These Pumpkin Cinnamon Roll Pancakes with Caramel Cream Cheese Frosting from Closet Cooking.  Can I even make this for "breakfast for dinner" or does this fall into the dessert category?!!
3.  Turkey Hill Pumpkin Pie Ice Cream – And speaking of pumpkin, the kids and I have been enjoying this ice cream all week.  It's pumpkin ice cream with a cinnamon graham cracker swirl.   Of course, the graham cracker swirl is my favorite part.  After this ice cream is gone….no more.  I need to take an ice cream hiatus!  The Weekend Chef is being so good with his diet and I really need get more serious about eating healthier.
4.  Free Fresh Fruit and Veggies – Every Saturday morning I volunteer at a local food pantry.  Since my son's soccer season started, I can only usually stay for an hour, in which I help set up by bagging produce and bread deliveries that arrive.  This past Saturday, the Weekend Chef's Tae Kwon Do class was cancelled, so I was able to volunteer at the pantry for the full shift.  After all the families have shopped and we've cleaned up, any leftover produce is offered to the volunteers.  Most of the produce is locally grown.  This past week I brought home a bag of pears, two of which are pictured above, as well as a bag of mixed purple and orange carrots and two bags of swiss chard.  While I'm not a pear eater, the Weekend Chef and my son enjoyed them, noting how ripe and juicy they were.  As the growing season is pretty much ending now, there won't be much fresh produce for the next couple of months.  As the Weekend Chef noted, my volunteer time at the pantry is paid for with fruit and vegetables!
5.  Behavior Modification Charts – Once a special education teacher, always a special education teacher!  When we got an e-mail from our son's teacher that he was being disruptive and talkative, I immediately pulled out a behavior modification chart.  The rule is that if he does not come home with a smiley face each day we go all out on consequences – no treats, electronics, playdates, etc.  If you noticed, there is only one so-so face (where he just lost his treat for the night) and the rest are smiley faces.  When I e-mailed the teacher about using the chart she was totally on board with it and happy that we were being so supportive.  If all goes well and he comes home today with a smiley face we are hoping to phase out the chart for next week and he will get a special treat over the weekend for having five smiley faces in a row.  While you don't want a child to be dependent on a behavior modification chart, it's a great visual reinforcer.  I'm just happy that it's worked and that his behavior is so much better!
ICYMI here on the blog:
Monday I posted our weekly meal plan.
Tuesday I posted a link-up that I was guest co-hosting for the month of October.
Wednesday the Weekend Chef reviewed Ernest Cline's newest book Armada.
Thursday I posted about my first experience with Jamberry nail wraps.
Have a great weekend and have a Happy Halloween!  If you are trick-or-treating with kids, stay safe and enjoy the treats!
Linking up with Tif @ Bright on a Budget, Amanda from Meet @ The Barre and Andrea @ Momfessionals!