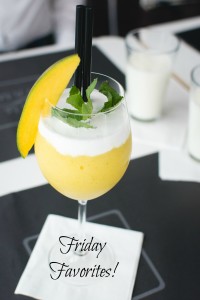 Happy Friday!  Hope everyone a great week!  We are looking forward to a three day weekend filled with family fun and relaxation!  This week I'm sharing some of my favorite blog posts that I've found this week. Hope you enjoy!
1. I found Cait's post How I Will Improve Goodreads When I Rule The World via Erin's Blogger Love vol. 2 post.  If you use Goodreads, you have to read Cait's post.  She had so many improvements that were spot on!
2. I have bookmarked The Nectar Collective's post on 7 Great Alternatives to Photoshop to Create Graphics for Your Blog.  Blogging is a hobby that the Weekend Chef and I started as something fun that we could do together.  It's not paying the bills and I'm not ready to invest a lot of money in it at this time.  I know I need to step up my photography and graphics skills for the blog, however I don't have a lot of time to learn Photoshop, nor do I want to pay a monthly fee for a program…..yet.  This post offered several alternatives that I have to check out.
3.  I found Cristina's post 5 Things Beginner Food Photographers Should Know pretty informative as well.  At this point in my blogging career, I find any photography tips helpful!
4.  I always enjoy Megan's posts.  Her most recent post How do I measure success? describes her goal to get in shape and lose weight, imparted with her usual humor and realism.
5.  Finally, Lisa recently posted Asian cartoon characters I like and don't like.  Lisa's children are a bit younger than mine, so I was unfamiliar with many of the characters that she wrote about.   I was impressed with the number of shows that she identified that have Asian characters in them.  I am Korean and I think it's important that my children  see characters in the media (television, movies, games, etc.) that they can identify with, appearance-wise.  Her post got me thinking about shows targeted toward elementary children…..and I'm not sure that I can identify many Asians being represented.
***NY Foodie Family finally has a Facebook page!  Stop by and check us out!
ICYMI on the blog this week:
Monday I shared our weekly meal plan.
Tuesday I shared a recipe for Feta Poblano Corn Muffins.
Wednesday I posted October Currently.
And Thursday I shared How I Use My Bullet Journal.
I am linking up again with Tif @ Bright on a Budget, Amanda from Meet @ the Barre and Andrea @ Momfessionals.  Have a great weekend!