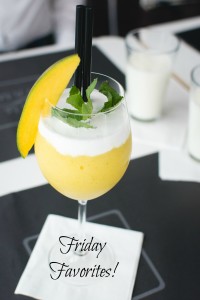 Happy Friday!  The kids had Monday and Tuesday off for Rosh Hashanah and my birthday was Wednesday!  With the days off, the kids' schedules got way off-track.  Bed time seemed to get later and later, and getting up for school was very hard for them on Wednesday!  My birthday was Wednesday, but we celebrated it Sunday, because doesn't everyone enjoy spending their birthday at back-to-school night?!!!  The strawberry shortcake that my husband brought home from Junior's that night might have helped make by day!  Here are some of our favorites this week: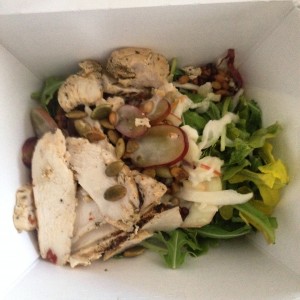 1.   Panera Ancient Grain, Arugula Chicken Salad – My favorite salad at Panera is the Chicken Cobb Avocado.  I decided to try the new Ancient Grain, Arugula Chicken Salad and I was pleasantly surprised!  I loved the mix of the spiciness  of the arugula, the sweetness from the grapes and apples and the slight chew of the ancient grain blend that includes freekeh, farro and black barley.  I ordered a half-size and with the bread, it was filling enough for me for lunch.  However, I wouldn't mind ordering the full-size salad next time!  This may be replacing my Chicken Cobb Avocado for awhile!
2.  Favorite bookmarked recipe of the week:  Now that my mind's on fall and all things apple and pumpkin, these Pumpkin Snickerdoodles with Cinnamon Cream Cheese Icing have been bookmarked!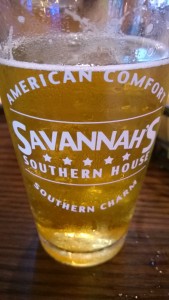 3.  Watermelon Ale – Last Sunday night we went out to dinner at Savannah's, a local southern-style restaurant.  The Weekend Chef and I split Shrimp and Parmesan Grits (which were amazing!) and Chicken and Greens (a huge fried chicken cutlet, topped with collard greens, cheese and a mustard cream sauce, served with red beans and rice).  The kids split an adult entrée of Pulled Pork over Texas Toast with Mac and Cheese.  While I had a sweet tea, the Weekend Chef had this Watermelon Ale from Thomas Hooker Brewery.  I'm not a big beer drinker.  However, this ale was really good! It was light and refreshing and the watermelon flavor was perfectly subtle. This must have been some of the last of this summer-only seasonal brew. The brewery website says it's only available from April to August. Adios, summer.
4. Family Bowling Night –  We celebrated my birthday Sunday evening with dinner at Savannah's, which I mentioned above and then went bowling.  I can't remember the last time that we went bowling together as a family.  One of our local bowling alleys has 1/2 price games Sunday evenings from 6 PM – closing.  We played two games each for a total of $20!  Can't beat that and it was so much fun!  The big winner of the night was our son with a high score of 124 (with the bumpers!).
5.  Netflix – I know season 3 of the Blacklist will be airing October 1, but season 2 just came to Netflix.  This week the Weekend Chef and I have started watching the second season.
Linking up with Amanda from Meet @ the Barre, Tif @ Bright on a Budget and Andrea from Momfessionals.  Have a great weekend!