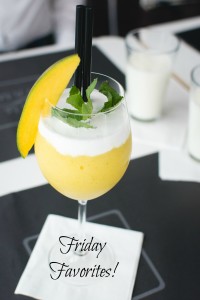 Yeah for another Friday!  Next Friday we will be in Disney World!  Woohoo!  The end of summer is speeding by and we've been trying to squeeze in as much fun as possible.  I spent the past two days at training for my new job and I should be all set now for September.  We talk to the kids every night before they go to bed and they seem to be enjoying their stay at their grandparents.  Here are some of this week's favorites:
1.  Regal Summer Movie Express  $1 Movies – The kids were in camp for most of July when I found out about Regal Summer Movie Express.  Each Tuesday and Wednesday at 10 AM, Regal theaters show two different movies for $1 each.  The movies are older, but it's fun for the kids to see a movie on the big screen.  This past week's choices were Madagascar 3 or Dolphin Tale 2.  The kids had already seen Dolphin Tale 2 so we watched Madagascar 3.  I'm not a big fan of sequels, but this movie was funny!  Next summer we will have to make more use out of this deal!
2. Favorite bookmarked recipe of the week – This 5-Ingredient Baked Spinach and Mozzarella Ravioli Florentine.  This looks like an easy weeknight meal, perfect for once the school year starts and schedule craziness ensues.
3.    Neutrogena sunblock – I bought this sunscreen at Walmart for $10.  I hate the greasy feeling of having sunscreen on my face.  This is the second time I've purchased a Neutrogena face sunscreen and I love it.  It absorbs quickly without leaving me with a greasy/yucky feeling on my face.  This is coming to Disney with us!
4.  Garden Tomatoes – Our tomato plants have been finally producing tomatoes.  Almost daily we're picking ripe tomatoes.  It's hard to tell from the above picture, but that tomato was as big as the Weekend Chef's hand!  The kids were amazed!
5.  Kohl's sale –  I got an e-mail yesterday that Kohl's was taking an extra 20% off the already low clearance prices.  Add that with my 30% off coupon and the ability to earn Kohl's Cash…..well, I couldn't not go!  I needed t-shirts for Disney and picked up sunglasses and some shorts at amazing prices!  I'm not sure if it's just our local Kohl's or if it's nationwide, but it's definitely worth checking out!
Hope you have a great weekend!  Linking up with Tif @ Bright on a Budget, Amanda from Meet @ The Barre and Andrea from Momfessionals.